Cheryl Baehr
Spice of India is now open.
Sukhjinder Singh has a new feather to place in his growing cap as as restaurateur: His latest venture,
Spice of India
(10633 Page Avenue, 618-225-7838)
is now open in north-central St. Louis County, just west of the intersection of Page and Ashby.
Singh's third area restaurant follows his successes Aroma Indian Grill in Hazelwood and Taj Indian Cuisine in Edwardsville, Illinois. Like the others, Spice of India specializes in the cuisine of northern India's Punjab state, though you'll find dishes from many of the sub-continent's different regions.
The restaurant opened nearly a month ago in the former Peshwa space, and despite some new paint and a furniture rearrangement, the set-up remains similar. Approximately ten tables and booths provide seating, and an L-shaped buffet takes up two of the restaurant's rear walls. The decor is minimal, but authentic Indian textiles, protected under glass, serve as vibrant tablecloths.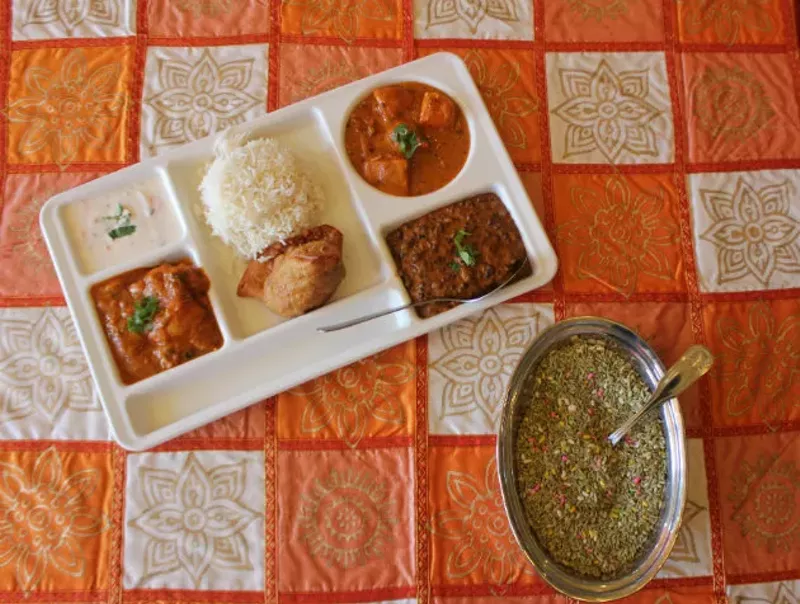 Cheryl Baehr
A selection of chicken tikka masala, chicken curry, lentil stew and raita.
Look for the expected repertoire of Indian dishes, including chicken curry, saag paneer and various grilled items, cooked in the tandoori oven. Spice of India's chicken tikka masala, a server explained, is done in the Punjabi style, meaning that green bell peppers are stewed with the dish to give it a bolder, spicier flavor than what is traditional associated with the Indian restaurant staple.
In addition to the Indian restaurant staples, Spice of India offers a selection of street food items like
amritsari kulcha
, a Punjabi snack of fried bread stuffed with spiced potatoes, and
pani puri
, a bite-sized, crunchy fried bread "bowl" filled with tamarind chutney, chickpeas and spices.
Spice of India serves buffet lunch every day from 11 a.m. until 3 p.m. and reopens for a la carte dinner every night from 4:30 to 9 p.m. Buffet dinner is offered on Sundays, and diners are welcome to order off the menu even during buffet hours.
Click through for more photos of Spice of India.
Cheryl Baehr
Spice of India's small dining room is brightened with authentic tapestries.
Cheryl Baehr
A statue of Ganesh greets diners at the front door.
Cheryl Baehr
Spice of India features cuisine from state of Punjab in northern India.
Cheryl Baehr
Spice of India serves buffet for lunch every day as well as on Sunday evenings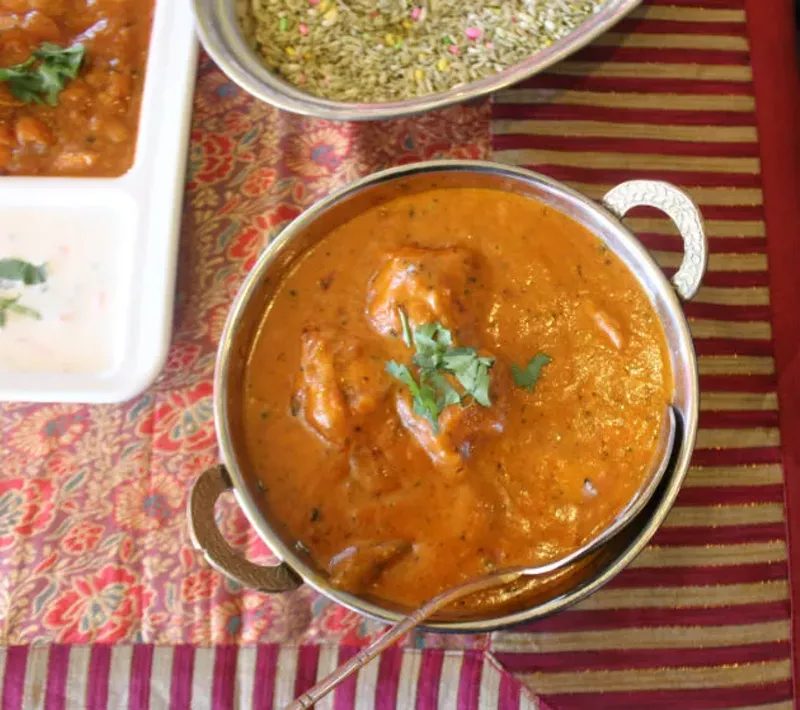 Cheryl Baehr
Chicken tikka masala.

We are always hungry for tips and feedback. Email the author at cheryl.baehr@riverfronttimes.com.