Pasta, arguably the simplest of dishes, is unforgettable when made properly. The variety of noodles — fresh or dried, shaped or filled — and the sauces that accompany them are almost as numerous as the restaurants that serve them. Some chefs focus on making pasta fresh, in-house, from scratch. Others boast of following authentic recipes from Italy and the Mediterranean region. Still others experiment with shape and flavor to come up with something altogether new and exciting.
Whatever whets your noodle, St. Louis restaurants have you covered. Here are our ten favorite pasta places, along with details on what they're serving now.
Basso
7036 Clayton Avenue, Richmond Heights
This stylish spot in the basement of the Cheshire Hotel features pizzas and meat dishes, along with a half-dozen excellent pasta options. The baby heirloom tomato linguini is one of the best. The recipe starts with fresh baby heirloom tomatoes from local farmer Tony White. They're tossed with garlic butter, lemon juice, fresh parsley and basil, olive oil and fresh linguini noodles, made in-house.
Cielo
999 North 2nd Street, Downtown
Cielo, the gorgeous Italian spot at the top of the Four Seasons downtown, offers a variety of pastas. A longtime customer favorite rooted in northern Italian flavors is the striking
tonnarelli neri
, its noodles dyed black with squid ink. Similar in size to spaghetti but with squared-off corners, the noodles are
made in-house at Cielo. The dish is finished with a heady sauce of lobster, oven-dried tomatoes and prosecco bagna cauda with anchovies.
photo courtesy of Katie's Pizza and Pasta
Katie's Pizza and Pasta
9568 Manchester Road, Rock Hill

It's no surprise that chef Katie Lee Collier's family-friendly hotspot in Rock Hill excels at pasta: it's right there in the name. The most popular dish here features the unique flower-shaped fiori noodles with spicy arrabiata sauce. The freshly made pasta is topped with a fiery tomato-based sauce made with chile peppers and topped with fresh arugula and shaved Parmesan.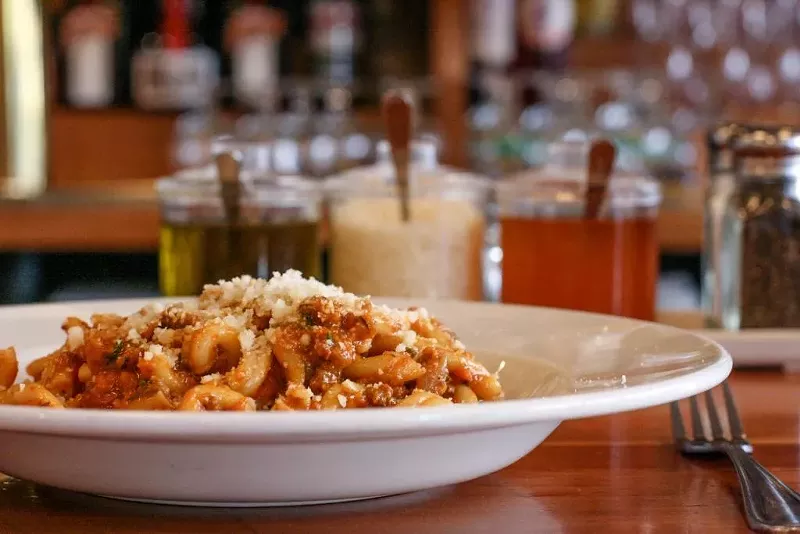 photo courtesy of Pastaria
Pastaria
7734 Forsyth Boulevard, Clayton

Conceived by Gerard Craft as a more casual, pasta-focused alternative to his dining flagship next door, Pastaria continues to excel even as Niche has become Sardella. Executive chef Ashley Shelton says the customer favorite at Pastaria is a stick-to-your ribs bolognese made with twisty strozzapreti noodles and a meaty tomato sauce.
Turn the page for five more amazing pasta spots.
Parigi
8025 Bonhomme Avenue, Clayton

Restaurateur Ben Poremba's Italian-by-way-of-Paris spot, Parigi, offers a series of delightful pastas with French culinary influences. The house-made tortellini at Parigi are filled with either goat cheese/mascarpone mousse or veal, along with a mixture of cream, Parmigiano, peas and mushrooms.
Sardella
7734 Forsyth Boulevard, Clayton

Gerard Craft's latest triumph, Sardella, features some delectable pasta offerings. The customer favorite, according to executive chef Nick Blue, is a house-made miso and ricotta-stuffed ravioli with blood oranges, pepitas, brown butter and tarragon.
Trattoria Marcella | Nathan Hatch
Trattoria Marcella

3600 Watson Road, Lindenwood Park

This neighborhood Italian spot may not be as fancy as some of the others on this list, but the pasta is just as delicious. For the spring menu, Chef Nathan Hatch is offering traditional Sardinian
culurgiones
— a delicate, folded pasta whose name translates to "little bundles." These are stuffed with a mixture of saffron, potato and mint.
photo courtesy of Five Bistro
Five Bistro
5100 Daggett Avenue, the Hill

The seasons are the inspiration at Five Bistro, the acclaimed farm-to-table spot in the Hill. In the spring, a favorite dish is house-made tagliatelle (made with local farm eggs that lend a bright yellow color), tossed with foraged mushrooms, such as the black trumpet mushrooms depicted above, along with white wine, herb butter and Parmigiano Reggiano.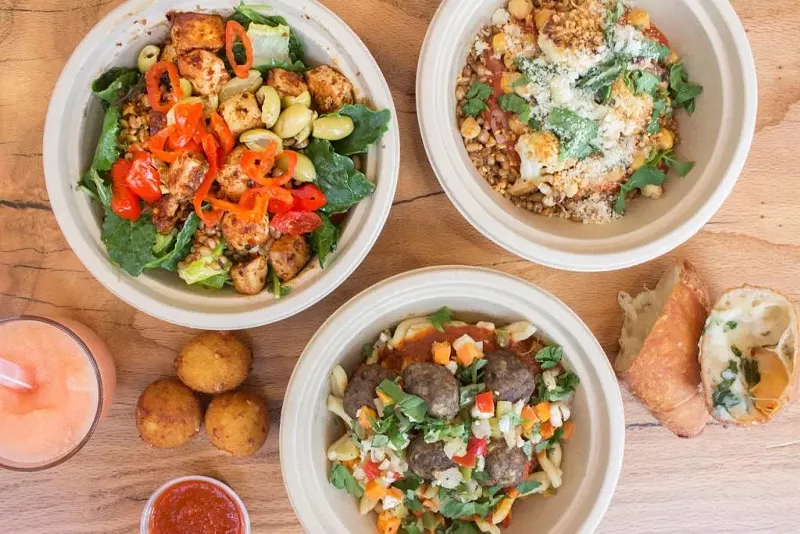 Porano Pasta | Mabel Suen
Porano Pasta
634 Washington Avenue, Downtown

Just because it's fast-casual doesn't mean it's not delicious. Gerard Craft's third spot on this list, Porano Pasta, shows just how good assembly line food can be. Pictured is organic strozzapretti, made fresh and served with pomodoro sauce, beef meatballs, giardiniera and fresh herbs. (Also pictured: a bowl featuring farro and a salad and farro combo with spicy tofu, sweet peppers, green olives and Italian vinaigrette.)
Follow Sara Graham on Instagram and Twitter at @engagetaste. E-mail the author at sara@engagetaste.com.

Editor's Note: This list was updated in October 2017 to remove a restaurant that closed.