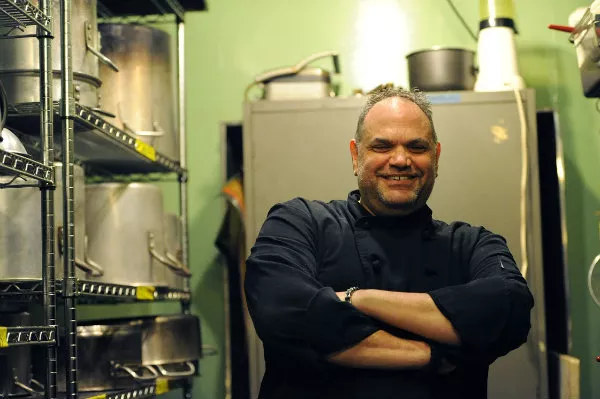 Holly Ravazzolo
Ron Buechele makes his Aunt Angelina proud at Capitalist Pig.
Ron Buechele, the owner and pitmaster of Soulard's Capitalist Pig (2727 S. 12th Street, 314-772-1180), doesn't hesitate when he's asked where he got his cooking chops. "It was my aunt Angelina," he says. "She was the first person I saw every morning, the person who fed me lunch, and her house was the place I went every day after school. The entire time I was with her, we'd be in the kitchen."
Buechele grew up in what he describes as a matriarchial Sicilian family where women called the shots. Aunt Angelina was the boss, and she was the family caretaker when Buechele's parents went to work. "She was always in the kitchen, and I wanted to hang out with her, so that's where I was too," Buechele recalls. "I'd be asking her questions about my grandparents' town in Sicily as we were shelling peas and chopping stuff. I was pretty little, and she'd shove a chair up to the stove so I could stir the pot."
Though he had a passion for cooking, Buechele went a different route for his career. After graduating college, he entered the police academy and served as an officer for the St. Louis County Police Department. Though he had a side gig rehabbing houses, Buechele still found himself looking for a creative outlet.
Buechele went to art school, and found himself considering graduate studies when he heard from some friends that the former Third District Police Station in Soulard was available. He had no idea what he wanted to do with the space, but he bought it anyway and eventually got the idea to turn it into an events venue. "That was seventeen years ago, and the only places for special events were Orlando's or Royal Orleans," Buechele says. "I thought it would be good to offer an alternative sort of place."
That alternative spot became Mad Art Gallery. Buechele continued to work for the police department, working as an officer Monday through Friday and taking the weekends off to host special events. Eventually, he left the department behind as he got more and more involved in food service.
As he honed his culinary chops, Buechele decided to go at it full-time, opening Capitalist Pig inside the Mad Art Gallery. Though he acknowledges the city's recent barbecue explosion, he sees himself standing out for his use of locally sourced and humanely raised meat — that, and his commitment to good side dishes. "It seems like people put up crappy sides because they have to have them," Beuchele says. "I want them to be interesting and good so that people actually want to eat them."
Buechele took a break from "the Pig," as he fondly calls it, to share his thoughts on the St. Louis food and beverage scene, his longing for chef-inspired cocktails, and why you'll never find ranch dressing at his restaurant.

What is one thing people don't know about you that you wish they did?
That I'm a closet nerd. People look at me and form an opinion based on my appearance. In college, I was pre-med and my background is in science, chemistry and biology. It shows in my cooking and in the art I make.
What daily ritual is non-negotiable for you?

Playing with my dog, Nino, as soon as I wake up.
What is the most positive thing in food, wine or cocktails that you've noticed in St. Louis over the past year?

How many chefs have been nominated for the James Beard award. There's such diversity and willingness to take risks and step out of comfort zones.
What is something missing in the local food, wine or cocktail scene that you'd like to see?

More chef-inspired cocktails; using cardamom, cumin and turmeric more; artisan butcher shops plus restaurants; more housemade charcuterie, new cuts of meat and street food inspired dishes.
Who is your St. Louis food crush?

You mean man crush? If not, then Ari Jo Ellis [of Bolyard's Meat & Provisions; and Kounter Kulture]. She's totes adorbs.
Who's the one person to watch right now in the St. Louis dining scene?

Chris Bork of Vista Ramen.
Which ingredient is most representative of your personality?

Anything pig.
If you weren't working in the restaurant business, what would you be doing?

I'd probably still be a police officer or rehabbing old houses.
Name an ingredient never allowed in your kitchen.

Ranch dressing.
What is your after-work hangout?

There's time to hang out after work?
What's your food or beverage guilty pleasure?

Mexican Coca Cola.
What would be your last meal on earth?

Egg raviolo with an extra egg on top, porchetta, cannoli and a bottle of Amarone.
We are always hungry for tips and feedback. Email the author at [email protected]