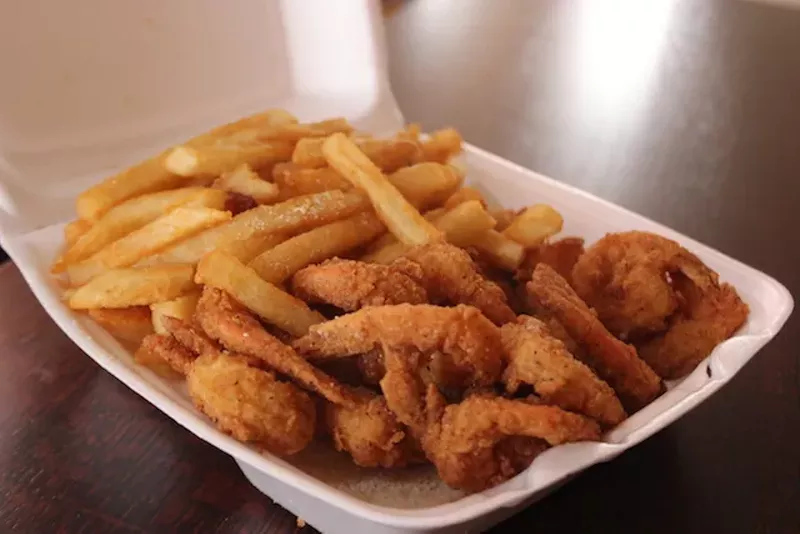 PHOTO BY SARAH FENSKE
Tasty Shack's "small" shrimp dinner contained sixteen plump shrimp, plus fries and a piece of bread, for $8.99.
Tasty Shack (3909 Gravois Avenue, 314-240-5051) isn't your usual fast-food joint. For one thing, it's not a chain. For another, it's not particularly fast.
But that's not the point. Everything on the voluminous menu is cooked to order — these sandwiches, fries and fish dinners aren't sitting under a heat lamp waiting for you to summon them to service. A row of seats in the sunny main room awaits anyone who wants to come on in; if you'd rather hit the drive-through, the owners recommend you call ahead. Usually, they'll need at least fifteen minutes to get an order ready.
Tasty Shack occupies an old Jack in the Box near the intersection of Chippewa and Gravois, but if you do stop in, you'll see that the interior has been given a glossy new look, with pale wood and stylish light fixtures. There's a glass case of prepared desserts near the cash register, and you can peek over the counter to the kitchen in the back. Co-owner Sam Lateef says he and his partners wanted to make sure the food prep area was visible to customers — that way, he says, you're not wondering what's going on back there.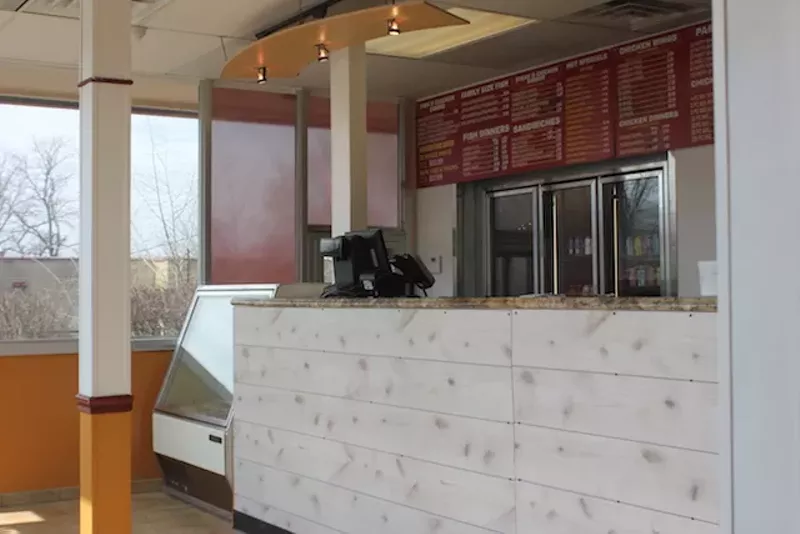 PHOTO BY SARAH FENSKE
A revamped interior offers an upgrade from the old Jack in the Box experience.
Lateef, who is originally from Pakistan and now lives in O'Fallon, Missouri, told the
RFT
on a recent visit that he owned a number of cell phone stores, but saw the building as a good business opportunity. He credited his partners with the work in the kitchen, saying he only runs the front of the house, but didn't respond to four follow-up phone calls seeking more information about the rest of his team.
No matter; the menu is not a complicated one. There are four salads, but beyond that, the offerings are almost entirely an array of fried foods — with orders of wings numbering anywhere from three (fries included for $3.99) to 100 (for $59.99). You can also get a 100-piece chicken mix ($54.99) or a family size 50-piece fish fry, with catfish fillet, tilapia and jackfish ($79.99).
But you needn't supersize your order — on our recent visit, even a small order of chicken tenders, for $6.99, contained six large pieces breaded in a gently spiced coating, plus fries and a piece of white bread (which, oddly, seems to be included in most orders — as if the fries aren't supplying carbs enough?). It's hard to imagine anyone with would need the larger version, which sells for $8.59. In some families, even the small size would be enough for two.
Prices here, in general, are quite reasonable. Where else can you get a ribeye steak plus baked potato and "Texas toast" for $8.99? For that matter, where can you get a ribeye steak at a drive-through restaurant? Tasty Shack is a little bit different than most fast food restaurants ... but we're not complaining.
Scroll down for more photos.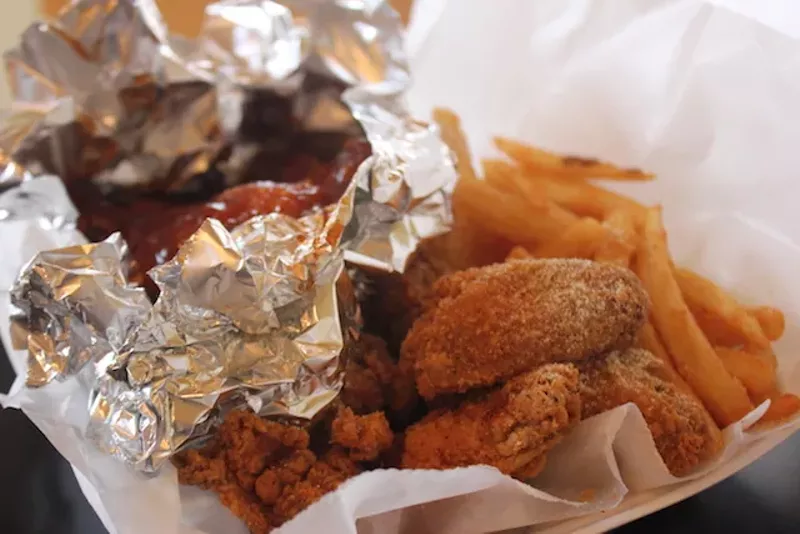 PHOTO BY SARAH FENSKE
"Chicago-style" wings are breaded; we preferred the barbecue option, which come slathered in a classic BBQ sauce.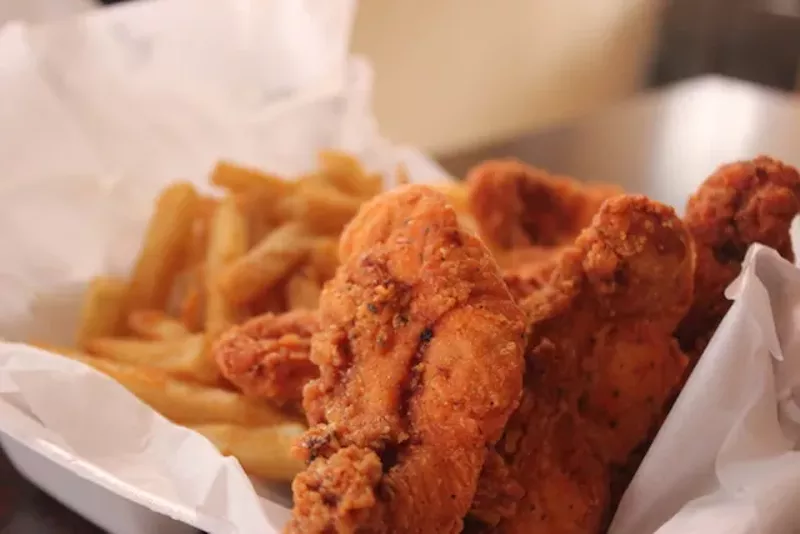 PHOTO BY SARAH FENSKE
Chicken tenders are large and meaty.
PHOTO BY SARAH FENSKE
A row of chairs offers a spot to wait for your order.
We welcome tips and feedback. Email the author at sarah.fenske@riverfronttimes.com