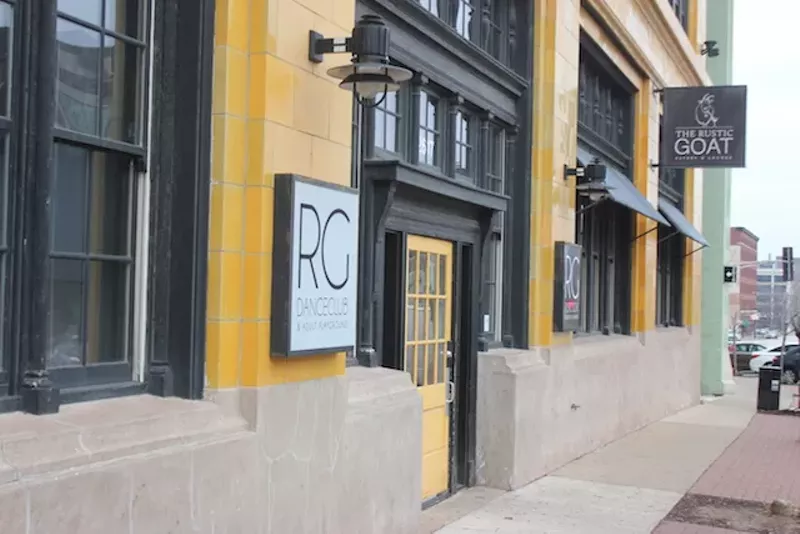 PHOTO BY SARAH FENSKE
Patois will be located in what's currently the Rustic Goat — a "dance club and adult playground" just west of Jefferson.
A new Caribbean/Creole/American fusion concept, Patois Eatery and Social Lounge, plans to open in Midtown St. Louis on April 15, replacing the Rustic Goat at 2617 Washington Avenue.
Johnnie Franklin, marketing director for the new restaurant's management group, says the Rustic Goat will be closing in the coming days, followed by a brief period to allow renovations and branding.
A Chicago native, Franklin's background is in promoting; for five years, he traveled the country as part of Jack Daniels'
Jack'N for Beats program
. During his eight-week stint in St. Louis, he met Crystal Burkley, who's been a bartender and general manager at bars and clubs including the Marquee and the Loft. Now they're engaged, and last year, Franklin relocated to St. Louis to be with her.
Since then, Franklin says he's done some concert promotion, including shows at the Pageant and the Marquee. But after he met David Holmon, owner of the Rustic Goat, he started to see the potential for a new concept there.
A big part of that, he says, will be an increased focus on the food.
"We want it to be 60 percent restaurant, 40 percent entertainment," he says. "The idea is to bring that Caribbean culture to St. Louis. I scouted the area for quite some time, and I don't think you have anything like this."
Holmon was charged last year in
St. Louis Circuit Court for making alcohol sales without a license
at both Rustic Goat and the club next door on Washington Avenue, Lux. Court records show he has a plea hearing set in the case for next month.
However, Franklin says that Holmon was able to straighten out the problem, at least insofar as the Rustic Goat's operations are concerned. (City records show Holmon does currently have a license for the spot.) Holmon will retain ownership of the business, Franklin says; his group is just managing it.
With the exception of Burkley, who will be the general manager, Franklin's team all has Chicago roots. Damian Williams will be the head of operations, and Rese Madkins will serve as finance officer. Carmen Harris will be the lead chef, Franklin says.
They plan to open on weekdays from 5 p.m. to 11 p.m. and 5 p.m. to 1:30 a.m. on Fridays and Saturday. Friday evenings will feature reggae and calypso, with national bands and local artists sharing various bills. "Sol Saturdays" will feature neo-soul and R&B, while comedians will take the stage on Sundays.
For more info, check out Patois' new
Facebook page
or its
website
.
We welcome tips and feedback. Email the author at sarah.fenske@riverfronttimes.com