BETSY RUDICIL/COURTESY OF UP-DOWN
Up-Down's Minneapolis location has drawn raves from neighbors — and a big fan base.
Last month, owners of the arcade bar concept Up-Down, which has thrived in Des Moines, Minneapolis and Kansas City, began the process of applying for a liquor license to open their fourth location in the Central West End.
But even though the site they're eyeing on Euclid, formerly the
home of Herbie's Vintage 72
, has sat vacant since October, and even though co-owner Josh Ivey and his partners have promised to invest serious money into the spot, they haven't been greeted as heroes. Instead, a vocal faction of neighbors is actively trying to block their arrival.
On March 8, longtime resident Liz Heller took out paperwork to formally challenge Up-Down's request for a liquor license, according to city records. Heller and her allies now hope to persuade neighbors to oppose the arcade bar — and their power is real. Unless Ivey can persuade 51 percent of property owners and 51 percent of a combination of registered voters and business owners to sign the petition in support of his license, his plans are dead on arrival.
To Heller, the opposition comes down to one simple fact: Although it will serve a curated menu of pizza by the slice and salads, Up-Down is at heart a bar. "It isn't a food place," she says. "It's really a bar. In the history of the West End, there have been plenty of restaurants that have come in — and we haven't objected to any, in fifteen to twenty years. They were young places, but they were family-friendly — places you could go in and talk."
Of the Up-Down owners, Heller says, "Quite frankly, I don't think they understand where they were going or what they were getting themselves into. The Central West End is not an entertainment district."
To Ivey's landlord, Pete Rothschild of Red Brick Management, the opposition is infuriating. He's angry that Heller seems certain that he could land another fine-dining restaurant if only he were willing to invest in the site — something he says is not the least bit true. The building, he says, is simply too large for restaurants trying to make it in today's crowded market. Ultimately, he's become convinced that neighbors won't be happy unless he can somehow conjure up another Balaban's, the beloved landmark restaurant that predated Herbie's.
Of the neighbors opposing the project, he grouses, "These people belong in nursing homes, not the Central West End."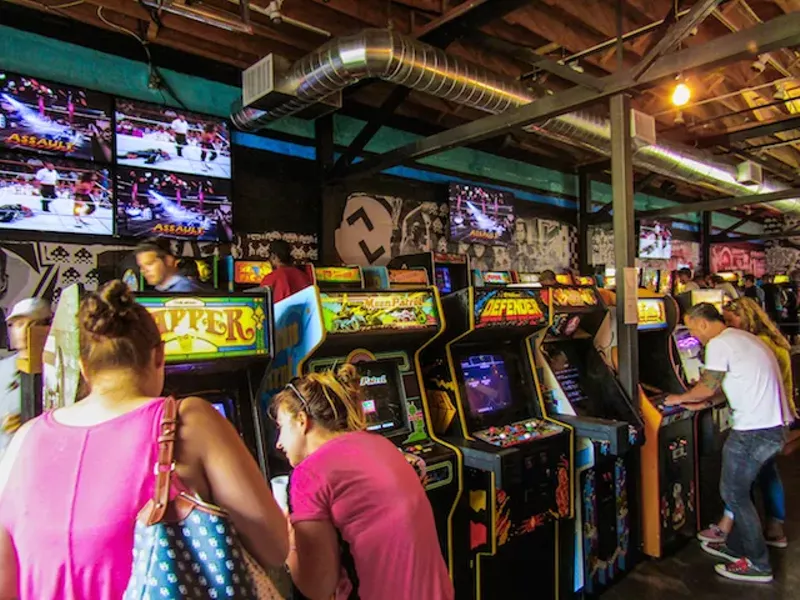 DAVID HAYDEN/COURTESY UP-DOWN
Up-Down's Minneapolis location is in LynLake.
A meeting last Wednesday, hosted by Ivey and his partners at Mary Ann's Tea Room, stretched nearly three hours. Joe Edwards and Kim Tucci came at Rothschild's request to speak on behalf of the Up-Down. Alderwoman Lyda Krewson, who is all but certain to be elected mayor in two weeks, even made an appearance, although she came late and left early. Things grew heated, with neighbors alleging that both parking and their eardrums are sure to suffer.
"It felt very much like 'stay off my lawn,'" says Jon Franko, a founder of the
Gorilla 76 marketing agency
, which is based across the street from the Up-Down site. He also lives in the neighborhood. "I don't know what business would go into that location that wouldn't require parking."
Adam Tilford, co-owner of Mission Taco Joint, offered a staunch defense of his prospective new neighbor. Tilford, who is opening a location in Kansas City, says he got to check out Ivey's bar there, and came away convinced it will be a great addition to the block. "People coming to bars like this aren't looking for a late-night party thing," he says. "They're 25 to 40-year-olds — people like myself. They want to go out to dinner at a nice place, play video games and have a couple beers. And this is the perfect neighborhood for that."
Many of Up-Down's customers, he believes, are people who will already be in the neighborhood for dinner at Mission Taco Joint or Pi or the Tavern; having Up-Down just means they'll stick around a bit longer.
As for Ivey, he and his partners are vowing to do whatever it takes to appease the neighbors. When they got complaints about the beer garden they were planning to back up to McPherson, they offered to move it. Hearing about parking concerns, they're talking about acquiring designated spots in the neighboring lot. "I just hope people will be open-minded," Ivey says. (His website,
updownbuzz.com
, makes a case for his restaurant in greater detail.) "I want to be a good neighbor. When people had ideas of what we could do to fix things, we were listening."
Still, to some extent, Ivey is at a distinct disadvantage. At this point, Up-Down's opponents are playing defense — all they have to do to win (at least a temporary victory) is to run out the clock. When Ivey and his partners took out their liquor license paperwork at City Hall on February 23, they started the countdown; if they can't get a plurality to sign in support within 45 days, they have to either give up, or start all over again.
And as much as the Central West End may strike outsiders as a thriving nightlife district, it's proven the Waterloo for some bar owners in the past. The site of the former Pasta House on Euclid, for example, was vacant for years before El Burro Loco finally got the go-ahead to open there in 2014, and it wasn't for lack of interest from a few bar-based concepts.
For Rothschild, a long vacancy would be a real waste — especially when he has a great concept beloved by its neighbors in other cities all ready to move in. But Heller is insistent that it's wrong for the neighborhood.
"We're not the Grove," she says. "And we're not Wash Ave. Those places are very different, and they're in neighborhoods very different than the Central West End. For one thing, they don't have very expensive homes and multi-million dollar residences in spitting distance."
We welcome tips and feedback. Email the author at sarah.fenske@riverfronttimes.com