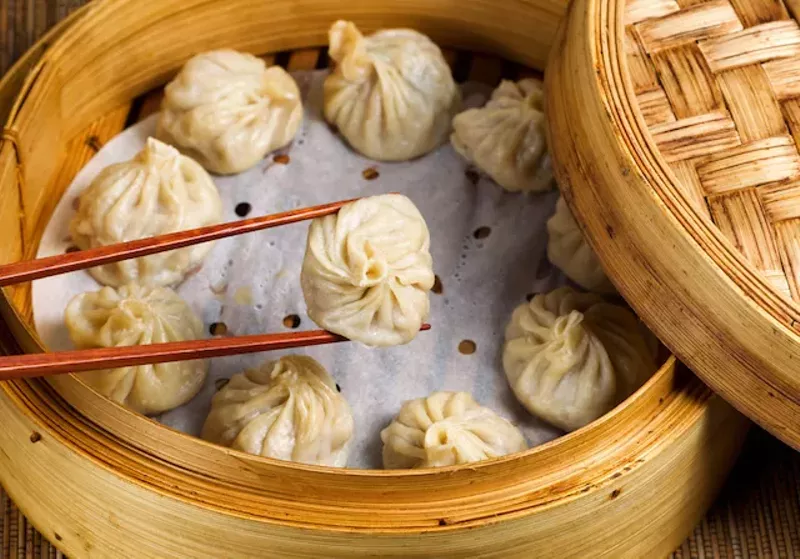 Lawrence Chen, owner of the beloved fine-dining Chinese tasting menu restaurant
Private Kitchen
(8106 Olive Boulevard, University City; 314-989-0283)
, has a new concept in the works. Chen confirms that he is preparing to open a sister restaurant, St. Louis Soup Dumplings, in the adjacent University City storefront.
St. Louis Soup Dumplings will be a casual takeout spot, Chen says, and more accessible than the formal Private Kitchen. The menu will include Private Kitchen's famous soup dumplings, as well as additional styles he is currently developing, including new chicken and shrimp versions.
"We just wanted to do something casual," Chen explains.
"Casual" is not the word that comes to mind when considering Private Kitchen. When it first opened in early 2015, the restaurant was shrouded in mystery. Would-be diners had to secure one of its tables by text message or through the Wei Chat app and were then forwarded a menu by Chen. He required diners to select their multi-course dinners in advance and would shop for his guests like a personal chef.
As the restaurant grew in popularity, it became slightly more accessible, developing a Facebook page and posting its menu. However, the reservations-only/order-ahead policy still made dining at Private Kitchen a production — albeit a worthwhile one. The place earned raves from critics, and even became one of our
"75 Reasons to Love St. Louis" last fall
.
With St. Louis Soup Dumplings, Chen hopes to provide diners with the same level of excellence — just in a casual venue, with far less effort on the diners' part.
Chen expects the restaurant to open in two or three months, though he admits that renovations of the space will dictate the opening date.
We are always hungry for tips and feedback. Email the author at cheryl.baehr@riverfronttimes.com.