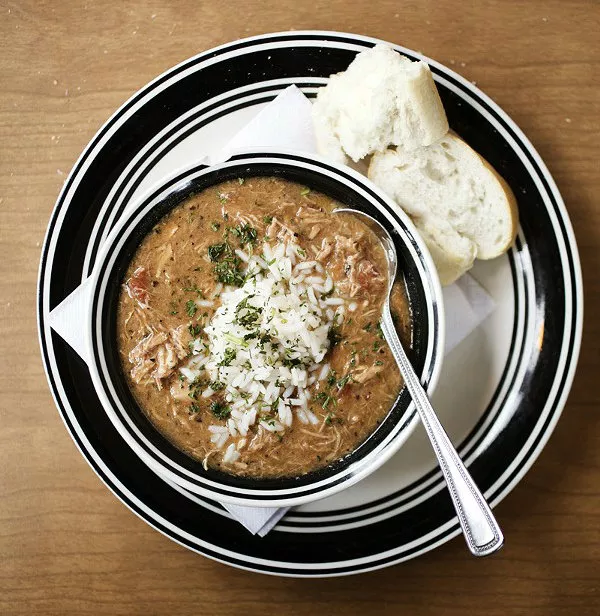 PHOTO BY JENNIFER SILVERBERG
The chicken andouille gumbo at Riverbend.
Riverbend Restaurant & Bar
(1059 S. Big Bend Boulevard, Richmond Heights)
has closed its doors — seven years after opening and roughly three years after moving to a new, expanded location in Richmond Heights.
Owner Sam Kogos did not respond to two messages seeking comment last week, and chef Steve Daney referred questions to Kogos. Kogos
confirmed the news to St. Louis Magazine yesterday
.
Originally from New Orleans, Kogos moved to his wife's native St. Louis after Hurricane Katrina. Riverbend opened near Cherokee Street at 701 Utah. in 2010. The concept earned raves from critics; The
RFT
pronounced it
the best Cajun/Creole in the city
— no small feat, that.
But the kitchen was just fourteen feet by fourteen feet, and Kogos was unhappy with the lack of foot traffic. "It's not an easy location to find," he told the
RFT
. "I'm not sitting in the Loop or the Central West End — we're really thankful for the readership and the people who actually come in." In 2014, he thought he'd found the solution — the
former Harvest space in Richmond Heights
.
Some of the magic seemed gone, though,
in the bigger space
. (The
Post-Dispatch
pronounced it underwhelming
.) And while the location had plentiful parking and good visibility, Kogos
told St. Louis Magazine that the building could have used outdoor seating
. Facing the end of his lease and a few other factors, he elected to tell staff the news last week and make Sunday night the last evening of service.
Editor's note: Due to a typo, we previously provided the wrong hometown for owner Sam Kogos. He is, of course, a native of New Orleans. We regret the error.

We welcome tips and feedback. Email the author at sarah.fenske@riverfronttimes.com