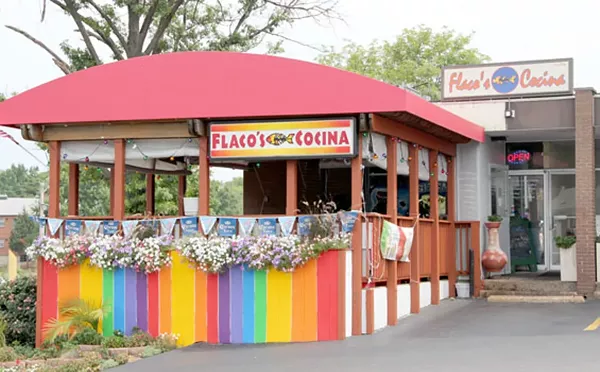 The Riverfront Times
The fiesta is over at Flaco's Cocina.
Flaco's Cocina (8400 Delmar Boulevard, University City; 314-395-4343), the colorful Caribbean and Latin American restaurant at Delmar Boulevard and I-170, appears to have closed last Thursday. A note on the restaurant's Facebook page states "permanently closed," and the restaurant's phone has been disconnected.
Flaco's Cocina opened in 2008 and was a ray of light in an otherwise drab University City strip mall. Part Tex-Mex, part Caribbean and Latin-American fusion, the restaurant was inspired by the Flaco's Tacos, the long-shuttered, beloved spot on Lindell Boulevard that claims to have introduced St. Louis to the fish taco.
With its stiff drinks, large covered patio and bohemian downstairs lounge, Flaco's Cocina was a popular watering hole. Though patrons came to the restaurant for the fish tacos, the restaurant was much more than a taco joint. Impeccable guacamole, lobster quesadillas and mole-covered chile rellenos made Flaco's one of the more interesting gringo-style restaurants in the area.
We have reached out to the restaurant and will updated this post as additional information becomes available.
We are always hungry for tips and feedback. Email the author at cheryl.baehr@riverfronttimes.com.