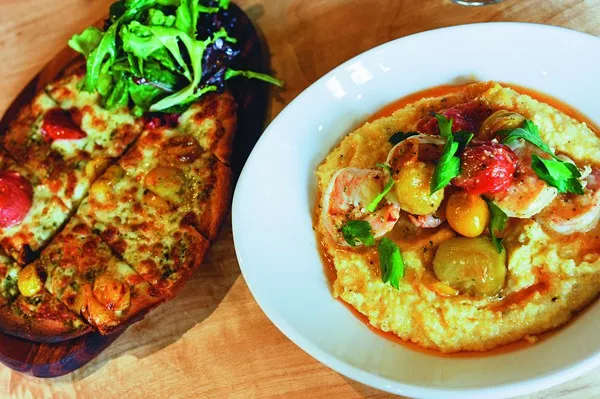 PHOTO BY KELLY GLUECK
Flatbread and shrimp and grits are among the Dark Room's "petite lunch" offerings.
If the glorious spring-like temperatures St. Louis enjoyed in February weren't enough to put a smile on your face, may we draw attention to some of the area's wonderful restaurant news? Maplewood got
a new waffle spot
in the storefront vacated by I Scream Cakes, a new high-end eatery called the Blue Duck — and
a breastaurant too
! Grand Center got
a new French pastry shop
, a Kaldi's Coffee and a
new and improved version of the Dark Room
, which closed its original digs just one block over the month before.

See also: The Dark Room Reopens in Grand Center (PHOTOS)
And that's not all. Did we mention the
Grove now has some of the city's best donuts
— and that Sardella is now offering brunch? Oh, and there's a new Blues-themed bar bringing the hockey magic to Maryland Heights! No food yet, but give them time. Everything's coming up roses, and below are all the addresses you can use to check out the latest and greatest.
See also: Bluenote Sports Bar and Grille Is Now Open (PHOTOS)

See also: Boardwalk Waffles Is Now Open in Maplewood (PHOTOS)
Openings
The Blue Duck
,
2661 Sutton, Maplewood
Bluenote Sports Bar and Grille
,
3133 N. Lindbergh, Maryland Heights
The Dark Room
,
3610 Grandel Square, Midtown
Boardwalk Waffles and Ice Cream
,
7326B Manchester Road, Maplewood
Kaldi's Coffee
,
3761 Laclede, Midtown

Like Home
,
3855 Lindell Boulevard, Midtown
Lil Gio's Taqueria
,
336 S. Main Street, St. Charles
LuLu Asian Kitchen
,
9737 Manchester Road, Rock Hill
Tim Horton's
,
1300 Lafayette Avenue, Lafayette Square
Twin Peaks
,
2351 Maplewood Commons, Maplewood
Yiro Gyro
,
17 S. Vandeventer, Midtown
Vincent Van Doughnut
,
1071 Tower Grove Avenue, the Grove

See also: 12 Photos of the Grove's New Vincent Van Doughnut

See also: Chipotle on the Loop to Close at Month's End
Closings
Atlas Restaurant
,
5513 Pershing, DeBaliviere Place
Chipotle Mexican Grill
,
6316 Delmar, the Loop
Diablitos Cantina
,
3761 Laclede Avenue, Midtown

See also: Atlas Restaurant to Close

See also: The Dark Room Reopens (PHOTOS)