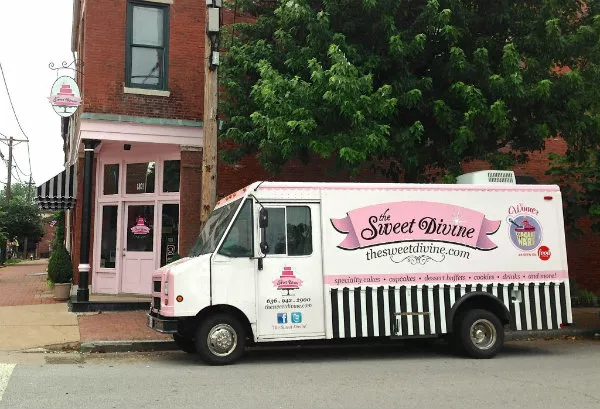 Photo courtesy of Jenna Siebert.
The Sweet Divine food truck, Georgie, is still making rounds in the city during the remodel.
Almost six months ago, The Sweet Divine bakery (1801 S. Ninth St.) was up in flames.
Today, co-owners Jenna and Jason Siebert are almost done rebuilding, and business is as good as ever.
Since October, they've been working out of McArthur's Bakery (6630 Delmar Blvd.), which Jason Siebert says has been a great experience.
"Scott [Rinaberger, McArthur's co-owner] has been a godsend to us, especially in the days after the fire," Siebert says. "He reached out to us the [next] Monday, and on Wednesday we met him on Delmar; he had space for us to use…since then that whole crew has been fantastic."
When they're not baking at McArthur's, the Sieberts are touring the city in Georgie, their food truck, which reports its daily location on Twitter and regularly sells out. Although Georgie is a welcome return to Sweet Divine's roots, it's hardly preferable to the Soulard brick-and-mortar they've called home since 2013.
"It does complicate things a little. We're used to our home. Not being able to have our storefront limits what we can do," Siebert says. "Cupcake wise, we're still the same, but as far as specialty cakes and detailed desserts are concerned, you kind of miss those things. In that respect the truck has hampered us a bit, but it was helpful when it came to keeping our people working and maintaining a face in the city."
Nevertheless, they're looking forward to the spring—and the wedding season that comes with it. Last month, Sweet Divine acquired and renovated a vintage trailer, which hosts wedding cake consultations outside the Soulard storefront during its renovation.
"Right after the fire, we found a place to bake at McArthur's, but we also needed a place to meet our brides and corporate clients," Siebert says. "Jenna had the idea of a camper set up in front of the shop; she's really into design, and is actively involved in the redesign of the space."
Although the building's repairs are still underway, they've taken the time to rethink the design of their bakery. Once Sweet Divine is back to business as usual, the storefront will feature a new menu, additional seating, and a more accessible layout.
"We're pretty much flip-flopping the entire bakery; pushing the kitchen back and putting decorating spaces up front. It's more of an open concept where, when you walk in the door, you can see our bakers working in the back and frosting in the front," Siebert says. "Not only is the space going to be completely different and more user-friendly, but a whole lot more stylish for our customers. We're looking forward to being back in business and getting home."
Siebert anticipates a grand reopening in late April or early May, but until then, you can get your Sweet Divine fix by following them on Twitter for Georgie's daily stops.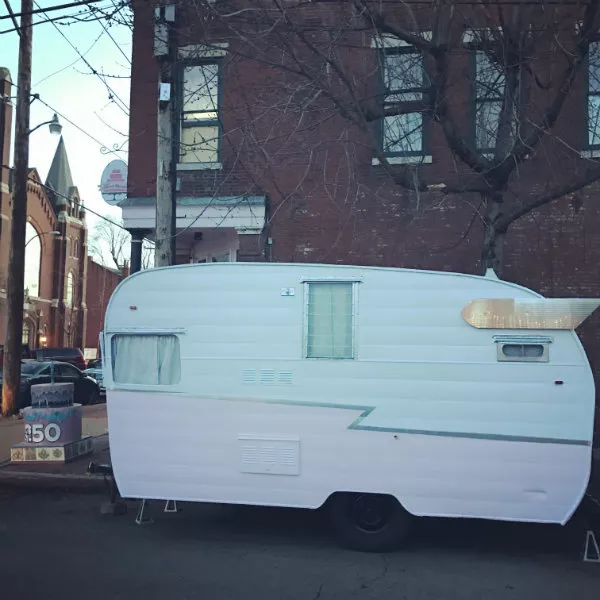 Photo courtesy of Jenna Siebert.
Sweet Divine now has a vintage trailer for wedding cake consultations. It is parked outside the Soulard storefront during its renovations.
Photo courtesy of Jenna Siebert.
The Sweet Divine is in the midst of remodeling after a fire.