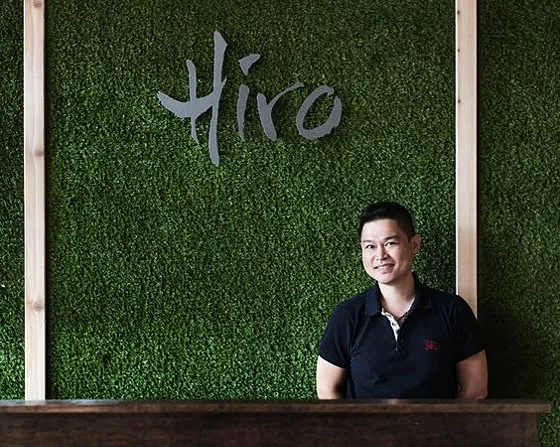 PHOTO BY JENNIFER SILVERBERG
Malaysia-born chef Bernie Lee is part of an upcoming event celebrating the city's immigrant restaurateurs.
It started as a simple Facebook post by Angela Ortmann. Responding to the recent immigration crackdown, the sommelier and restaurant consultant known as
STL Wine Girl
wanted give a shout-out to the contribution immigrants make to the St. Louis restaurant community.
"We're all watching what's going on around us on many levels with our families, friends and coworkers," she says. "I started hearing from restaurants around town about negative comments being thrown around and wanted to encourage my chef friends to do something positive in their own establishments."
And after an overwhelming response from restaurant owners and a conversation with chef Qui Tran at Mai Lee, Ortmann was inspired to put her consulting chops to work and create Love to Eat, Eat to Love, a tasting event to celebrate the city's immigrant community.
The event, which pairs eighteen of the city's immigrant restaurant owners with a native-born chef, bartender, brewer or butcher, will be held on Monday, February 27 at
Mai Lee
(8396 Musick Memorial Dr, Brentwood)
. The list of participants continues to grow.
"The more I spoke with people, the more passionate and into this idea people were, and I thought, it just made sense. Instead of spending a lot of time planning, we decided to act quickly to respond to current events," Ortmann says. "Nothing creates community like food. It's not politically motivated; no one is taking sides. We can simply never have enough restaurants and food from all of these cultures."
The event is also designed to highlight the long-standing tradition of collaboration in St. Louis' food community. Explains Ortmann, "In other cities it's more about competition. Here, we tend to work together to create bigger and better things."
By combining two different cultures, the collaborations create intriguing flavor fusions. For example, Marco Sanfilippo of Salume Beddu is partnering with Ally Nisbet of Scottish Arms and the Shaved Duck for a haggis-stuffed porchetta smoked with wild cherries and hickory. Nisbet moved to the U.S. from Scotland; Sanfilippo is honoring his grandparents who emigrated from Italy.
"They came to this country with a dream of a better life for themselves and their kids and they made it happen. I just can't imagine the courage it takes to leave behind everything you know to come to a foreign country and start over," Sanfilippo says. "There is a lot of fear and divisiveness in our country right now. I feel that small gestures can add up to achieve positive results. This dinner seems like a great place to start and someplace that I can contribute."
The evening's host Tran, who is originally from Vietnam, has partnered with Wil Pelly, executive sous chef at the Libertine. Tran's Asian style will be uniquely blended with Pelly's Cuban roots for a dish that is a play on pork and shrimp toast with Cuban pulled pork, carnitas-style.
Pelly, the son of Cuban immigrants, was inspired to participate in the event out of a desire to share his family's recipes: "I have no children of my own so I must share these with friends and diners. On this day I will let our food speak for us."
Bernie Lee of Hiro Asian Kitchen has teamed with Samantha Pretto of the Dark Room to create a comfort food fusion of gnocchi with south Asian curry. Lee came to the U.S. from Malaysia because, he says, of the freedom that allows individuals to be who they are. "That is how America was formed; it's a melting pot. Participating in this event allows me to raise my voice and remind people that this country was formed by people from all over the world."
Lee hopes to see the event inspire similar ones across the country. "The food industry in St. Louis is incredible. There's so much love here. You don't really hear about this kind of thing happening in other cities. This could be a great example for other cities."
Other partnerships identified so far:
Mai Lee (Qui Tran) + the Libertine (Wil Pelly)

Nudo House (Marie-Anne Velasco) + Southern (Rick Lewis)

Scottish Arms (Ally Nisbet) + Salume Beddu (Marco Sanfilippo)

Mission Taco/Milagro (Jason Tilford) + LuLu Dim Sum and Seafood (Julia Li)

Hiro Asian Kitchen (Bernie Lee) + the Dark Room (Samantha Pretto)

Balkan Treat Box (Loryn Feliciano-Nalic) + the Stellar Hog (Alex Cupp)
Herbie's (Aaron Teitelbaum) + GastronomicSTL.com (Holly Fann)

Grbic Restaurant (Erna Grbic) + Subterranean Homemade Foods (Robin Wheeler)

West End Grill & Pub (Carl Hazel) + Aya Sofia (Mehmet Yildiz)

Boundary at the Cheshire (Rex Hale) + Bar Les Freres / I Fratellini (Zoe Robinson)
Haveli (Hema Patel) + STL Kolache (Russ Clark)

Demun Oyster Bar (Daniel Sammons) + The Gin Room (Natasha Bahrami)
Elaia & Olio (Ben Poremba / Ben Grupe) + Chef Marianne Moore
Cafe Natasha (Hamishe Bahrami) + Serendipity Ice Cream (Beckie Jacobs)

Bulrush (Rob Connolley) + Olive Green (Christine / George Sseremba)

Norwood Hills Country Club (Bernard Pilon) + Like Home (Clemance Preuer) + Daily Bread

Sriracha Granada (Nate Litz) + Cham Bakery (Laura Alderie)

Robust Wine Bar / Snax Gastropub (Joe Hemp) + Skip to Malou (Malou Perez-Nievera)

Other contributors include Strange Donuts, Sriracha Granada, chef Chris Ladley, Claverach Farm, 2nd Shift Brewing, cookbook author Christina Lane and Zamir Vodka. New participants are still being added. Visit the event's website (www.lovetoeateattolove.com) for an up-to-date list.
In the end, Ortmann describes the night as "a fun little crazy event to raise money, inspire some cool ideas, and expose people to new restaurants."
Proceeds will support immigrant support organizations such as the International Institute and St. Louis Mosaic Project that especially promote entrepreneurial projects. Tickets are $45 and the event runs from 6 to 8:30 p.m. on February 27. See
www.lovetoeateattolove.com
for more info.