In December, a new kind of restaurant opened up on Olive Boulevard, just east of 170. Unlike its neighbors, Two Thumbs Up (8502 Olive Boulevard, University City; 314-395-9679) not an Asian restaurant, nor is it a fast food joint. It is, simply, a sandwich shop — a well-lit, low-key joint with a little counter at the front and a few tables along the walls, plus a menu of old-fashioned American basics.
And so you can get a cheeseburger, a steakburger or a turkey burger, a Polish or a shrimp po'boy. The sandwiches are all huge, and since most are in the $9 to $10 range, are a relative bargain with fries included. The bread is remarkably soft, which may make you wish you had something other than a plastic knife and fork — some of these offerings are simply too loaded with toppings to eat with your hands.
Owner Wendell Bryant grew up in the neighborhood just one block from his creation, but he won't be found there on most days — he owns the printing shop across the street, has a trucking company and is also opening up an event space for the neighborhood's youth. This is his first restaurant, and he says simply that he saw pent-up demand in the neighborhood. "I wanted to fill the need everybody was looking for," he says. "When I was growing up, we had a Steak & Shake, Dairy Queen, McDonald's, Little Caesar's, Imo's — but a lot of those places are gone now. There aren't a lot of options.
"I'm a wing person, a cheeseburger person," he says. "You can't find a good cheeseburger around here these days that's not a fast food restaurant."
Bryant, who co-owns the place with his wife LaToshia Morrow, also offers a hookah bar in the basement on the weekends. The restaurant is open daily from 11 a.m. to 8 p.m.; on the weekends, from 8 p.m. to 1:30 a.m., you can order off the food menu, although only the downstairs portion is open to guests.
He has more plans for the space, too — he plans to start "Soul Food Sundays" shortly, and in nice weather, plans to offer funnel cakes and ice cream and outside seating. "We want to make it fun," he promises.
See below for more photos of Two Thumbs Up.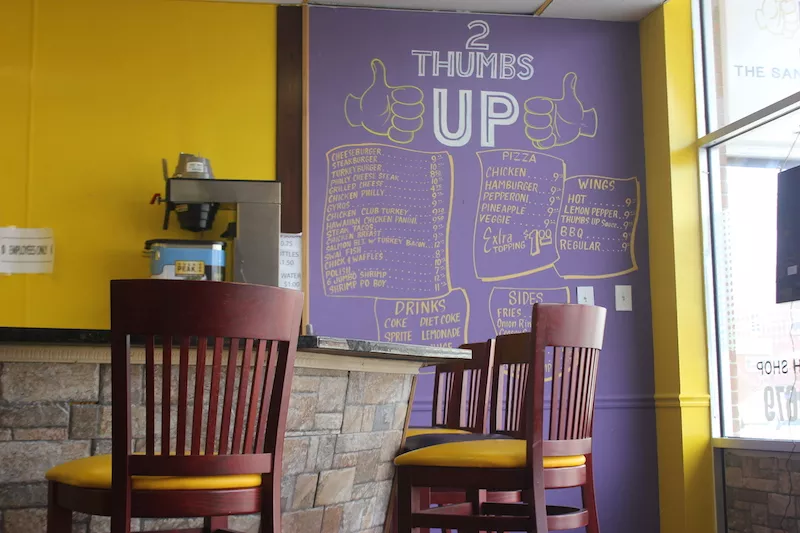 SARAH FENSKE
Order at the counter, and take a seat right there for easy service.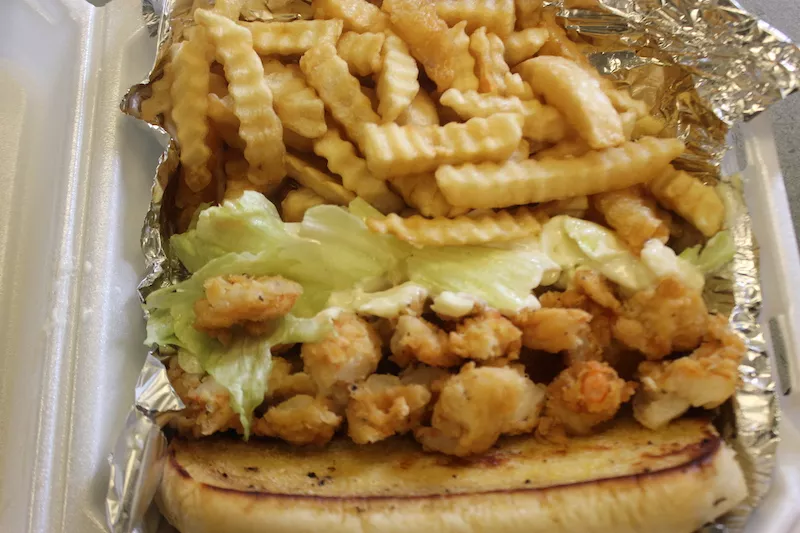 SARAH FENSKE
A shrimp po'boy is stuffed with hand-breaded shrimp and generously topped with mayo.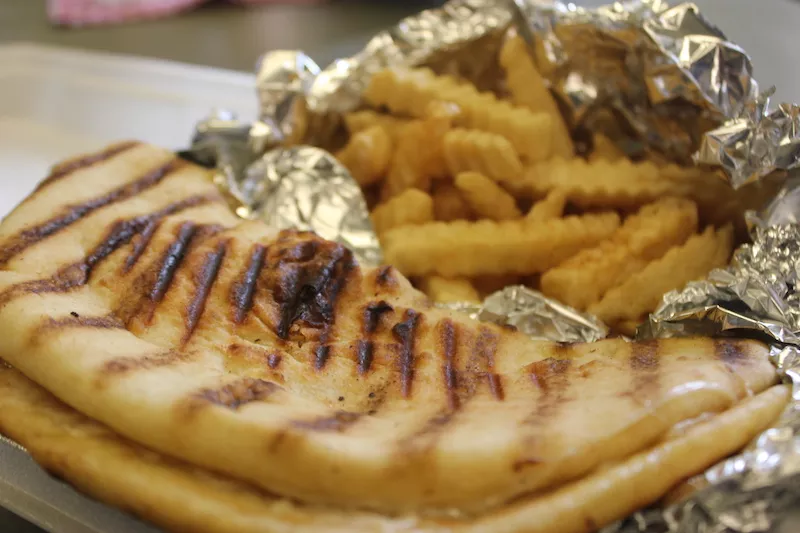 SARAH FENSKE
The Hawaiian chicken panini includes pineapple and comes in a flatbread.
SARAH FENSKE
Painted tacos, pizza and wings ornament the walls.
SARAH FENSKE
Formerly a Cecil Whitaker's Pizza and a Pizza Express, the place has easy parking for to-go orders.
SARAH FENSKE
A hookah lounge operates in the basement on the weekends. A full menu is also available.