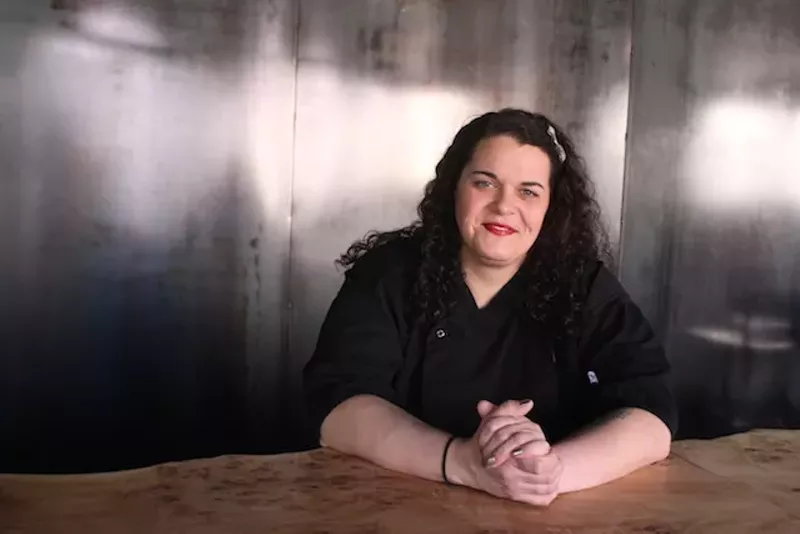 PHOTO BY SARAH FENSKE
Samantha Pretto is the executive chef at the Dark Room, which will reopen soon in its new home in the Grandel Theatre.
Samantha Pretto of
the Dark Room
(3610 Grandel Square, 314-531-3416)
was admittedly adrift following high school, working as a jewelry saleswoman at the now-defunct catalog showroom retailer Service Merchandise. She wasn't clear on what she wanted to do with her life.
That all changed when she became pregnant with her daughter. Needing extra income, Pretto got a job as a delivery driver for Cecil Whittaker's Pizza and found herself drawn to the restaurant industry. "There was something that just appealed to me about it," Pretto explains. "I eventually started making pizzas and then worked my way to the line and discovered that I was a damn good lady line cook."
Pretto had a wealth of experience to draw from. The middle child of six, with two parents who worked outside the home, Pretto found herself taking the lead on managing the household. "Somebody had to cook and help tame the kids," Pretto laughs. "I started watching my mom and dad and stepmom and just caught on."
Pretto continued to work a series of jobs as a line cook, though she didn't feel them leading toward anything. Her wake-up call came in 2014 when her dad passed away. "I was working a dead-end job at a restaurant and decided that I needed to figure out what I was doing with my life," recalls Pretto. "I was tired of making the wrong choices and dragging a kid along with me in the process. So I decided I would get my life together."
To get serious about cooking, Pretty took a job at the Scottish Arms, where she trained under chef Carl Hazel. "I just saw how serious he was about food, and it rubbed off on me," she says. There, her eyes opened to what it meant to be a chef, and she knew she'd found her calling.
Pretto worked at the Scottish Arms for two and a half years before taking on her current role as executive chef at the Dark Room, which is preparing to open again soon in a new, bigger location at the Grandel Theatre, just around the corner from its original home on Grand Avenue. "I just stop and think that here I am, an executive chef at a place I love, where everyone involved cares about my well-being," Pretto says. "Once I found what I wanted to do, I've been fail-proof. I've finally hit my stride."
Prett0 took a break from the Dark Room and her signature Wednesday gnocchi program to share her thoughts on the St. Louis dining scene.
What is one thing people don't know about you that you wish they did?
I'm an introvert. I like the idea of being out and getting all dressed and ready to just stay in the comforts of my home.
What daily ritual is non-negotiable for you?
My morning ritual – coffee, cigarettes and Wendy Williams.
If you could have any superpower, what would it be?
Teleportation, so I can be wherever I want when I want.
What is the most positive thing in food, wine or cocktails that you've noticed in St. Louis over the past year?
Diversity. There are so many ethnicities and cultures in St. Louis. I'm proud to be a part of the many different cuisines we have here.
What is something missing in the local food, wine or cocktail scene that you'd like to see?
Fewer trends and more staples.
Who is your St. Louis food crush?
Bernie Lee of Hiro Asian Kitchen.
Who's the one person to watch right now in the St. Louis dining scene?
Keep an eye on what the Dark Room and Kranzberg Arts Foundation have coming in the future; it will blow a few minds. And keep your eyes on me — there's so much to come.
Which ingredient is most representative of your personality?
Crushed red pepper. That's me to a T — flaky and hot.
If you weren't working in the restaurant business, what would you be doing?
I'd probably be in Oregon with the rest of my friends, cultivating.
Name an ingredient never allowed in your kitchen.
Two things: The first is margarine and the second is ranch dressing. A microwave isn't allowed either.
What is your after work hangout?
The Original Crusoe's & Patrick McKeane's Pub.
What's your food or beverage guilty pleasure?
I have so many guilty pleasures. Little Debbie snacks, Lay's chips, Totino's pizza.
What would be your last meal on earth?
A 64-oz. "Mangosteen Madness" smoothie from Smoothie King, a waffle from the Waffle House, a salad from Garvey's, Syberg's wings and a can of Cherry Pepsi with a cup of ice.
We are always hungry for tips and feedback. Email the author at cheryl.baehr@riverfronttimes.com. ​