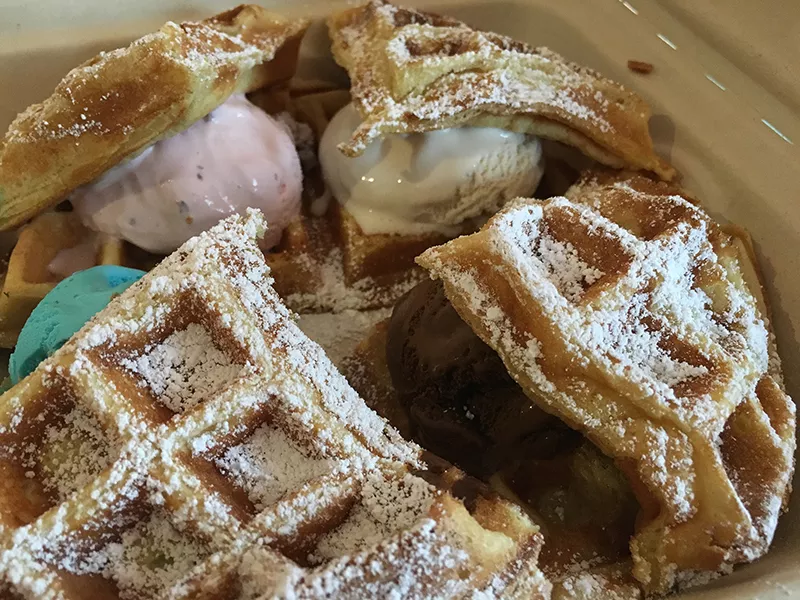 PHOTO BY KELLY GLUECK
Two waffles, four scoops — yum!
Good things come to those who wait.
Even three hours after opening its doors for the first time this Saturday, Boardwalk Waffles and Ice Cream (7326B Manchester Road, Maplewood) had a line wrapped around the building. It's not hard to see why: The irresistible smell of freshly made Belgian waffles was enough to seduce any passerby.
The counter-service shop sells two things and two things only: Jersey Shore-style waffles and ice cream. You can order each option solo or, more excitingly, combine them for a waffle sandwich. Sandwiches come in three sizes: Full (two waffles, four scoops), half (one waffle, two scoops) and single (half a waffle, one scoop). Coffee, juice and soft drinks are also available.
The fluffy, made-to-order Belgian waffles are perfectly complimented by a selection of sixteen flavors of ice cream, made by Webster Groves-based Serendipity.
The shop is the brainchild of Eric and Laurie Moore,
the St. Louis Business Journal reports
. Eric, who previously worked for Saint Louis Bread Co., grew up on the East Coast and enjoyed the waffle-and-ice-cream combos that are popular on the Jersey Shore. Fittingly, the walls are lined with black-and-white photos of the boardwalk and its amusements.
There isn't much seating available in the 600-square-foot shop, which was previously (briefly) the home to the second outpost of I Scream Cakes. The storefront has a small bay window lined with benches, which may provide a place to put up your feet on a less busy day.
But on the Saturday afternoon we visited, most customers made do with standing. No complaints here: Our waffle sandwich was gone long before we could even think about sitting.
Ice cream in February — who knew that would be a treat worth waiting for?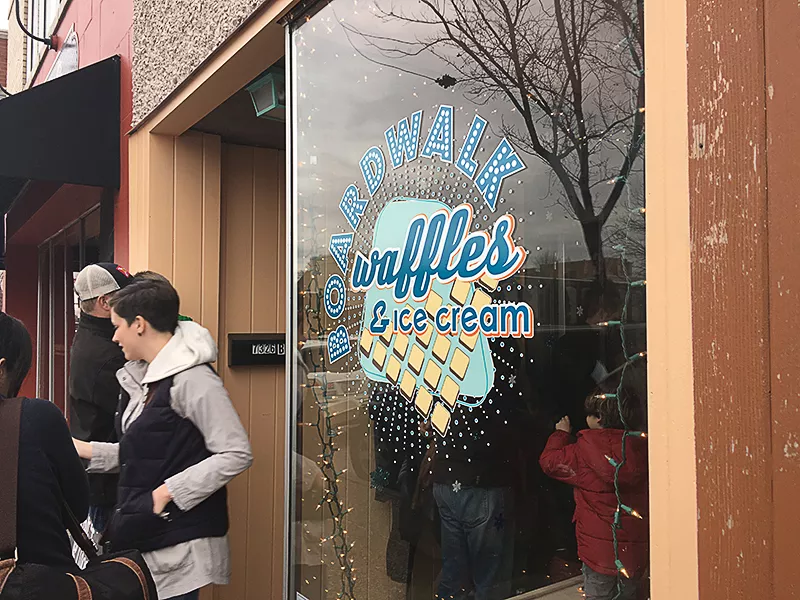 PHOTO BY KELLY GLUECK
The shop opened at noon; even at 3 p.m., a line spilled out onto the sidewalk.
PHOTO BY KELLY GLUECK
The small shop just has room for a line and then a few seats near the window.
PHOTO BY KELLY GLUECK
Busy staffers kept the line moving.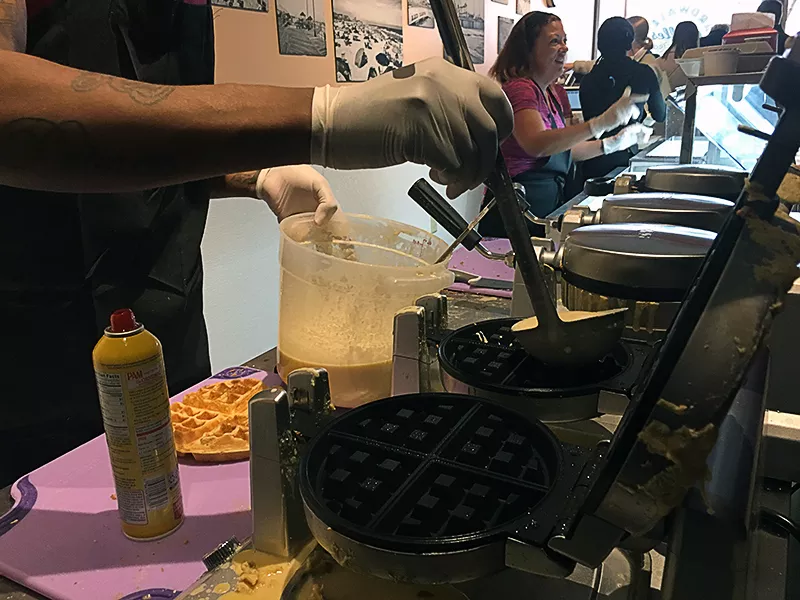 PHOTO BY KELLY GLUECK
Customers can order ice cream, waffles or an ice cream-and-waffle sandwich.
PHOTO BY KELLY GLUECK
Waffles are topped with powdered sugar for a sweet experience.
PHOTO BY KELLY GLUECK
Exposed brick walls and a counter lined in painted wooden panels straight from the boardwalk give a St. Louis-meets-Jersey Shore feeling.