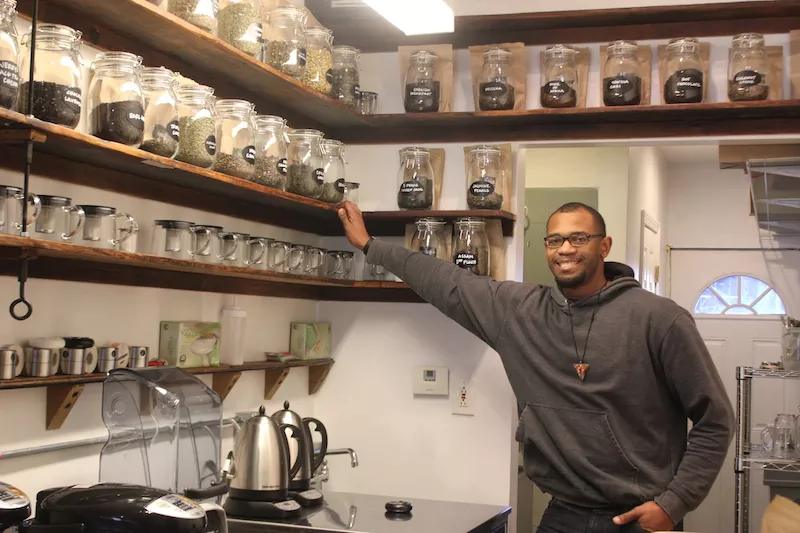 PHOTO BY SARAH FENSKE
Reo Quarles.
Reginald "Reo" Quarles, the proprietor of
Teatopia
(2619 1/2 Cherokee Street)
, has a big mission for his tiny shop, one reflected in its tagline: "Brewing better lives, one leaf at time."
It's not just that Quarles, 28, seeks to introduce the pleasures of carefully curated tea to a younger, less fusty audience — although with its clean, modern design and location on Cherokee Street, Teatopia will almost certainly do that. It's also that he sees good tea as an affordable luxury, and hopes his shop will leave people feeling better than they did before they sat down for a cup.
"We can all leave a positive impact on each other," Quarles says. "Just one small thing can make someone's day better."
To that end, the shop will offer more than 40 kinds of tea, plus smoothies, breakfast foods and salads. Large printed signs explain the options, which range from the basic (Earl Grey, English breakfast) to the exotic (the "Tropical Greens," which he serves a reporter, is a flavorful blend of organic green tea, organic orange peel and organic hibiscus green tea) to the downright fun (the "Cup of Amor" promise notes of chocolate and rose petals). In extolling each blend's virtues, he's like a tea sommelier, offering earnest tasting notes and advice.
PHOTO BY SARAH FENSKE
Tea ranges from $3 to $3.75. It's served in the shop in 20-ounce pots.
Himself a vegan, Quarles says the food he serves will fit a wider range of eating practices. "I'm very open to everyone doing what they want to do," he says.
Belying its owner's optimistic perspective, Teatopia has its roots in tragedy. A Belleville native, Quarles played basketball at Columbia College and earned a degree in psychology. He was living in St. Louis, working for Magellen Health Services and studying for a degree in clinical mental health counseling when his mother was killed in a car accident in October 2013. Still in his mid-20s, Quarles already lost his father and a brother. His mother's death hit hard. "She and I were just alike," he says.
But rather than derail him, the tragedy galvanized him. In June he quit his job, and he began to travel the country, exploring tea shops in other states and researching both tea leaves and steeping techniques in hopes of opening a shop of his own.
A few months ago, while attending a reading at Blank Space, he spotted a "for lease" sign in the window of the tiny space on Cherokee that had previously served as home to the Little Dipper. He immediately knew it was the spot, a feeling that's only been confirmed by the friendliness of his new neighbors, who've seemed fully supportive rather than competitive with the new kid in town. "I think everyone in this place realizes there's enough for everyone," he says. "I believe there certainly is enough for everyone."
The space is almost shockingly small — just 300 square feet, with room for three tables and not much else. At six foot three, Quarles easily has the wingspan to stand in the middle and touch both walls at once. But the small footprint makes for low overhead, and the location in the heart of Cherokee ensures good foot traffic.
Quarles intends to work the shop himself six days a week, from 8 a.m. to 4 p.m., and he's confident he can handle its capacity by himself — even when, as the weather gets nicer, he adds sidewalk seating out front.
"It's not like coffee. I don't think there will be a ton of people in here going crazy. It's tea," he says. "It'll be fine."
PHOTO BY SARAH FENSKE
Quarles has obtained two Yama cold brew machines, which he's experimenting with. "It takes a really long time," he says.
PHOTO BY SARAH FENSKE
The shop offers 40 kinds of tea, but since they can also be blended, the possibilities are limitless.
PHOTO BY SARAH FENSKE
There are three small tables in the shotgun-style space, but Quarles intends to add sidewalk seating come spring.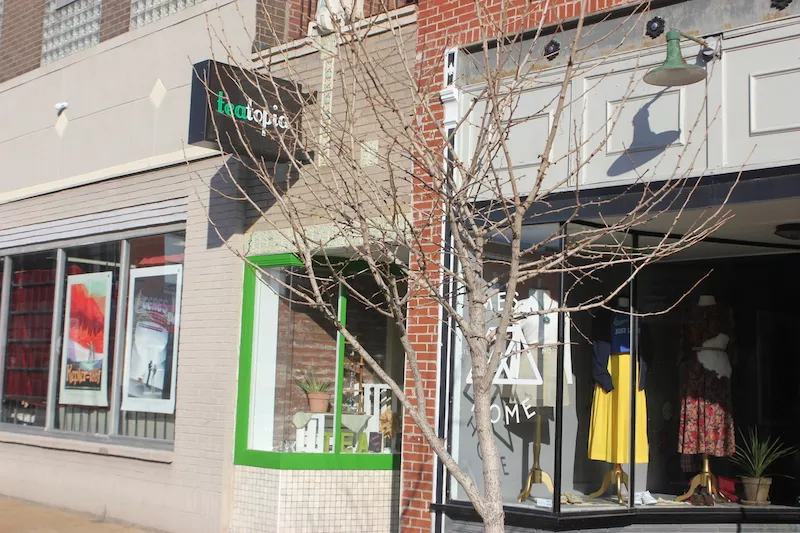 PHOTO BY SARAH FENSKE
The storefront, just west of Jefferson on Cherokee, is the former home of the Little Dipper.

We welcome tips and feedback. Email the author at sarah.fenske@riverfronttimes.com