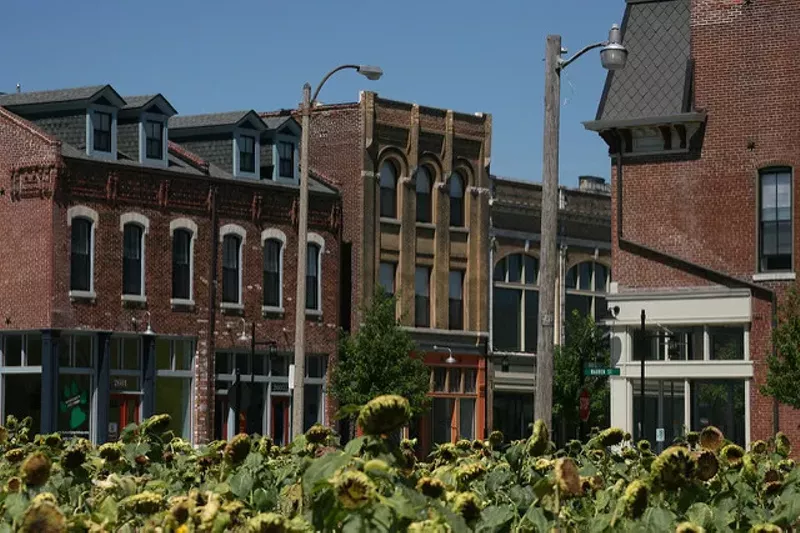 Photo courtesy of Flickr/Paul Sableman
Old North on a sunny day.
If you've got at least one year of restaurant experience and you've dreamt of opening a place of your own — which basically means every single person in the restaurant industry — the Old North neighborhood of St. Louis has an opportunity for you.
A new competition underway this month will offer one lucky winner free rent for two years on a finished restaurant space, complete with a "nicely outfitted" commercial kitchen, along with a $2,500 mini grant, services and operating support. The whole package is valued at $100,000.
Perhaps best of all, the new restaurant will be starting with a built-in customer base: At 2720 N. 14th Street, the space being offered is catty corner to Crown Candy Kitchen, the beloved old-school candy shop/eatery that regularly draws lines out the door.
The contest is being sponsored by Equifax, the Missouri Small Business & Technology Development Center, and Rise Community Development, the St. Louis-based nonprofit that encourages community development.
Larry Perlmutter, the communications and development manager for Rise Community Development, says that the agency is looking for someone with a plan who can show they have the resources to build a successful business (which likely means some other investors: Starting a restaurant isn't cheap). But, he adds, "Every day I get calls from people who want to donate things, point of sale systems, everything. By the time we choose someone, this place may be totally outfitted."
Perlmutter's organization has been working hard to restore the Old North area just north of downtown, with some big successes. Even as
the National Geospatial Intelligence Agency is planning to move its western headquarters n
earby, Old North can boast an art gallery, a farmers market and Crown Square, which includes an attractive streetscape and a host of old buildings being given new life as lofts and live/work units.
In other words: This might be the perfect opportunity for someone who's talented, ambitious and can't wait to get a kitchen of their own.
Applications are due by January 31, with plans to choose a winner by late April. Prospective restaurateurs should visit
fantasyfoodfare.com
to begin the application process.
We welcome tips and feedback. Email the author at sarah.fenske@riverfronttimes.com