Photo by Lauren Milford
Hi-Pointe Drive-In is located in the former home of Del Taco on McCausland Avenue.
The
Hi-Pointe Drive-In
(
1033 McCausland Avenue, 314-349-2720
) opened to a packed crowd yesterday, on January 5. St. Louis' first snow of the season couldn't keep the crowds away from the latest venture from the team behind Sugarfire Smokehouse.
The Hi-Pointe Drive-In menu features drive-in classics: burgers, shakes and fries, with nothing priced over $11. Burger options include beef, turkey, veggie or "taco," which is a blend of black Angus, chili cheese and Cooler Ranch Doritos, topped with Mission Taco Joint sauce. You can also add cheese, bacon or a fried egg to top any of these burgers. If burgers aren't your thing, there are four salads and ten sandwiches, from a roast beef to a salmon bánh mì.
For $5, you can get a milkshake — and for another $3, you can add booze to it. When we visited, they also offered a seasonal gooey butter cake doughnut milkshake in collaboration with Strange Donuts.
Beer, wine and Excel sodas are the drink options, and for sides, you can choose from Belgian-style fries, white cheddar mac and cheese, Brussels sprouts, chips, soup or vinegar slaw.
The kids' menu offers mac and cheese, a burger, peanut butter and jelly or a grilled cheese, plus a small side, for $5.
The food is served in paper dishes, on trays, and while the line was long when we were there, it did move fairly quickly. Booths and tables are both options for dining in, but Hi-Pointe Drive-In is sure to do well with carry-out, too.
Scroll below for more photos.
Photo by Lauren Milford
Ordering counter.
Photo by Lauren Milford
Burger topped with bacon.
Photo by Lauren Milford
Veggie burger and fries.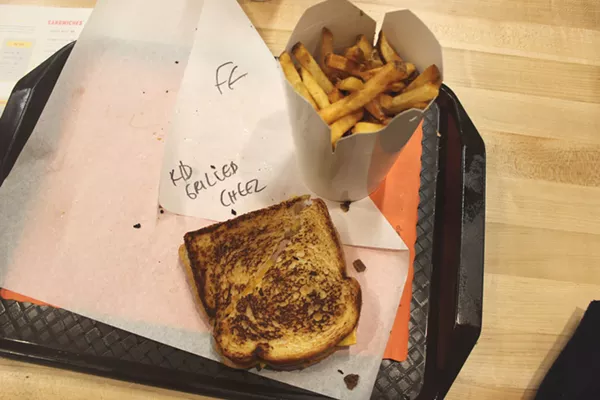 Photo by Lauren Milford
Kid's grilled cheese and fries.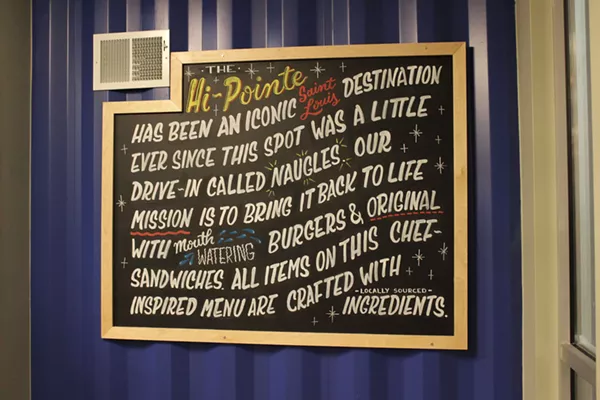 Photo by Lauren Milford
All the Hi-Pointe Drive-In menu items are crafted with locally-sourced ingredients.