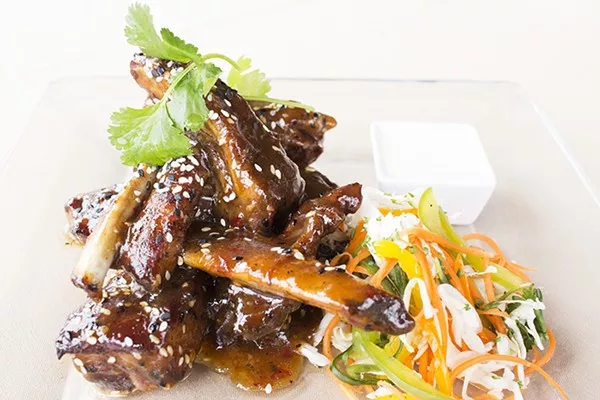 PHOTO BY MABEL SUEN
Short ribs at J. McArthur's, the much-lauded restaurant that closed December 31.
December 2016 may have claimed George Michael, Carrie Fisher and Debbie Reynolds (ugh!), but it was a pretty good month for St. Louis restaurants. Cherokee Street gained what may well be
the city's first Saudi restaurant
, while the area's
first true board game cafe
opened in Soulard. A good new
shawarma spot came to the Loop
, while
Side Project opened a (weekends only) tasting room
.
Oh, and if you haven't ever tried the cuisine of China's Dongbei region, you no longer need a flight across the Pacific. Just
head over to University City
and prepare to have your mind blown.
See also: Pieces STL, St. Louis' First Board Game Cafe, Opens in Soulard

See also: Shawarma King Is Now Open on the Loop



See also: Crave Opens in Midtown, Offering Fun Twists on Street Food
Closings
J. McArthur's
,
3500 Watson Road, Lindenwood Park

Humphrey's,
3700 Laclede, Midtown
The Purple Martin
,
2800 Shenandoah, Fox Park
Tropical Liqueurs
,
1810 S. 10th Street, Soulard
See also: The Purple Martin Will Close for Good on December 23

See also: Tropical Liqueurs Closes in Soulard
Openings
2nd Shift Brewing,
1601 Sublette, the Hill
Cate Zone Chinese Cafe
,
8148 Olive Boulevard, University City
Crave Street Food
,
2605 Washington Boulevard, Downtown
I Love Juice Bar
,
9849 Manchester Road, Rock Hill

Kirkwood Brewing House,
10312 Manchester Road, Kirkwood
Pieces STL
,
1535 S. 8th Street, Soulard
Shawarma King
,
571 Melville, Delmar Loop
Shisa
,
4229 Manchester Avenue, the Grove
Side Project Brewing
,
7458 Manchester, Maplewood
The Palm Trees
,
2837 Cherokee Street, Cherokee District
The U.R.B.
,
4501 Manchester, the Grove
See also: Side Project's New Tasting Room Is Now Open in Maplewood
See also: Cate Zone Chinese Cafe Brings Dongbei Cuisine to University City

See also: The U.R.B. Lets You Taste-Test Beer — and Eat Pizza — in the Grove

See also: The Palm Trees Brings Saudi Cuisine to Cherokee Street

We welcome tips and feedback. Email the author at sarah.fenske@riverfronttimes.com