Cheryl Baehr
Sarah Walter is Colleen's cookie artist in residence.
When Sarah Walter, the chief cookie decorator at
Colleen's
(7337 Forsyth Boulevard, Clayton; 314-727-8427),
traded her canvas and paints for cookies and icing, she wasn't concerned with the impermanence of her new art. "I never really thought about the fact that my artwork was going to be eaten when I started doing this," Walter says. "But then I made cookies for my cousin who had just had a baby. I made these baby footprints for her, and she told me that she had never eaten them and had them in her freezer so she could keep them. That's when it dawned on me that I'm making pieces of art — but I told her that she had to get rid of them. Sometimes you need to let go."
Walter started working for Colleen Thompson eight years ago. A freshman art student who was pursuing a degree in studio drawing, she picked up the cookie decorating gig when Thompson overheard her complaining about her current job. "I'm friends with [Thompson's] oldest son and I did photography for his band," Walter recalls. "One day she was eavesdropping on a conversation I was having about how I hated my two-hour daily shift at Imo's, and she approached me about coming to work for her. I've been with her ever since."
Thompson had just launched her specialty cookie business, then called Colleen's Cookies, and was getting overwhelmed handling the orders on her own. She needed someone to help with the decorating side of the business and was intrigued by Walter's art background. The pair began decorating simple shortbread cookies, then added a chocolate chip here and a "Death by Chocolate" cookie there. Before they knew it, the business had exploded.
Walter never expected cookies to become her career. Though her aunt had a bakery in Iowa when she was growing up, cooking didn't seem to be in her blood. Even as she gained experience working for Thompson, Walter assumed she'd pursue her art in a more conventional way and thought of her cookie gig as a part-time job. Still, she acknowledges, "Some of my classmates had jobs at art stores or at Michael's or places like that. Some didn't even have jobs in the business. I thought it was pretty cool that I was the only person who had something like this."
Walter still dabbles in oil painting and is getting ready to try her hand at watercolors as way to get a better feel for her other passion — tattooing. For now, she's happy mixing her media, though the transitions are not as seamless as you'd think.
"It's so different holding a piping bag than it is a pencil," Walter says. "It definitely takes more of a toll on the wrists, and you have to use so much more pressure. When I first started doing this, my hands were so shaky and I didn't have any clean lines. Now, I could be a surgeon."
Walter took a break from her edible artwork to share her thoughts on the St. Louis restaurant scene, the virtues of food delivery, and the unique talent she knows you will try to copy.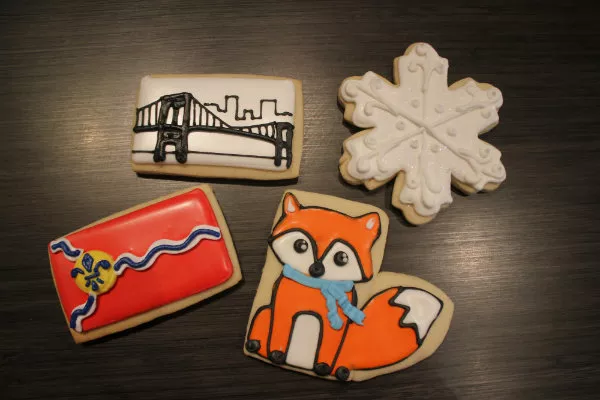 Cheryl Baehr
A selection of Walter's handiwork.
What is one thing people don't know about you that you wish they did?
I can lick my left elbow.
What daily ritual is non-negotiable for you?
Coffee. If I don't have it, I don't function like a normal human.
If you could have any superpower, what would it be?
I would like to have telekinesis.
What is the most positive thing in food, wine or cocktails that you've noticed in St. Louis over the past year?
I moved to Maplewood in October, so a positive thing for me is that I have a wide variety of places and within walking distance. I've also noticed that a lot of place in St. Louis are locally owned businesses. Not only are you getting delicious food, but you're supporting your fellow St. Louisan.
What is something missing in the local food, wine or cocktail scene that you'd like to see?
Not enough places deliver food. Once I get the sweatpants on, I find it hard to leave the apartment.
Who is your St. Louis food crush?
Fozzie's Sandwich Emporium! Their black bean burger is probably my favorite.
Who's the one person to watch right now in the St. Louis dining scene?
Vincent Van Doughnut.
Which ingredient is most representative of your personality?
Eggs, because I've been told that I hold things together.
If you weren't working in the restaurant business, what would you be doing?

Tattooing. I love tattoos — the meaning behind them, the different styles, the rules that follow them, the art, the technique.
Name an ingredient never allowed in your kitchen.
Mint. Gross.
What is your after-work hangout?
Depends on the scenario. If I've had a long day I prefer to go home, put my sweatpants on and look as publicly unacceptable as possible and relax on my bed. If it's a nice day out, I love hanging out on Art Hill in Forest Park.
What's your food or beverage guilty pleasure?
Beverage, Sunkist orange soda. Food, pasta.
What would be your last meal on earth?
The most epic Thanksgiving dinner. All of the mashed potatoes, all of the stuffing, all of the turkey. Green beans? Yes please. Mac & cheese? Mmm hmm! Pie? Yup!
We are always hungry for tips and feedback. Email the author at [email protected]