PHOTO BY SARAH FENSKE
The "Wild Salmon Phatada" includes baked salmon and whipped feta in a lightly fried flatbread.
Spicy popcorn chicken, served with drawn butter on the side. Mozzarella sticks crusted with Spicy Nacho Doritos. Even a "Wu-Tang Spliff" — cream cheese lightly fried in a crepe, lumpia style, with pickled papaya slaw and banana dipping sauce. You could call the small bites they're serving at
Crave
(2605 Washington Avenue, 314-696-8480)
stoner food — or you could just marvel at the fun the kitchen is having. Either works.
The good times extend far beyond the appetizers. Breakfast comes in a cup and is served all the way up to closing time — you start with three eggs scrambled with potatoes, a blend of chihuahua and cheddar cheese, peppers and onions — and from there you can add just about anything you desire: steak, bacon, turkey, roasted red peppers, smoked jalapenos. Or try the chicken and pancakes, a riff on the classic chicken and waffles, which come tossed with dark rum syrup.
The fast-casual eatery, located just one block west of downtown at Jefferson and Washington, is the brainchild of Dave Holman and Chris Ayala. Holman is responsible for the restaurant's sassy look, which seems absolutely ready to be replicated soon in a neighborhood near you. Ayala, formerly the sous chef at Scottish Arms and then smokemaster at its sister restaurant the Shaved Duck, has created the menu and serves as chef. Born in Mexico City and raised in a food-loving family in Alton, Illinois, he's excited about the food they're serving.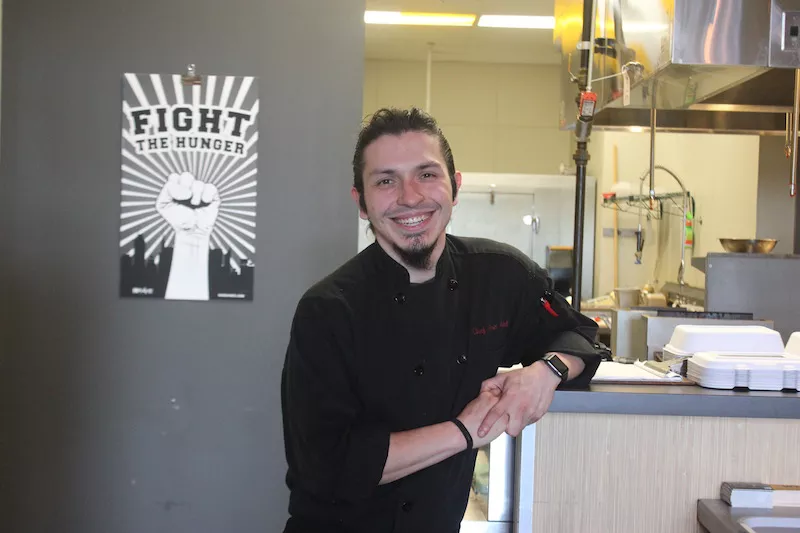 PHOTO BY SARAH FENSKE
Chef and co-owner Chris Ayala.
"It's really all about the food," Ayala says. "We want people from all walks of life to come in here and be comfortable — to make it the spot they go before they go to the City Museum or a show at the Fox — and to get off that beaten path slightly."
And by that he means not just heading a few blocks from the main dining districts on Wash Ave or in Grand Center to find his restaurant, but also to try the intriguing new dishes on offer. Chief among them is the restaurant's proudest invention, the "phatada." Depending on how you talk to, it's either a wrapped up tostada or a lightly fried burrito — with flatbread that's slightly thicker than the usual tortilla, stuffed with meats, cheeses and vegetables and then given a quick, light fry in peanut oil. The result is a wrapper sturdy enough for everything from baked salmon to a classic Cuban. It's no mere gimmick; while the name is new, Ayala says he's been perfecting his technique since his days at the Scottish Arms, when he made something akin to phatadas for hungry coworkers.
You can also get classic quesadillas here, or the poke bowls beloved on the West Coast — only at Crave they're served in cups, on a bed of warm sushi rice. Nachos are loaded and come with steak, turkey, chicken, pork or shrimp. And if you're feeling thirsty, two agua frescas are on offer, served slushie-style: one watermelon, the other papaya. You can also try up to a half-dozen flavored lemonades.
Nothing on the menu is more than $8 — an achievement in light of Ayala's commitment to making things in-house. "This has a fast-casual motif, but it doesn't take away from the fact that it's a chef-designed menu," he says proudly. "It's for people who love good food. We want people to be able to point their finger and say, 'That's exactly what I was craving.'"
Currently, Crave is open Monday through Friday from 11 a.m. to 10 p.m. and Saturday from 5 to 10 p.m. Eventually, Ayala says, they hope to add late-night hours, with food available until 4 a.m. six days a week.
See below for more photos of Crave, or check out its website at
cravestl.com
.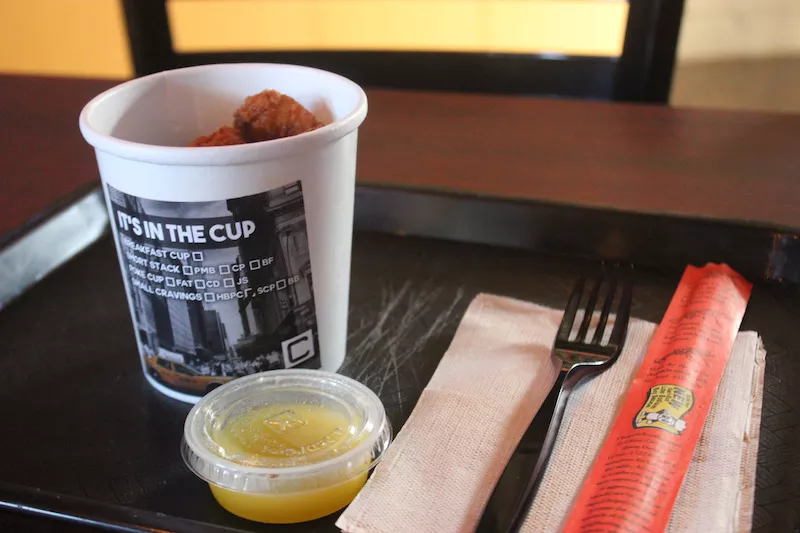 PHOTO BY SARAH FENSKE
Popcorn chicken can be ordered Nashville-style or regular, with butter sauce on the side for dipping.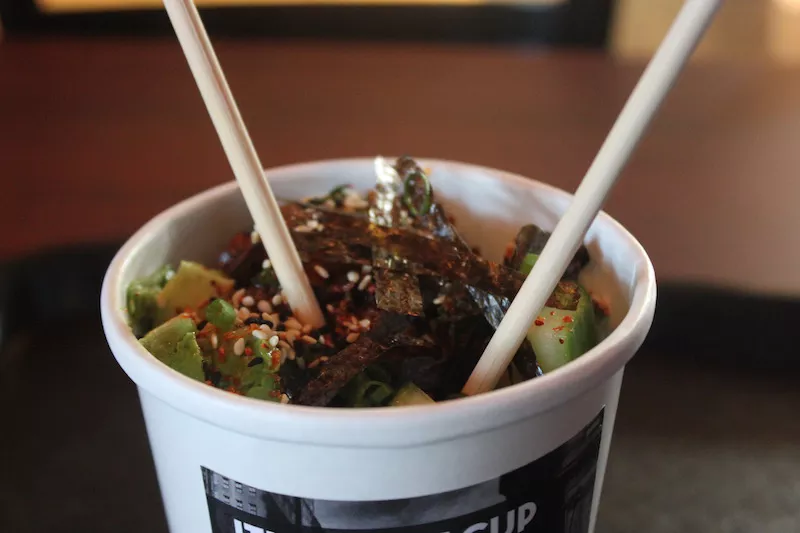 PHOTO BY SARAH FENSKE
A poke cup combines fresh tuna, cucumber and avocado.
PHOTO BY SARAH FENSKE
The watermelon agua fresca.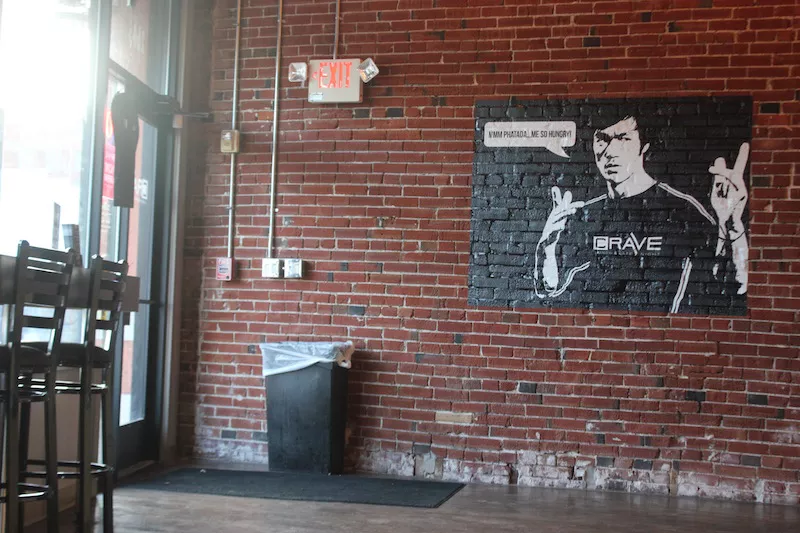 PHOTO BY SARAH FENSKE
A mural beckons diners near the doorway.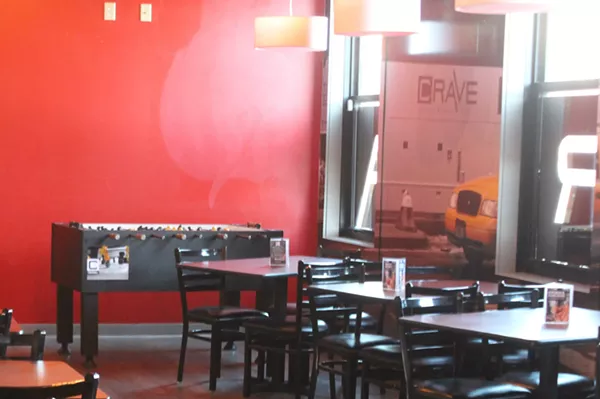 PHOTO BY SARAH FENSKE
There's foosball in a far corner of the dining room.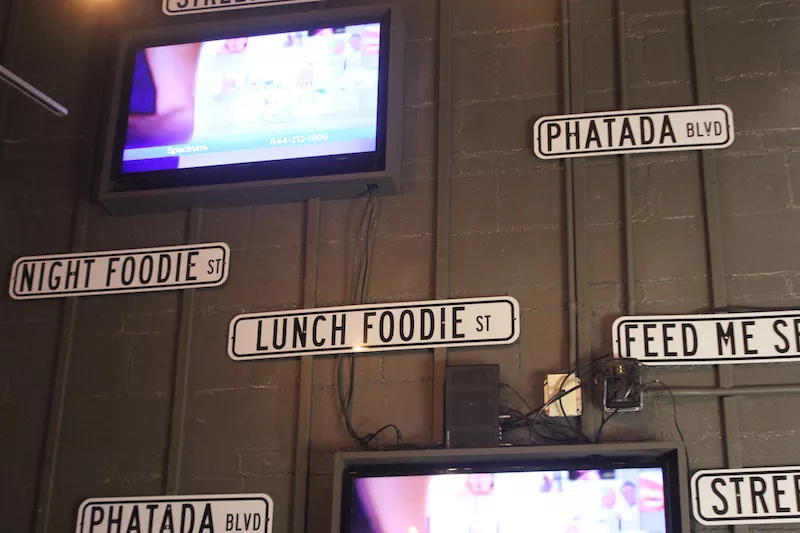 PHOTO BY SARAH FENSKE
The "phatada" is a key part of Crave's branding.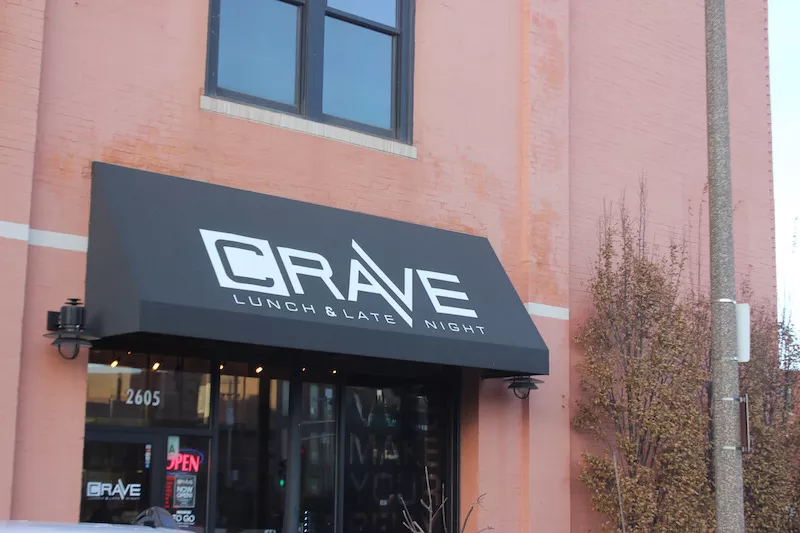 PHOTO BY SARAH FENSKE
The restaurant is open just west of Jefferson on Washington Avenue.

We welcome tips and feedback. Email the author at sarah.fenske@riverfronttimes.com