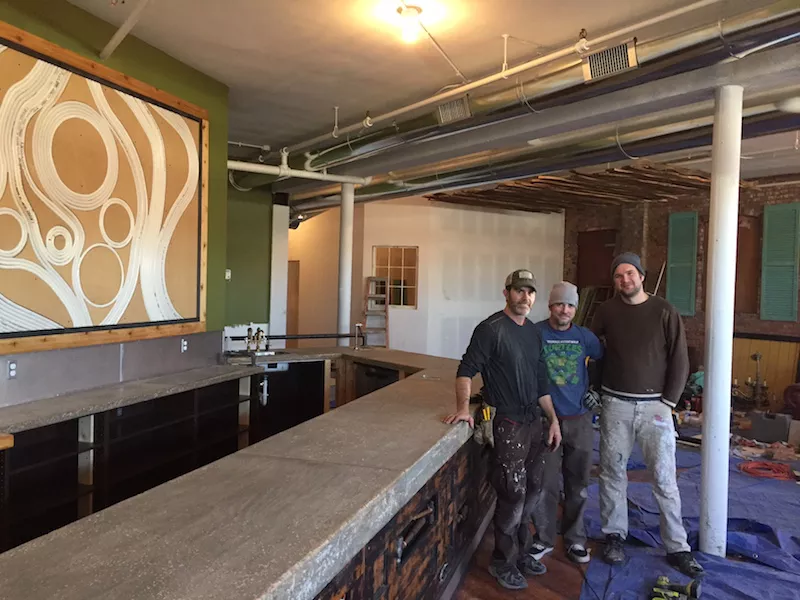 PHOTO BY SARAH FENSKE
Ricardo Hayes, left, with future colleagues Wes Sachse and Jacob Wachsmuth, inside the space they are renovating.
A new kind of coffee-centric cafe plans to open in St. Louis' old-school Italian neighborhood this spring.
Married couple Ricardo and Jessica Hayes and their business partner Pete Nicolazzi plan to call their spot La Luna Cafe — an homage to both the Italian word for "moon" and the Hayes' newborn daughter, Luna. They're currently overhauling the space on the Hill that previously held Hanneke Hardware, located at 5290 Southwest Avenue. The shop closed in January 2015 after more than 85 years in business.
Nicolazzi is a longtime resident of the neighborhood, and the Hayes recently bought a home there. (Ricardo Hayes, whose mother is a native of Italy, spent a lot of time on the Hill as a child.) Realizing the old hardware shop was sitting empty, Nicolazzi told Hayes, "We need to do something really cool to this building if we can secure the space."
Secure it they did, and now they're working on a stunning renovation that both pays tribute to its hardware history and looks to the future. Ricardo Hayes, a carpenter by trade and an artist by vocation, is taking the lead on both design and construction, and he eagerly points out the details now coming together in the 1,850-square-foot space. The hand-poured concrete counter that will serve as the coffee bar sits atop reclaimed turn-of-the-century doors; tools purchased at Hanneke Hardware line the panels. "Everything in here, we've done," Hayes says.
PHOTO BY SARAH FENSKE
Century-old doors, and Hanneke Hardware tools, give the coffee bar visual appeal.
The partners hope to be open by February 1, but there is still plenty to do. A mural behind the bar, still underway, will pay tribute to Van Gogh's
Starry Night
. The original floors will only need a buffing up; the large glass windows that look out on Southwest Avenue are being completely replaced.
The cafe's innovations won't be merely decorative. Taking a cue from their friends who own Rise Coffee in the Grove, the partners are building a sound-proof area inside the shop that will allow kids to play freely without ruining the experience for other patrons. They're also looking at a rooftop seating area — something few, if any, restaurants in the Hill currently offer.
As for the food, Jessica Hayes says that the partners have been inspired by her mother-in-law's obsession with quality. They'll be serving Illy, the Italian coffee — they're the only cafe in town that can make such a claim. They also plan to offer a full menu of Italian sandwiches, soups and traditional pastries, as well as beer and wine.
"We want a destination where people will sit and hang out," says Jessica Hayes. Think of a little piece of modern Italy, or maybe the North Beach area of San Francisco. And then get excited about the possibilities.
image via Google Earth
The building sits at Macklind and Southwest.

We welcome tips and feedback. Email the author at sarah.fenske@riverfronttimes.com