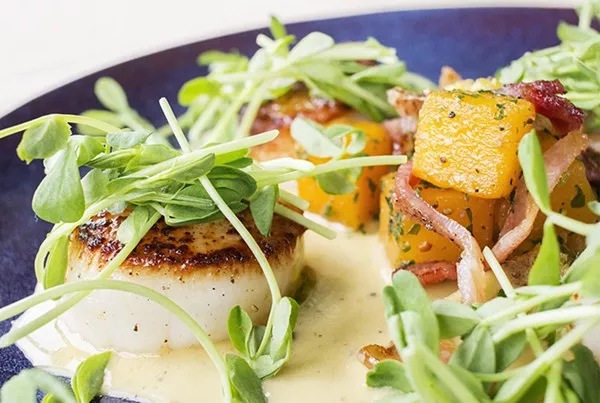 PHOTO BY MABEL SUEN
Seared scallops at J. McArthur's.
One of the RFT's best new restaurants of 2015 won't live to see 2017.
St. Louis Magazine reports today that J McArthur's (3500 Watson Road, 314-353-9463), the well-reviewed spot in Lindenwood Park, will be closing its doors after dinner service on December 31. A new concept from the owners of Robust Wine Bar, which has locations in Webster Groves and downtown St. Louis, will premiere in its place in the new year, the magazine reports.
The "quintessential American bistro" had earned raves from the
RFT
's Cheryl Baehr, who wrote in January, "[I]t exists as a reminder to us trend-chasing, food-obsessed folks to stop for a moment and reflect upon timeless cuisine, classic flavors and why seasonal cooking built around relationships with local producers never goes out of fashion." It also made
2015's "best new restaurants" list
.
But the restaurant's executive chef, Ben McArthur, left the restaurant in August, as the
RFT reported at the time
. The departure couldn't have been an easy one: McArthur's co-owner was his father, John.
"We just wanted to go in a different direction," Ben McArthur said at the time, noting that he and his father had worked together in the space's previous iteration, 3500 Winehaus. "We just came to a mutual agreement that it was time to move on."
That move, however, proved the restaurant's death knell. "It was built for him," co-owner
Kathleen Bibbins told St. Louis Magazine
. "It was named after his dad, and the intent was for it to be a family business."
The family has a long relationship with Robust owners Stanley and Arlene Browne, which led to a business transaction and the decision to make December 31 the restaurant's last.
We welcome tips and feedback. Email the author at sarah.fenske@riverfronttimes.com