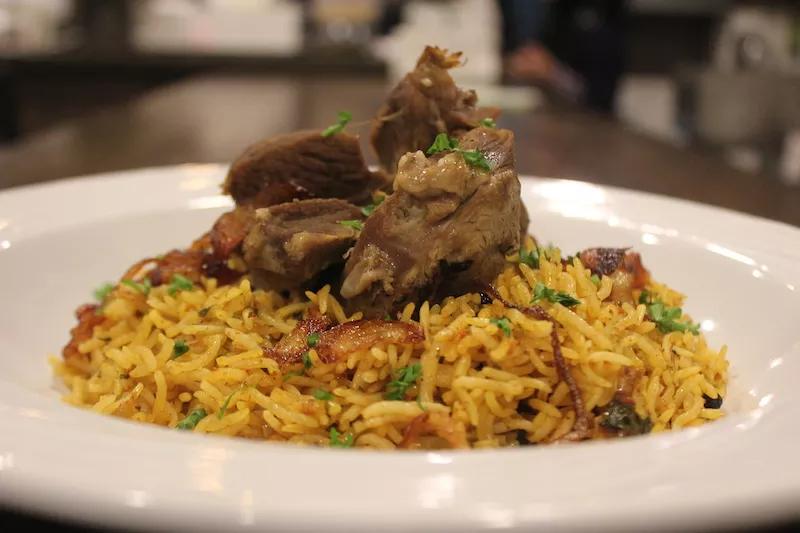 PHOTO BY SARAH FENSKE
The lamb kabsa.
A new restaurant is now open in the space on Cherokee Street that previously held Revel Kitchen — and it's bringing something altogether new to south St. Louis.
The Palm Trees
(2837 Cherokee Street)
offers various lamb and biryani dishes that might seem familiar from the city's Middle Eastern restaurants — as well as classic appetizers including baba ganoush and hummus. But a closer look at the menu reveals that this something a bit different: Instead of the usual Lebanese or Syrian spot, the Palm Trees specializes in Saudi cuisine.
The chef here is Fedaa Alsadeq, who moved to rural Missouri two years ago with her husband Osama Almoerfi for Almoerfi's work as an electrical engineer. When their new friends praised Alsadeq's cooking, she began dreaming of opening a restaurant of her own — a dream that seemed to take on new possibilities when they visited St. Louis.
"Every time we come, we find Arabic restaurants, but no Saudi restaurants," says Alsadeq. "We thought, to bring the food to the community would be unique. The people here, they will love it." They originally looked downtown, but when they spotted the old Revel Kitchen space, with its gleaming white tiles and big windows facing Cherokee, they were sold.
The restaurant now has two dining areas — one familiar to American diners, with tables and chairs, and then a more secluded space down a few stairs. It's set up for traditional Saudi dining, which is served family-style off a big platter on the floor. Low couches allow for easy access to plates.
The dishes on the menu offer a sample of Saudi Arabia's most popular dishes, Alsadeq says. Since the nation regularly plays hosts to visiting Muslims from all over the globe, the cuisine has been influenced by many other countries. Those familiar with Egyptian or Afghani food may feel right at home.
PHOTO BY SARAH FENSKE
Arabic coffee is served as a welcoming gesture.
Meals start with dates, served in a golden dish, and a taste of Arabic coffee, flavored with cardamom and saffron. (Turkish coffee is also available.) From there, you could go any number of directions — a falafel sandwich or a stew, a plate of hummus or tzatziki or grape leaves ... or maybe all three.
But you'd be wise to pay attention to the entrees, which show off some dishes you simply can't find anywhere else in the city. Kabsa, which is widely considered the national dish of Saudi Arabia, is made of tender lamb, served atop a bed of rice and grilled onions. Mandi, another Arabian classic featuring lamb, comes with saffron rice and a side of wonderfully hot salsa for dipping. The lamb is moist and tender, and the flavors are both new and somehow welcomingly familiar.
Cherokee might not be a destination for Middle Eastern cuisine, but Alsadeq is confident. "Some people told us 'If you're doing Arabic food, why not go to South Grand, or to Chesterfield?' But I will make something special. If people want our food, they will come to it," she says. Business owners on the street, she adds, have been welcoming. "They were so excited!"
The couple has now moved to St. Louis with their nine-year-old son, who did an admirable job lending a hand during last week's soft openings. Alsadeq admits she was a bit overwhelmed by the number of customers who found the spot in the days before Christmas, despite zero advertisements.
"Yesterday was like 'wow,'" she admitted on Thursday, their second day of soft openings.
"I told my husband, 'Did I really sign up for this?'" she said. "But I'm ready for the next day now. Seeing people happy and enjoying our food gives us the power to operate and give the best that we have."
The restaurant opens at noon daily and will be open until 8 p.m. Wednesday, Thursday and Sunday, with hours until 10 p.m. on Friday and Saturday. On Saturday and Sunday, they will also open for breakfast at 9:30 a.m. See more photos of the Palm Trees below.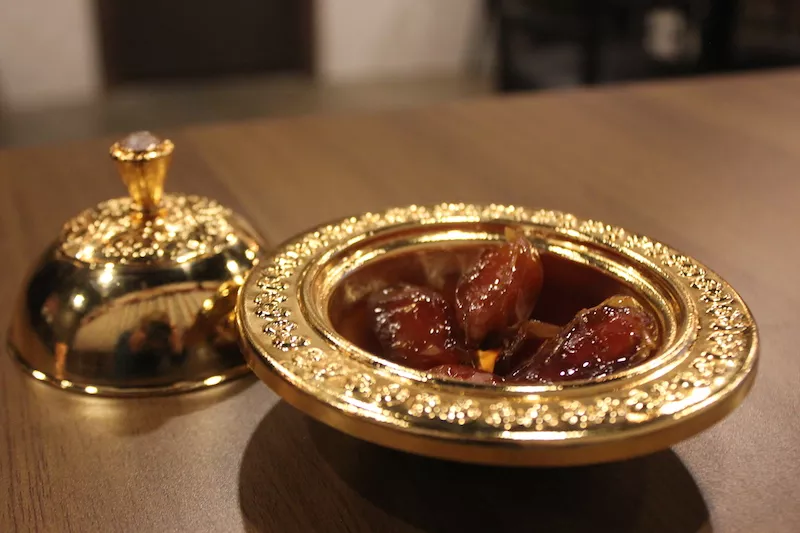 PHOTO BY SARAH FENSKE
Dates start each meal.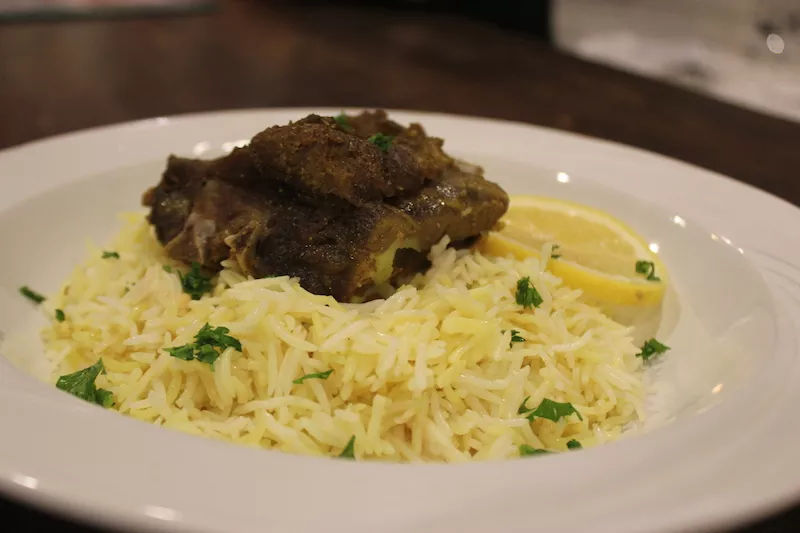 PHOTO BY SARAH FENSKE
The lamb mandi, served with a side of salsa.
PHOTO BY SARAH FENSKE
The storefront still has Revel Kitchen's white-tiled walls, only now they're hung with tapestries and photos of Saudi Arabia.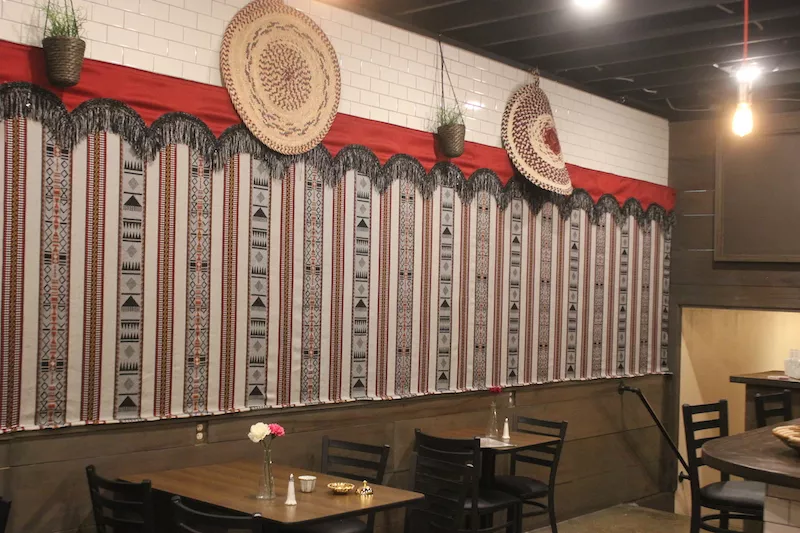 PHOTO BY SARAH FENSKE
This is a traditional Saudi tapestry, Alsadeq says.
PHOTO BY SARAH FENSKE
Downstairs, meals can be served Saudi style, with diners sitting on low cushions and eating off plates on the floor.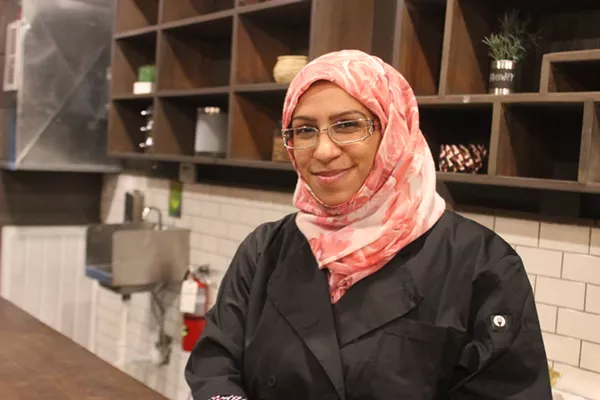 PHOTO BY SARAH FENSKE
Co-owner Fedaa Alsadeq also serves as the cook.


Editor's note: A previous version of this story wrongly explained the Palm Trees' ownership structure. Fedaa Alsadeq is the sole owner. We regret any implication to the contrary.

We welcome tips and feedback. Email the author at sarah.fenske@riverfronttimes.com