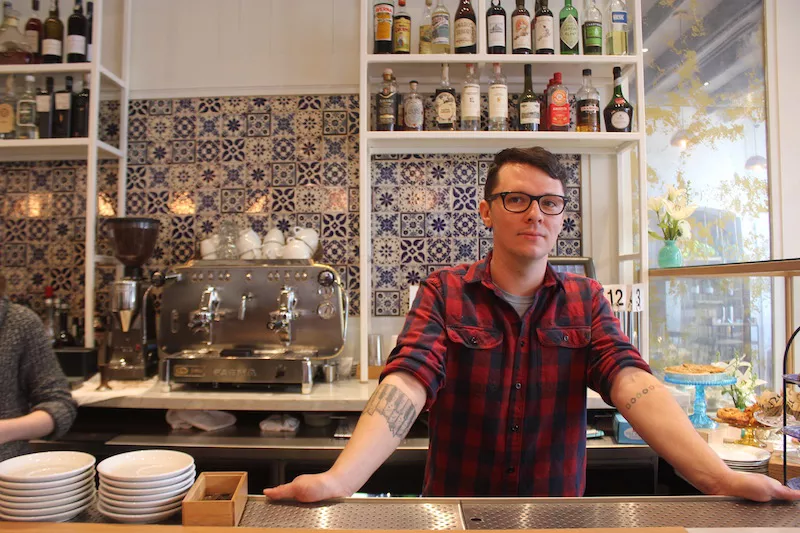 PHOTO BY CHERYL BAEHR
Jordan Howe is now the head barista at Sardella.
The head barista at
Sardella
(7734 Forsyth Boulevard, Clayton; 314-773-7755),
Jordan Howe, was at his lowest point professionally when he wandered into Reeds American Table to apply for a job as a host. "Seriously, you know how in those documentaries about people's lives there is always this really low point where they were about to hang it all up and quit?" Howe asks. "If anyone ever asks me, this was that point. But it turned out that it was the greatest thing that ever happened to me."
Howe had reason to be down at that moment. A musician who started working in coffeehouses to make money, Howe's first gig at Foam introduced him to coffee culture. When he left Cherokee Street for the cafe at Nordstrom, he found himself getting more and more interested in coffee, even though the gig did not exactly expose him to the finer points of specialty coffee. "There, it was all pumps of vanilla and weird flavored smoothies and stuff like that," he recalls. "But in my spare time I started going to places like Sump and Blueprint and tasting all of these incredible coffees and seeing the people going to all of these wild countries like Ethiopia and places in Central America, and it just hit me that I wanted to do this. I wanted to go down the rabbit hole."
When Howe's friend Chris Phillips told him he was leaving Kaldi's to open his own place, the Living Room, Howe jumped at the chance to be a part of it. The Maplewood spot gave Howe the chance to work at the level he'd craved. "Finally, I was doing pour-overs and Chris and I were sourcing our own beans. Everything I'd ever wanted to do was at my fingertips."
Howe's tenure at the Living Room led him to barista competitions, and his girlfriend's gig as a pastry chef at Reeds American Table got him increasingly into food. He was living his passion and felt like he was on top of the world. However, a difference in vision with the Living Room's owners left him looking for a new job. That's when he wandered into Reeds — which proved to be a game changer.
"I've never learned more about who I am and what I want to do than at that restaurant," says Howe. "There's just such a quality of service there that had been missing in my experiences. It was a eureka moment where everything that people love about coffee and service and the dining experience and customer care all merged."
When Howe learned that Gerard Craft was opening his new concept Sardella — and that he would have a bona fide coffee program there — he knew he wanted in. Thinking he'd be hired as a part-time barista, Howe was over the moon when general manager Chris Kelling instead offered him the opportunity to run Sardella's coffee program.
Howe hopes that Sardella will offer guests the same type of specialty coffee experience you get at the finer shops in town, but in a restaurant setting — something he thinks has been lacking in the industry. "A lot of places really fall short when it comes to coffee," says Howe. "Some are fixing it, but most, even though they put all of this care into everything else, treat coffee like an afterthought. It's like going to a wine bar and ordering a beer, and having them pull a warm one out of the basement. And when you ask them what kind it is they say, 'I don't know. It's beer.'"
That will never happen at Sardella, Howe insists. "Everyone is so supportive here. If we're going to do this, then we're really going to do it right."
Howe took a break from the coffee bar to share his thoughts on the St. Louis food and beverage scene, the importance of good, filtered water and why embracing your perceived weaknesses is actually a strength.
What is one thing people don't know about you that you wish they did?
That I have ADHD. I always thought that I needed to hide my flaws and be ashamed at times, but it was only by embracing a perceived weakness that I was able to understand that it's all part of what makes me who I am.
What daily ritual is non-negotiable for you?
I have two. The first is saying goodbye to my girlfriend every morning when I leave for work at 5:30 a.m. She works nights so it's the only time that we see each other some days! The other is, of course, having coffee. The ritual and process of that first cup is still just so magical to me.
If you could have any superpower, what would it be?
It has to be flying. There are so many places that I want to travel. Though, if eating and never getting full or gaining a ton of weight was a superpower, I'd be cool with that, too.
What is the most positive thing in food, wine or cocktails that you've noticed in St. Louis over the past year?
Just how much talent is here and how dedicated those people are to making this city great. As a city, we are headed in an amazing direction.
What is something missing in the local food, wine or cocktail scene that you'd like to see?
I'd like to see more risk taking. This city doesn't always embrace change so you end up seeing a lot of the same concepts showing up over and over. It's slowly starting to change though. You see chefs moving back to the city after gaining some amazing experience at other restaurants. You see the people that have been here continuing to push forward. It's not just about the food, but the dining environment of a restaurant. At Sardella, we are bringing a new coffee experience to St. Louis. We want to evoke that European café culture. We have lots of amazing coffee shops, but we want to be a gathering place for people from business meetings to catch-ups with friends. It's more than just grabbing a cup of coffee in a rush on the way to work. We want to become a part of the community in a real way at the start of the day.
Who is your St. Louis food or drink crush?
I'm going to cheat and pick a whole restaurant. There are so many talented and hard-working people at Reeds American Table and everything they do is so impressive.
Who's the one person to watch right now in the St. Louis food and drink scene?
In coffee, it is Tiffany Green. She is at Blueprint and is the most talented and hard-working coffee professionals that I have ever met.
What coffee drink is most representative of your personality?
Probably cold brew.
If you weren't working in the restaurant business, what would you be doing?
Playing music or working in the music industry. I only started working in coffee because it was a job that I could have and still go on the road and play shows a lot, but it ended up being my passion. I don't get to play music as often as I'd like anymore.
Name an ingredient never allowed behind your coffee bar.
There are a lot of ingredients that I'd prefer to never carry, like half and half, but the real answer is bad water. So much energy, talent and work go into making great specialty coffee, and it can all be ruined if a café or even someone at home is not taking the utmost care of their water. After an espresso machine, the most important purchase is an awesome water filtration system.
What is your after-work hangout?
I'd go to Planters House every night if I could, but I love Retreat for an after-work drink as well. The Gramophone has saved the day with a late-night sandwich more than once.
What's your food or beverage guilty pleasure?
I have far too many, but on any tough day, a trip to Lion's Choice is a must.
What would be your last meal on earth?
I'd head overseas to experience Noma or Faviken. I dream about those restaurants daily.
We are always hungry for tips and feedback. Email the author at cheryl.baehr@riverfronttimes.com.