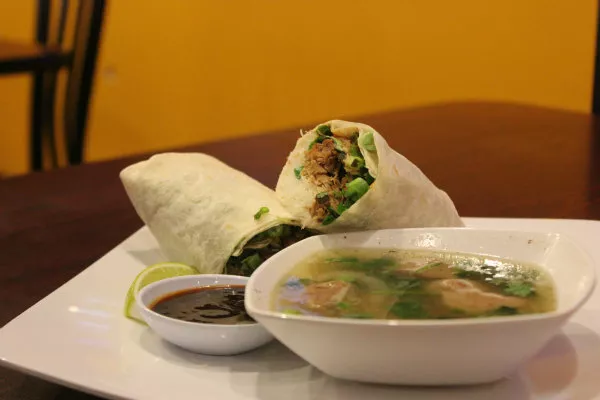 Cheryl Baehr
The "Phorito" at Pearl Cafe blends the Vietnamese classic with a Mexican-style burrito.
Scott Truong of Pearl Cafe (8416 N. Lindbergh Boulevard, Florissant; 314-831-3701) wasn't trying to invent the next big thing when he came up with his "Phorito." He just wanted a way to feed his in-a-hurry lunchtime customers. The classic Vietnamese pho, after all, isn't exactly conducive to being eaten with one hand on the steering wheel — or a keyboard.
"I have a lot of regulars who come in for lunch, and they've been saying to me, 'Man, we need a way to eat this to go,'' Troung says. "So we played around with some ideas to see what we could do to make the food better for those who eat on the go."
The result of Troung's efforts is the "Phorito," a Vietnamese-Mexican hybrid that takes the ingredients of pho and wraps them in a flour tortilla, just like a burrito.
But wait, you may protest — isn't pho a soup? And if so, how on earth can a soup be wrapped in a tortilla without resulting in a mess?
Troung has it under control. "We take the ingredients that are in pho, wrap those in the tortilla, then serve the soup on the side," he explains. "Most people eat the wrap in their cars on their way back to work, then have the soup once they get back to their desk."
As for those ingredients, Pearl Cafe's "Phorito" is composed of beef (eye of round) that has been simmered in pho broth for six to eight hours. Troung explains that this makes the meat fork tender and infuses it with all of the flavors from the broth, most notably, five spice. In addition to the beef, he adds chives, Thai basil, cilantro, bean sprouts, jalapeños and vermicelli noodles to the tortilla, then serves it with a side of spicy plum jam and pho broth.
Asked if he'd recommend dipping the wrap into the soup, almost like a French dip, Troung worries it might fall apart. Still, he encourages customers to experiment — which is how he came up with the "Phorito" in the first place.
"Really, you're supposed to make it your own way," he says.
We are always hungry for tips and feedback. Email the author at cheryl.baehr@riverfronttimes.com.