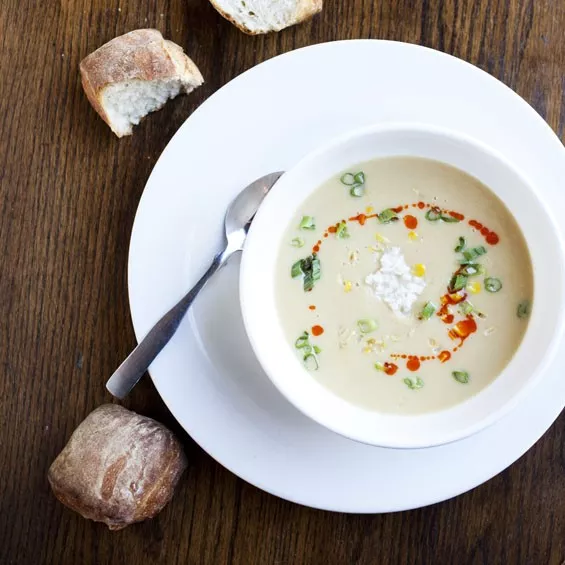 PHOTO BY JENNIFER SILVERBERG
Dressel's stockpot soup specials have included a sweet corn crab.
One of the very best pubs in the St. Louis area is turning 36 this weekend — and how better to celebrate the onslaught of middle age than to throw a big old party?
This Saturday, December 17, Dressel's Public House (419 Euclid Avenue, 314-361-1060) celebrates another year come and gone by rolling back its prices to 1980s level, with $4.99 reuben sandwiches, chef salads, stockpot soups and burgers — and yes, that is the same burger that RFT readers have selected as the city's best. An order of the pub's signature chips are just $3.
And that's not all. Santa will be on site from 11 a.m. to 1 p.m.; complimentary hot cocoa and sugar cookies are on offer, as well as photo ops for the kiddies.
Dressel's also has live music scheduled Sunday (jazz piano by Curt Landes from 5 to 8 p.m.), Monday (the Landol string trio, to honor Beethoven's birthday, from 7 to 9 p.m.), Tuesday (with carols and arias from the Union Avenue Opera from 7 to 9 p.m.), Wednesday (with guitarist Dave Black from 7 to 10 p.m.), Thursday ("Poets & Pints & Ragtime" upstairs beginning at 7 p.m.) and finally, on Friday, a "Christmas Ball" upstairs with the Bottlesnakes.
And if all that is not enough to lure you to the Central West End, did we mention the fireplace in the bar area is one of the city's toastiest? A birthday party, that burger
and
a chance to warm up already? Count us in!
PHOTO BY JENNIFER SILVERBERG
We welcome tips and feedback. Email the author at sarah.fenske@riverfronttimes.com