PHOTO BY JENNIFER SILVERBERG
Mission Taco Chef-Owner Jason Tilford with his son, then 10, in the kitchen. The taco joint is great for date night — but also surprisingly accommodating to young families.
Plenty of great restaurants in town have kids' menus and sippy cups, signaling that they're down with the messy preschool masses. But St. Louis is also lucky to have a number of more sophisticated places that, while they're not expressly aimed at families, are still welcoming. No, they won't serve chicken fingers or offer crayons, but they can still work when you have a kid or two in tow and don't want to get a dirty look from the neighboring table for ruining their date night.
Got another surprising restaurant pick for young families? Let us know in the comment section.
PHOTO BY JENNIFER SILVERBERG
1. Southwest Diner
Southwest Diner
(
6803 Southwest Avenue, 314-260-7244
) serves Southwestern-inspired breakfast and lunch on Southwest Avenue, and while it doesn't have a kids' menu, it does have high chairs and a changing table in the restroom. Plus, the background music and the diners' chatter are enough that no one will notice when your toddler melts down because you cut his pancake the wrong way. The wait staff is happy to bring just a single egg, pancake or side of bacon for your little one, too. The only downside is that there's not much indoor space to wait if a table isn't immediately available, but let's face it — if you're heading out for breakfast with a young child, you're going to beat the brunch rush anyway. Favorite dishes for adults include "Jonathan's famous fiery scramble" and the "rocket to bacon land."
Photo by Lauren Milford
The Fountain on Locust's tiniest heart fudge sundae.
2. The Fountain on Locust
The Fountain on Locust
(
3037 Locust Street, 314-535-7800
) is a treat for everyone; adults can enjoy alcoholic ice cream martinis while the restaurant's famous "world's tiniest ice cream cone" and "world's tiniest hot fudge sundae" are just enough for your little ones to enjoy without destroying their outfits and appetites. The atmosphere is fun but not too stuffy, and the staff has always been very helpful in providing high chairs and (many) additional napkins.
PHOTO BY KAITLIN STEINBERG
3. Russell's on Macklind
Russell's on Macklind
(
5400 Murdoch Ave., 314-553-9994
) serves breakfast, lunch and dinner with a cozy atmosphere inside and a large deck and outdoor patio. It's casual enough that you won't get stares with your kid(s) inside, but if the weather allows, we highly recommend the outdoor seating where your child's squawks and crumbs will barely be noticed. For kid-friendly choices, you can't go wrong with the breakfast grilled cheese or the macaroni and cheese. High chairs are provided.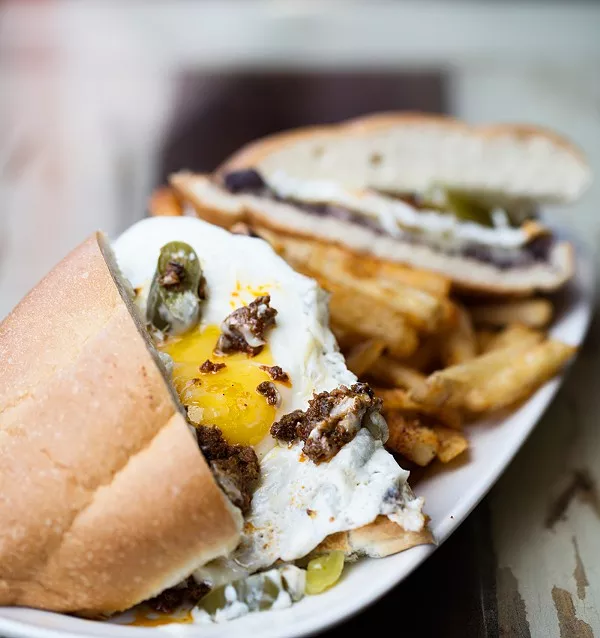 PHOTO BY JENNIFER SILVERBERG
The chorihuevo torta at Mission Taco Joint.
4. Mission Taco Joint
Mission Taco
has three St. Louis locations — on the Loop (
6235 Delmar Boulevard, 314-932-5430
), in the Central West End (
398 North Euclid Avenue, 314-930-2955
) and in Soulard (
908 Lafayette Avenue, 314-858-8226
) — all of them serving tasty tacos, burritos and tortas. Order the chips and salsa to keep your young ones happy while you're waiting for your food. If your child is old enough to be trusted with a kiddie cocktail, order one for them and one of Mission Taco's cocktails for yourself — they squeeze all of their juices daily and make their specialty cocktail ingredients in house. Another reason we love Mission Taco: the music and background noise are usually loud enough to make your toddler's repeated requests for more chips not embarrassingly noticeable. Each of their locations can get packed, but there's an easy solution in this case. Just use the NoWait app to check out the wait before you go.
PHOTO BY JENNIFER SILVERBERG
Pi Pizzeria is famous for its deep-dish pies — but it's also a friendly spot for a family.
5. Pi Pizzeria

You can't go wrong with any of
Pi Pizzeria
's four locations in St. Louis: Central West End (
400 North Euclid Avenue, 314-367-4300
), the Loop (
6144 Delmar Boulevard, 314-727-6633
), Downtown (
610 Washington Avenue, 314-588-7600
) and Kirkwood (
314-966-8080
). They have high chairs and booster seats, and the favorite food of many children: cheese pizza. Pi makes adults happy too, with its deep-dish and thin-crust pies (and craft beers). The wait for your food can be a bit longer than waiting for a frozen pizza to cook at home, so bring a toy, book or electronic device.
Turn the page for more family-friendly picks.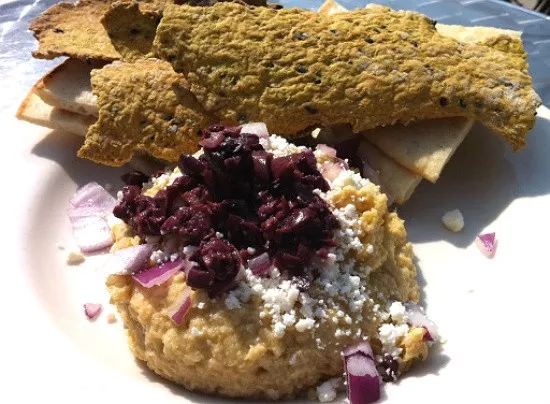 RFT FILE PHOTO
The hummus platter at Schlafly Bottleworks: Something for kiddie vegetarians?
6. Schlafly Bottleworks
Schlafly Bottleworks
(
7260 Southwest Avenue, 314-241-2337
) boasts a large amount of indoor and outdoor seating, and frequently hosts live music, perfect for camouflaging any baby fussiness or maybe even entertaining your little dancer. There's a lot to choose from on the menu, including the kid favorites of pretzels and cheese, and cheese pizza. They also host special events that can be fun to take your kid to, like the farmers' market on Wednesday evenings during the warmer months.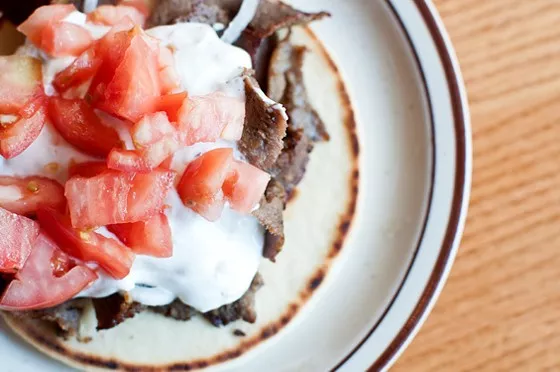 PHOTO BY CAROLINE YOO
The classic gyro at Olympia Kebob House and Taverna
7. Olympia Kebob House and Taverna
Olympia Kebob House and Taverna
(
1543 McCausland Avenue, 314-781-1299
) doesn't offer a kids' menu, but they do have high chairs and a friendly neighborhood atmosphere. Service is usually pretty fast, which is excellent when you are eating with someone who has a very short attention span. Order some pita and hummus for your kiddo while you wait for your gyros, or if your little one isn't interested in a gyro, go with the chicken tenders and fries.
PHOTO BY MABEL SUEN
The roasted pork sandwich at Union Loafers.
8. Union Loafers
While there isn't a kids' menu at
Union Loafers Cafe and Bread Bakery
(
1629 Tower Grove Avenue, 314-833-6111
), we think little ones would love the nut butter sandwich with butter, nut butter and apple butter, and wouldn't think twice about bringing them here for lunch.
9. Layla
Serving burgers, shakes and shawarma,
Layla
(
4317 Manchester Avenue, 314-553-9252
) may not have a kids' menu, but their delicious burgers and fries should make most kids happy. The hummus and pita appetizer should keep your young ones busy til their food arrives, and the promise of a milkshake at the end of a meal might keep them on their best behavior. As a bonus, their burgers are made with locally produced, pasture-raised beef, and free of added hormones or antibiotics.
PHOTO BY CRYSTAL ROLFE
Laredo on Lafayette Square offers a kid-friendly atmosphere — and a full bar.
10. Laredo on Lafayette Square
Lafayette Square is practically the Park Slope of St. Louis city these days — you can't cross the street without running into an overpriced stroller. Unfortunately for young families, the restaurants in the neighborhood still veer more to the fancy than the fast-casual — which is where the four-year-old Mexican mainstay
Laredo on Lafayette Square
(2001 Park Avenue, 314-231-9200)
comes in. Yes, there are tablecloths here, but they're black, which means they hide the dirt, not make you feel bad about it. And the staff couldn't be nicer, even if the kids are making noise. Live music some weeknights and every Friday provides a distraction, while a margarita from the bar will help Mom and Dad get through the night. High chairs are provided.
— with additional reporting by Sarah Fenske