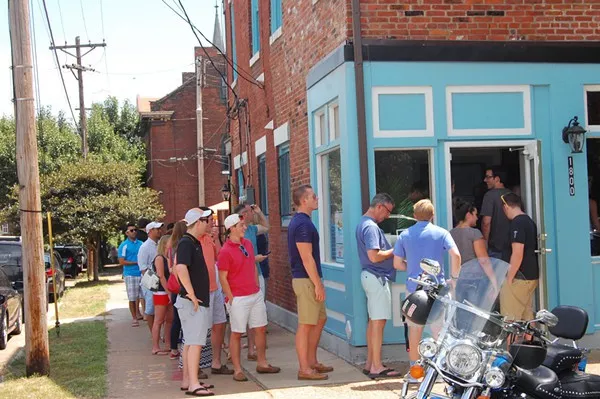 Photo by Kristie McClanahan
There's one more weekend to drink booze slushies at Tropical Liqueurs in Soulard.
This will be the last weekend for Tropical Liqueurs in Soulard.
The purveyors of alcoholic slushies plan to shut down at midnight on Sunday, December 4, and reopen in the spring at a new, larger space in the Grove. Trops' rebirth in the growing party district will include a partnership with Guerrilla Street Foods, a Tower Grove East favorite inspired by Filipino street food.
"We can't wait to start the next chapter for Trops in St. Louis," co-owner Billy Thompson said in a statement. "The new space is undergoing and extensive overhaul, and we thought it was important for us to make that our priority over the next few months."
See Also: Tropical Liqueurs Readies for a New, Bigger Space in the Grove.

The switch to the Grove should end a battle with Soulard neighbors that began within months of the bar's opening in the summer of 2015. Complaints about chaotic crowds that spilled out of the location at 1810 S. 10th Street persuaded a city hearing officer in March to
revoke Trops' liquor license
, despite the owners' allegations that much of the controversy was
rooted in racism
.
A judge later granted the bar a reprieve, allowing it to stay open while Thompson, who owns the business with his sister and brother, looked for a new location.
Trops is expected to open in the spring at 4104 Manchester Avenue. The new space is nearly double the size of the Soulard location at 8,000 square feet and includes an outdoor courtyard.
The owners already have a liquor license for the location in the Grove. The Soulard location will remain available for private parties through the end of the month.
We welcome tips and feedback. Email the author at [email protected] or follow on Twitter at @DoyleMurphy.