Cheryl Baehr
Rock & Brews serves American fare like pizzas, burgers, salads and wings.
Rock & Brews (17258 Chesterfield Airport Road, Chesterfield; 636-536-2739), the music-themed restaurant that opened last week in the Chesterfield Valley, wants to KISS away St. Louis' hunger.
That's right. The massive restaurant, which occupies the former Estancia Mexican Restaurant space on Chesterfield Airport Road, is devoted to all things KISS, as well as the many other scions of hard rock (Guns n Roses, the Grateful Dead, the Rolling Stones) whose music and memorabilia assert themselves throughout the space like a Jack Daniels-fueled Hard Rock Cafe.
The concept comes from KISS members Paul Stanley and Gene Simmons, together with concert promoters Dave and Dell Furano and restaurateur Michael Zislis. One night after a KISS concert, the longtime friends were sitting around when Dave Furano asked, "What's better than rock and brews?" "Nothing," the rest of the group concurred, and plans for a chain of music-oriented restaurants was set in motion.
Cheryl Baehr
Rock & Brews has a massive open dining room.
"We are a rock & roll themed biergarten with craft beer and craft food," says Chesterfield's general manager Kyle O'Neal. "We want to get over the stigma that we are just a rock & roll bar. We're really a family restaurant, and we want to appeal to everyone from 2 to 82."
The Chesterfield Rock & Brews is the seventeenth location of the chain and features the traditional American bar and grill fare that defines the concept. O'Neal emphasizes that this is a from-scratch kitchen with almost everything made in-house.
Additionally, each Rock & Brews features local items that are special to the individual location. For example, the Chesterfield restaurant will soon be adding pork steaks and gooey butter cake to the menu.
In the mean time, look for appetizers like fried calamari and Bavarian pretzels, several varieties of wings, burgers, pizzas, steaks and ribs. Specialties include the "Gastropub Burger," which features a large patty of fresh ground beef on sesame brioche topped with Swiss cheese, an sunny-side-up egg, bacon and caramelized onions. The sweet soy glaze on the "Asian chicken wings" is so delectably sticky and gooey it'll make you want to "lick it up."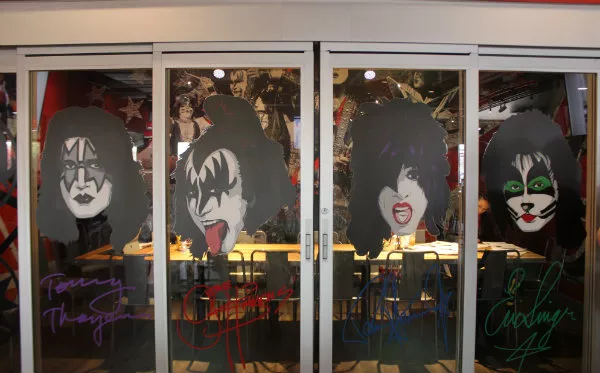 Cheryl Baehr
The boys look out over the dining room.
Cocktails carry on the music theme, as different drinks are named after and inspired by popular rock songs, like the "Hot Blooded," a Foreigner-themed bloody Mary or the "Rock You Like a Hurricane," a Scorpions-inspired take on the New Orleans classic. The restaurant also has a small tasting bar where patrons can hang out and sample different craft beers.
Rock & Brews is open Monday through Thursday from 11 a.m.-11 p.m.; Friday and Saturday from 11 a.m. to midnight and Sundays from 10 a.m.-10 p.m.
Click through for more photos of Rock & Brews.
Cheryl Baehr
A Grateful Dead mural greets guests at Rock & Brews.
Cheryl Baehr
Door handles for those about to rock.
Cheryl Baehr
Rock & Brews' "Gastro Burger."
Cheryl Baehr
Outdoor seating includes leather couches and a fireplace.
Cheryl Baehr
Pinball anyone?
Cheryl Baehr
The "Spicy Maui Wowie" pizza.
Cheryl Baehr
Rock & Brews' tasting bar.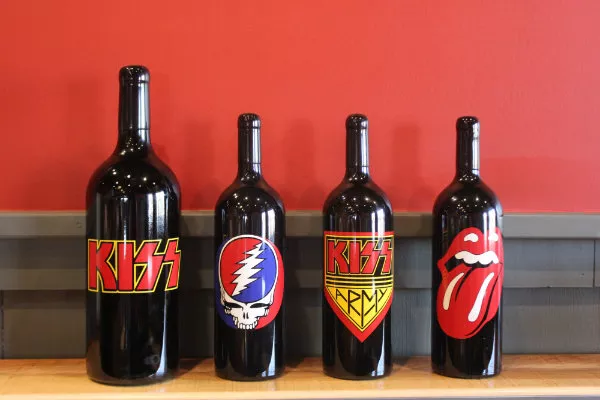 Cheryl Baehr
Kiss wine for your imbibing pleasure.
Cheryl Baehr
Rock & Brews brings chicken wings and Kiss to the Chesterfield Valley.
We are always hungry for tips and feedback. Email the author at [email protected]