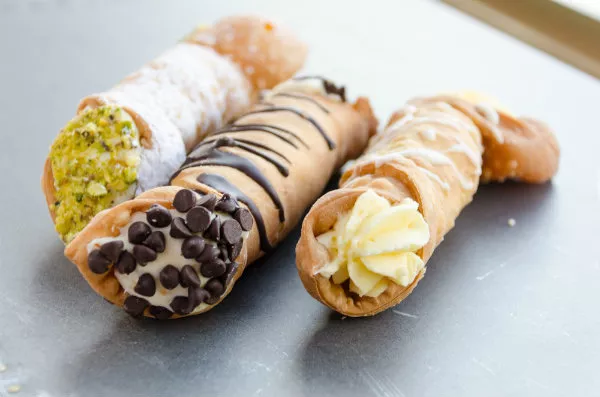 Photo courtesy of Piccione Pastry.
Piccione Pastry's pistachio, chocolate chip and signature cannoli with vanilla Piccione cream.
If Buzzfeed says it, it has to be true.
Earlier this month, everyone's favorite time-wasting website rounded up the nation's best sweet treats. Titled "
Desserts to Try in Each of the 50 States
," the article uncovers the No. 1 must-try dessert shop in every state. Of course, Missouri couldn't be left out of the fun — and the Show Me State's winner is right in the Loop.
That's right —
Piccione Pastry
(6197 Delmar Boulevard, 314-932-1355)
is Missouri's must-try dessert destination.
There aren't any details about why each winner was chosen; Buzzfeed must have assumed we could skip that when we have a plethora of desserts to try. In Piccione Pastry's case, that means from-scratch Italian pastries and gelato, in addition to Italian coffee and breakfast and lunch menus.
The late-night Italian pastry shop provides fun twists on traditional desserts that the shop's chefs make from scratch. For those looking to try Missouri's must-try dessert spot ASAP, you can expect fun seasonal flavors such as pumpkin gooey butter cake and toasted s'mores cassata cake to be on the menu.
"It is quite a treat to be recognized by the BuzzFeed Community," Piccione Pastry chef Sandia Hoormann said. "Our original recipes have been passed through the Piccione family for almost 100 years; we work hard to provide guests with unique and seasonal twists on authentic Italian cookies, pastries, cakes and more!"
For more information about Piccione Pastry, visit
piccionepastry.com
.