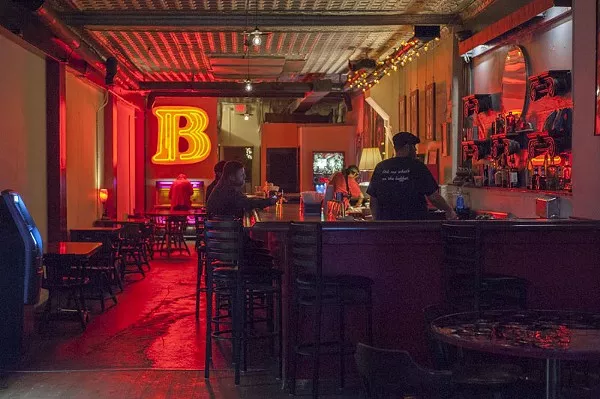 PHOTO BY KELLY GLUECK
The B-Side fills the former Los Punk spot on Cherokee.
It's been an incredibly busy month in the St. Louis restaurant scene. Cherokee Street got a dive-y new burger joint. The Morgan Ford area got a sparkling new sandwich shop. Downtown got pancakes and cookies 'til 3 a.m. — while the area near the Loop finally got a top-notch Vietnamese restaurant.
So that's the good news. The bad news is that Herbie's finally, and officially, closed its original location in the Central West End, with a plan to reopen in the Cardwell's spot in Clayton soon. We also lost three spots in the Loop, another Fort Taco and the well-reviewed A2 the GFCF downtown.
What's next in November? Nathalie's has announced it's closing November 5 — but we also anticipate some hot new arrivals, including
Sardella
(replacing Niche in Clayton) and
Mauhaus
(the cat cafe opening in Maplewood).
Lest you're sad about any of this month's closures, we'll repeat that last one, with a little more detail: A
cat cafe is really is opening in Maplewood
, and at this point, it looks like it'll be ready for business on November 12. Make
your reservations now
!
See also: Eat Sandwiches Brings Casual Fare to Tower Grove South

See also: Mona's Brings a New Style of Italian to the Hill
Openings
Bobby's Place
2652 Hampton, Southwest Garden
Chris' @ the Docket
100 N. Tucker, Downtown
The B-Side
2709 Cherokee Street, Cherokee District
Eat Sandwiches
3148 Morgan Ford Road, Tower Grove South
Egg
2201 S. Gravois, Benton Park
Insomnia Cookies
1136 Washington Avenue, Downtown
Mona's
5257 Shaw Avenue, the Hill
Papagayo's
5001 Lindenwood Avenue, Northampton
Spare No Rib
3701 S. Jefferson, Gravois Park
The Shack
14810 Clayton Road, Chesterfield
VietNam Style
6100 Delmar Boulevard, Skinker-DeBaliviere
See also:
8 Dollar Deli Closes, Moving to O'Fallon
See also: VietNam Style Now Open on Delmar East

See also: The B-Side Is Now Open on Cherokee
Closings
8 Dollar Deli
6600 Delmar Boulevard, the Loop
A2 the GFCF
1330 Washington Boulevard, Downtown
Fort Taco
8471 Lindbergh Boulevard, Florissant
Herbie's Vintage 72
405 N. Euclid Avenue, Central West End
I Scream Cakes
2641 Cherokee Street
Leonardo's Burger Kitchen
2130 Macklind, the Hill
Subway
6633 Delmar Boulevard, the Loop
Zippy's Burger
571 Mehlville, the Loop
See also: More Restaurant Closings Hit the Delmar Loop

See also: I Scream Cakes to Close Its Cherokee Shop

Editor's note: A previous version of this story indicated that Vicia would be opening in November. That date has been pushed back to late December or early January. We regret not staying on top of this one. We also added Bobby's Place to our list of openings, since we'd previously missed it.