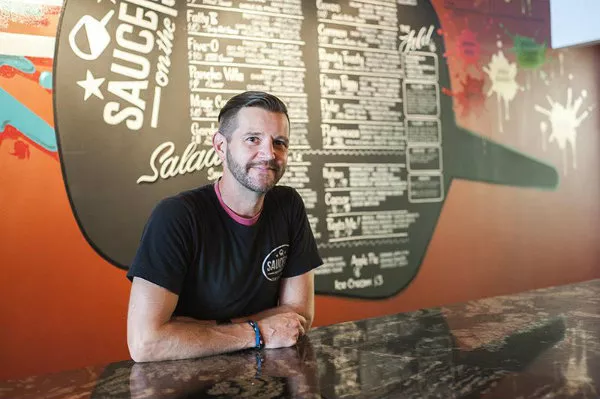 Kelly Glueck
Daniel Porzel has George Costanza to thank for his business success.
Daniel Porzel laughs when he tells the story about how
Sauce on the Side
(multiple locations including 4261 Manchester Avenue, 314-932-7800)
came to be. "It's because of
Seinfeld
," Porzel explains. "My business partner Ryan [Mangialardo] was watching the calzone episode where George gets the calzones for Steinbrenner, and he called our other partner Brendon [Maciariello] and said, 'Hey man, we should do calzones.'"
Maciarello replied, "Yeah man, I'm hungry. That sounds great." But Mangialardo wasn't talking about dinner: "No. I mean
really
do calzones, like open a calzone place."
The idea may have come about on a whim, but it wasn't the first time the friends discussed opening a restaurant. The three industry veterans always had in the back of their minds that they'd partner up to open a place, but they never really settled on a concept. "At first we thought about doing gourmet burgers," says Porzel. "That's when the whole burger thing was popular, but everyone was doing them."
The holdup for Porzel wasn't just related to finding the right concept, though — it was because he had to muster the courage to make a major career change. "I'd always worked in restaurants, but I took a break and went the education route," he explains. "I sort of came to teaching by accident, but I fell in love with it. I'd spent a large chunk of my life pursing that, but after ten years, I felt a little stagnant and needed a change. It's really emotional, and being invested in the kids so much made it really hard."
Mangialardo's calzone idea struck a chord with the three friends, and they got to work perfecting their dough recipe and playing around with different ingredient combinations. Once they had some basic concepts down, Porzel decided he was ready to leave teaching altogether to focus on the restaurant.
Four years later, Porzel and his partners just opened their third location, in the city's Grove neighborhood, and have their eye on expanding outside of the St. Louis market. That doesn't mean Porzel has fully left his teaching role behind though — some of his former students are now his employees. "I have about five or six of them working for me now," he says. "I taught second, fourth and fifth grade, and now they are college kids!"
Porzel took a break from the restaurant to share his thoughts on the city's dining scene, his frozen kryptonite and why St. Louis needs a
Star Wars-
themed restaurant.
What is one thing people don't know about you that you wish they did?
That I have a wonderful singing voice. I can't seem to get any of my staff to realize that.
What daily ritual is non-negotiable for you?
Similar to Stuart Smalley where I tell myself I'm good enough, smart enough, and people like me ... just less insecurely.
If you could have any superpower, what would it be?
The ability to stop time...or super speed so I could get everything done I want to ... or flying. Damn. Great question!
What is the most positive thing in food, wine or cocktails that you've noticed in St. Louis over the past year?
I think the attention to quality ingredients and overall passion for the end product.
What is something missing in the local food, wine or cocktail scene that you'd like to see?
A
Star Wars-
themed restaurant or an all garlic cheese bread restaurant.
What is your St. Louis food crush?
Gramophone.
Who's the one person to watch right now in the St. Louis dining scene?
Mike Johnson of Sugarfire Smokehouse.
Which ingredient is most representative of your personality?
Dates. They're in the calzone named after me, the "Gonzo" — sweet and savory.
If you weren't working in the restaurant business, what would you be doing?
Teaching or a radio personality.
Name an ingredient never allowed in your kitchen.
Beans or white fish. My one business partner is "allergic."
What is your after-work hangout?
4 Hands brewery.
What's your food or beverage guilty pleasure?
Baja Blast Freeze from Taco Bell. That is my crack!
What would be your last meal on earth?
Fried Baja fish tacos from Mission Taco Joint — if I could, I'd have ten. If not, then chicken tikka masala from Rasoi.
We are always hungry for tips and feedback. Email the author at cheryl.baehr@riverfronttimes.com.