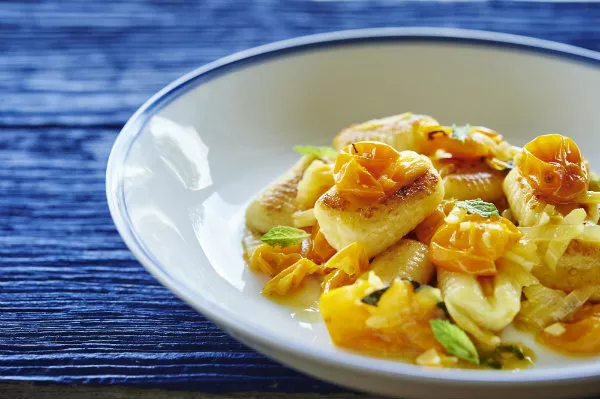 If you've been anxiously awaiting the opening of Gerard Craft's latest concept, Sardella, here's some good news — it's getting close. The banquettes are being installed, the Mediterranean-inspired tile is going up on the walls and, most importantly, there's a menu.
Yesterday, Craft and his team released a sneak peek of Sardella's breakfast and dinner menus with dishes that reflect the restaurant's Mediterranean inspiration. Executive chef Nick Blue and executive pastry chef Sarah Osborn, both veterans of Craft's now-shuttered flagship Niche, couldn't wait for the chance to help the acclaimed chef realize his vision for an approachable, family-friendly restaurant.
"I don't have the strong Italian ties that Gerard has, but I've drawn upon the notion of family dinner," Blue explains. "We wanted to create somewhere that you could go with your family that is really relaxed and has comfortable food."
In that spirit, Sardella's dinner menu will feature a selection of small plates that mix the familiar with elevated flavors. Look for dishes such as a pistachio and white bean dip that is a riff on hummus, as well as Craft's take on garlic bread made with homemade rolls and black garlic butter.
Sardella's menu was developed through a series of pop-up events, an experience that allowed Craft, Blue and Osborn to get real-time feedback on potential dishes. "I had the opportunity to open Taste with Gerard," says Blue. "That was a long time ago, but what I learned from that is that he takes customer feedback very seriously. The pop-ups gave us the opportunity to take that into account before we even open."
Adds Osborn, "It's really nice to have that quick feedback. I don't want people to be like, 'Oh that's great.' It's usually hard to pull real, honest feedback from people, but they were really forthcoming with us."
Osborn took the lead in developing all of Sardella's desserts as well as its sweeter breakfast offerings, such as coconut "yogurt," a non-dairy dish made from coconut milk and pulp that will be topped with granola, berries and dates. She is particularly excited to be using chocolate again, now that she no longer has to adhere to Niche's fiercely local standard of only using ingredients from Missouri.
"Chocolate is something that people love so much, and that was probably the hardest thing about Niche," she admits. "But it's exciting to take what I learned at Niche and reincorporate ingredients. Gerard gave me free reign here to do whatever I wanted."
Though an opening date is still tentative, Osborn hopes that Sardella will be open in a matter of weeks. In the meantime, she and Blue are hard at work putting the finishing touches on the menu as the restaurant gets built around them.
"We're just so excited," says Osborn. "The biggest thing we all talked about when Sardella was in its infancy was having fun with it." Blue is equally enthusiastic, "Over time, we've just seen it slowly evolve into something great."
Turn the page for a sneak peak at what's to come at Sardella.


Greg Rannells
Sardella, named after an Italian fish sauce, will feature approachable yet elevated dishes.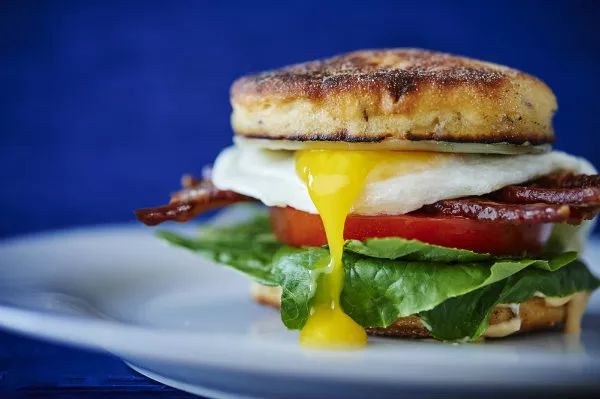 Greg Rannells
Sardella will be open for breakfast, lunch and dinner.
Dinner
Pistachio & White Bean "Hummus" with charred bread
Baby Kale salad with shaved fennel and a chili-lime vinaigrette
Housemade Warm Dinner Rolls, served with a black garlic butter
Charred Romano Beans with roasted garlic custard, Calabrian chili vinaigrette and basil
Caramelized Carrot Soup with granola and buttermilk sorbet
Gnocco Fritto, airy dough pockets filled with crème fraiche, and topped with house-cured gravlax, bone marrow, citrus and tarragon
Fluke Tartare with lime, walnut oil, chive and watercress
Barramundi with mussels, sorrel butter and greens
Uni Carbonara, served with spaghetti, guanciale and Parmesan
Potato Gnocchi with sungold tomatoes, mint and white wine
Miso-Ricotta Ravioli with orange, pepitas, brown butter and tarragon
Spice Roasted Chicken with charred broccoli and preserved lemon
Stout-Braised Lamb Neck served with fresh Italian tortillas or piadinas
Bavette Steak with miso butter and herb salad
Dessert
Pistachio White Chocolate Panna Cotta with candied pistachio, cookie crumble and blueberries
Olive Oil Cake with sweet ricotta and cantaloupe jam
Chocolate Cremeaux with peanut butter and grape
Breakfast
Coconut "Yogurt" made from the pulp and milk of young coconuts with granola, berries and dates
Smoked Salmon English Muffin
Avocado Toast with Aleppo pepper
Grain Bowl with farro, kimchi, kale, swiss chard and fried egg