Cheryl Baehr
The pulled pork sandwich with hand cut fries.
If you've driven by the old Spare No Rib on Gravois and wondered about the breakfast spot that seems to have suddenly taken its place, do not despair. The Tex-Mex taco and barbecue spot hasn't closed; it's just moved.
On October 4, Spare No Rib relocated to its new digs at 3701 Jefferson Avenue, right across the street from Sump Coffee. According to owner Lassaad Jeliti, the move is the result of the overwhelming response to his pop-up breakfast concept Egg, which operated inside of the old Spare No Rib. Originally envisioned as a Sunday-only "just for fun" event, Egg took on a life of its own and developed a large enough customer base to support it as a standalone restaurant.
"From the beginning, I wanted to serve breakfast on Sundays — I'm just a breakfast person," Jeliti explains. "I thought, 'Let's put a little menu together,' but I also realized that we should probably switch the name for the breakfast menu because a lot of people wouldn't want to come to Spare No Rib for breakfast. In the back of my mind, I hoped that one day if it was successful enough, we'd be able to separate the two. I was looking for the right opportunity."
Cheryl Baehr
Spare No Rib's new location is warm and intimate.
He got one when Jeliti heard that the old Lucky Buddha space was available (the restaurant
closed in January after less than a year
). Though the space was basically turnkey, he and his team got to work putting their own stamp on the place to reflect a similar vibe to the old Spare No Rib. Though decidedly cozier than the old spot (the Gravois location is all windows), the new restaurant captures the sort of Texas border town feel that perfectly reflects the menu. Walls are painted in muted French blue and red, blonde wood tables decorate the space, and wrought iron chandeliers cast a warm glow across the room.
The digs may have changed, but the menu remains basically the same. Look for signature dishes such at the pulled pork sandwich; lamb, beef cheek or carnitas tacos; and the restaurant's signature platter, the "Spare No Rib," which lets you have the best of both worlds: two tacos, two ribs and a side. And as for those sides, Jeliti brought with him his signature graham cracker crusted mac & cheese, sweet corn and delectable corn bread.
Spare No Rib is open Tuesday through Thursday from 11:30 a.m.-9 p.m., Friday and Saturday from 11:30 a.m. -10 p.m. and Sundays from 11:30 a.m.-9 p.m. Click through for more photos of the new location.
Cheryl Baehr
Chips with three kinds of salsa.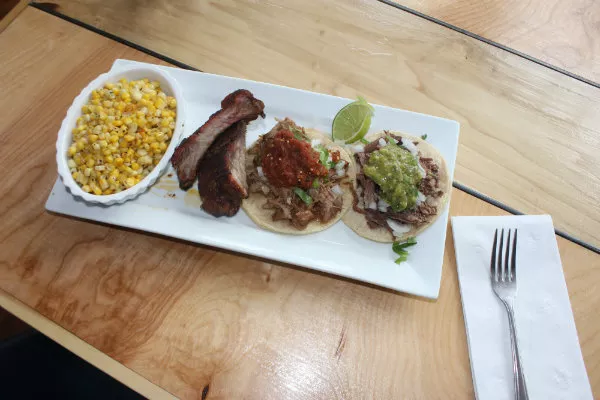 Cheryl Baehr
The "Spare No Rib" platter.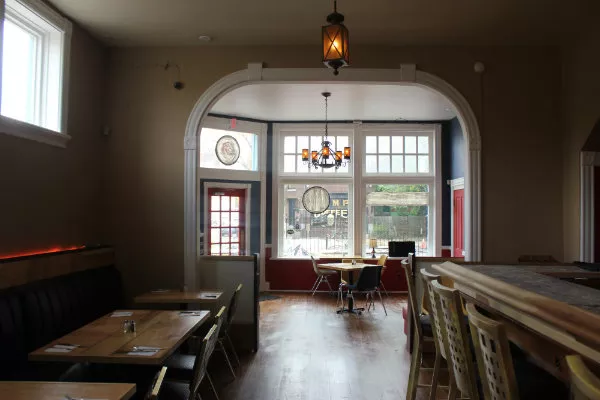 Cheryl Baehr
The new Spare No Rib occupies the former Lucky Buddha storefront.
Cheryl Baehr
Patio seating is available.
Cheryl Baehr
Chips and guacamole.
Cheryl Baehr
Spare No Rib's new bar area.
Cheryl Baehr
The dining room faces Jefferson Avenue.
Cheryl Baehr
Spare No Rib is now open.
We are always hungry for tips and feedback. Email the author at cheryl.baehr@riverfronttimes.com.