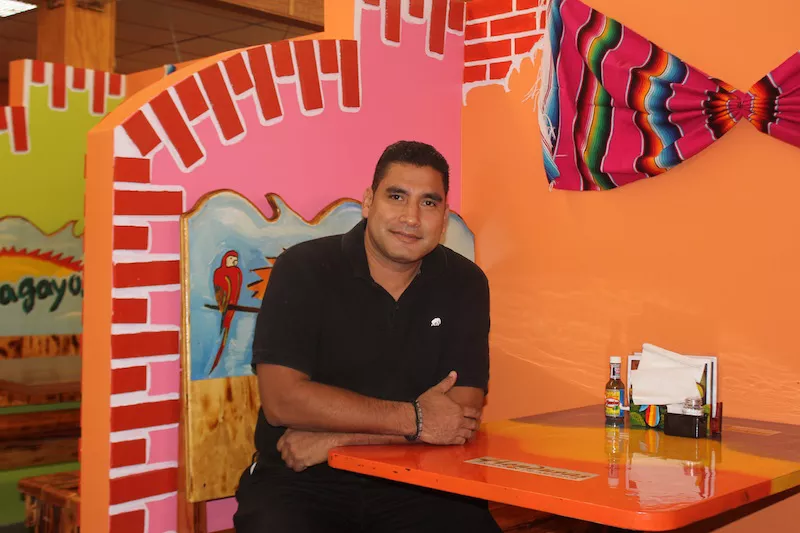 PHOTO BY SARAH FENSKE
David Montiel of Papagayo's.
For the Montiel family, which has owned the Central American grocery/restaurant Papagayo's for a decade, 2016 has proven an incredibly tough year.
First the building they rented on Gravois, the eatery's home for three years, was condemned by the city, says Ana Montiel, who with her sister Marian assists parents David and Irma in running the place. The Montiels had no notice of any trouble from their landlord until suddenly the building was shuttered and they were ordered to close.
It took months, but the Montiels located a new home — a much bigger space at 5001 Lindenwood Avenue in the Northampton neighborhood, previously a place called El Tropicana, which closed a few years ago.
But after they began moving in, disaster struck again.
Even though their landlord happily accepted their deposit, Montiel says, it turns out he probably shouldn't have. He was in the process of losing the building to foreclosure. And so rather than the September opening they'd planned on, in August they arrived to find the building padlocked and the bank now in control.
Luckily, the bank agreed to work with them — and on October 3, they finally opened their doors. Papagayo's is still waiting for its liquor license, and the sign out front still says El Tropicana, but they are most certainly open for business.
"It's been hard," acknowledges Ana Montiel. Not only did they lose a lot of their equipment when the city shuttered the old building, but they lost some things all over again when their landlord cleared out the new building before losing it to the bank, she says. "We had to take out a lot of loans and stuff like that. That's why we decided to open without a liquor license. We just couldn't wait."
Although they've done nothing to publicize their new location just yet, their loyal customers have already found them, she says. The place is one of very few, if any, serving Honduran food in St. Louis — and with the addition of Mexican dishes to the menu as well, Latinos living in south St. Louis are eagerly lining up for a taste of home.
The menu is still a work in progress for now, but they hope to have it all worked out by the time the liquor license comes through, which is probably in about a month, Ana Montiel says. For now, they are enjoying the new digs, which include a dining area that's quite a bit bigger than the previous spot. David Montiel personally painted the colorful illustrations on the booths, with Central American fabrics lending a cozy note. A surprisingly big grocery is tucked behind the dining area.
"Everything is going even better than we thought," says Ana Montiel. "Even on the first day we were busy — as busy as we were in the old place, with the liquor license." It's been a tough year indeed, but for the Montiel family, finally things are looking up.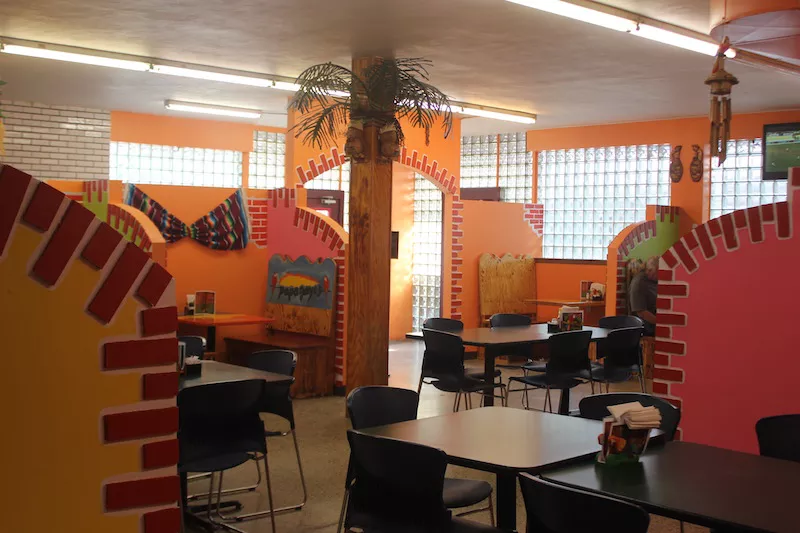 PHOTO BY SARAH FENSKE
Cozy booths line a bright dining room.
PHOTO BY SARAH FENSKE
The patio is large and covered for shade.
PHOTO BY SARAH FENSKE
Pay no attention to the sign out front — that's changing, soon.

We welcome tips and feedback. Email the author at sarah.fenske@riverfronttimes.com