PHOTO BY PAUL FRISWOLD
This sign was posted at Subway on Monday.
Two spots for a quick lunch have closed in the last week in the Delmar Loop — with Zippy Burger and Subway both closing their doors.
But all is not lost. While one-year-old Zippy Burger appears to be shuttered for good, Subway has plans to move just down the street.
In a sign posted to its longtime storefront at 6633 Delmar this week, Subway indicated that it would be moving to 6253 Delmar in "early 2017." That's a new spot just three-tenths of a mile to the east.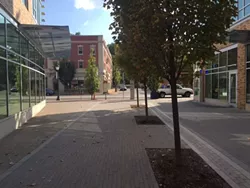 PHOTO BY PAUL FRISWOLD
Subway's prospective new home.
The new location does not directly face Delmar, but it is situated on the student highway through the heart of the neighborhood — a pretty landscaped brick alley bordered by United Provisions and the Peacock Diner. Subway will apparently the first tenant for the spot in question.
Its move is not the only case of musical chairs being played of late on the street. Earlier this year, Rocket Fizz moved from its home on the north side of the street to a new storefront on the south side. Its former home is still vacant, as is the
former Noodles & Co. spot
just across the street, which has been vacant since May. (The Wizard's Wagon and Avalon Exchange also left their original digs but stayed on the street, in both cases moving to spiffed-up spaces.)
Zippy Burger, unfortunately for fans of its
In-N-Out-style burgers
, has yet to announce any plans for relocation or reopening. Run by 20something friends Billy Evans and Josh Shulman, the shop was open for a bit less than a year, earning praise from critics and a devoted following.
St. Louis Magazine
first reported the closing on Monday and
suggested the business might be looking to relocate elsewhere
. Evans and Shulman did not respond to a message seeking comment.
In response to a Facebook commenter who posted on their site "say it isn't so," the partners
kept their reply brief
. "Sadly it is so," they wrote.
We welcome tips and feedback. Email the author at [email protected]