Pescado Blanco Taco at Publico | Greg Rannells
Whether it's Taco Tuesday or you've simply got a hankering for one of the tastiest concoctions known to man, we've got a roundup of some of the hottest spots in St. Louis to indulge in tacos right now. Whether it's a hole-in-the-wall spot or a James Beard Award nominee, the classic carnitas or a nouvelle taco take on bagels and lox, you can't go wrong.
Here are the six spots we've got a hankering for these days.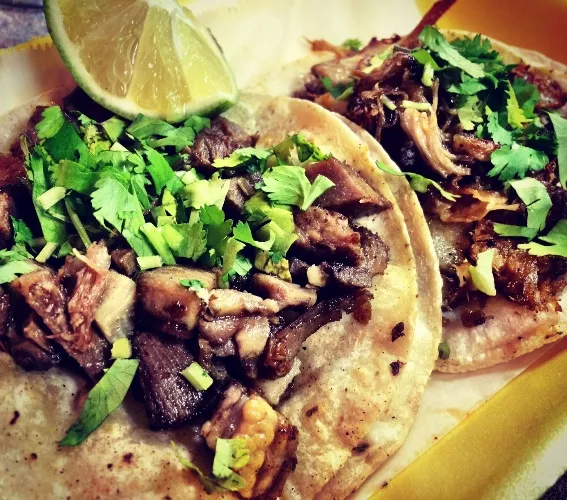 Carnitas Tacos at Mi Tierra Taqueria | Sara Graham
Mi Tierra Taqueria
3121 Collinsville Road, Fairmont City, Illinois
Just 10 minutes from downtown St. Louis, tucked behind a market and butcher in a little brick building is one of the best taquerias in the metro area. Tacos here are simple, yet made from scratch and exquisitely authentic – warm corn tortillas filled with expertly seasoned meat and topped with fresh onion and cilantro. Choose from carne asada, pollo, lengua, tripe, barbacoa, chicken and beef tongue. The carnitas (pictured) consist of crisp, fatty shredded pork.
Pork Belly Taco at Publico | Caiti Carrow
Público
6679 Delmar Boulevard, Delmar Loop
The Latin-inspired Público offers traditional Mexican and South American dishes with contemporary influences, including several elevated taco dishes. The pork belly taco (pictured) features pork belly with carmelized pineapple, a bright charred onion salsa and queso fresco.
In addition, a unique pescado blanco taco is a riff on bagels and lox. Whitefish smoked on the open wood-fired hearth is paired with jalapeno cream cheese, crispy onion and fresh cilantro.
Tacos at Mission Taco | Jennifer Silverberg
Mission Taco
6235 Delmar Boulevard, Delmar Loop
908 Lafayette Avenue, Soulard
398 N. Euclid Avenue, Central West End
Killer taco options abound at Mission Taco and are made with fresh tortillas hand made in-house with local non-GMO corn ground between volcanic stones. Mix and match from an extensive list of offerings, such as chicken al pastor with achiote roasted chicken, grilled pineapple pico de gallo, blood orange habanero sauce, hibiscus pickled onions and cilantro; barbecue slow-roasted duck with ancho-agave glaze, pork belly carnitas, smashed avocado, pickled onions and crisp jalapeno strips or a beef brisket birria with slow roasted brisket, pork belly carnitas, avocado and fiery arbol sauce. Wash it all down with a craft cocktail or three.
Tacos al Pastor at La Vallesana | Ian Froeb
La Vallesana
2801 Cherokee Street, Cherokee District
La Vallesana presents its tacos simply, keeping the focus on the bright flavors. Popular here is the tacos al pastor with generously rubbed pork, pineapple, onion, cilantro and lime in corn tortillas. Or, grab a trio with chicken, carne asada, tripe or tongue served with flour tortillas. Every dish is served with a smoky and spicy red salsa and a sweeter, but also spicy, green salsa.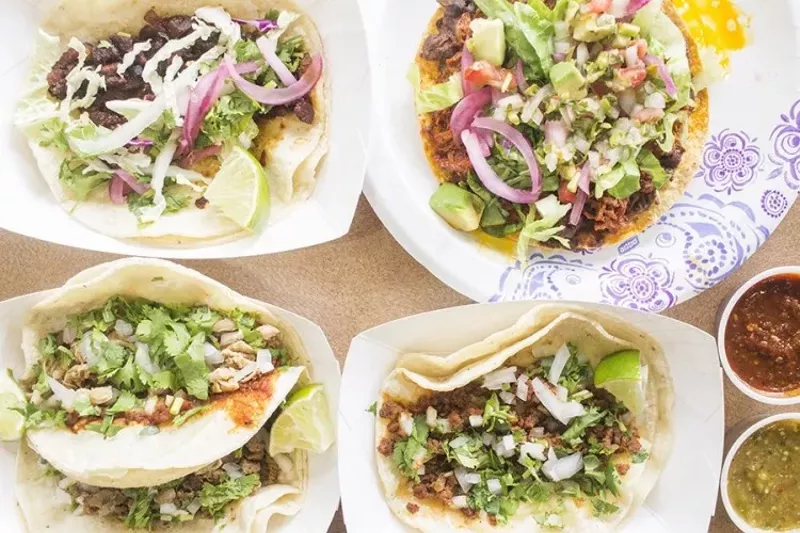 Tacos at Sabor Si | Mabel Suen
Sabor Si
1133 Bellevue Avenue (Inside the In & Out Market), Richmond Heights
The
RFT
's Cheryl Baehr
recently raved about the tacos being served at Sabor Si
, but that doesn't mean you can run down and get them on any night you have a craving. Only available on Saturdays, the tacos here are served two to an order, made right in front of you at a small stand in the corner of a quickie mart. The signature street tacos come with either tender, marinated flank steak or juicy pulled spicy chicken served with white onion and fresh cilantro. Also popular are the chorizo tacos made with paprika, chilies and garlic and served on flour tortillas. A surprising Korean-style pork taco features pork glazed with soy, ginger, garlic and chili and served in hard corn tortilla shells with Asian-style slaw.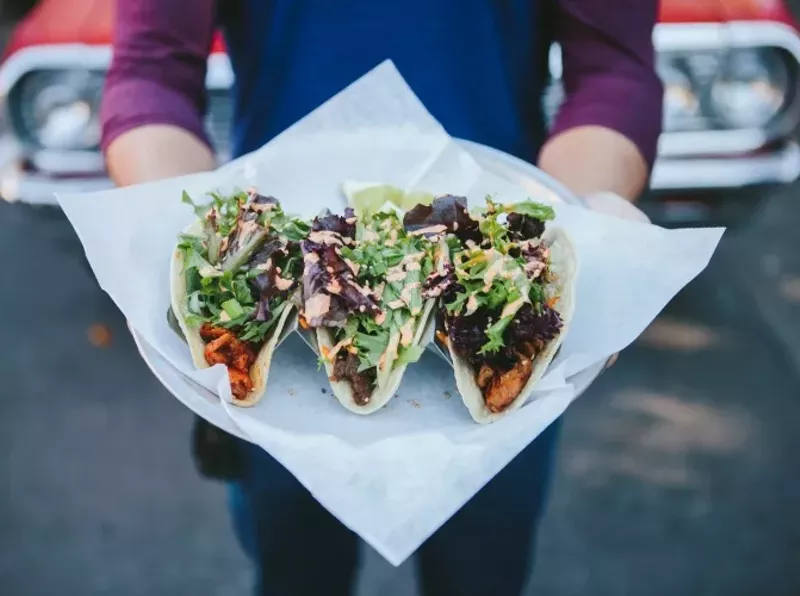 Tacos at Seoul Taco | D.W. Johnson
Seoul Taco
6665 Delmar Boulevard, Delmar Loop
Who said tacos have to be "authentic" to be delicious? This Korean/Mexican fast-casual chain started in St. Louis has become incredibly popular in Missouri and Illinois, especially among Washington University students. For each taco, diners pick a protein — either bulgogi beef, spicy pork, tofu or chicken. The tacos are topped with a Korean salad mix, green onion, "Seoul" sauce, crushed sesame seeds and a wedge of lime for a world-class mix of flavors.
<!——————StartFragment——————>
Follow Sara Graham on Instagram and Twitter at @engagetaste. E-mail the author at sara@engagetaste.com.