PHOTO BY KELLY GLUECK
The vibe at the Sliced Pint is low-key and friendly.
A new craft beer and pizza joint is opening in downtown St. Louis tonight.
The Sliced Pint Tap & Pizza
(1511 Washington Avenue)
is located in the Eastbank Building, with its back entrance just about 40 feet from the front entrance of City Museum. The place will be owned and operated by Amy and Amrit Gill, the prolific developers who have rehabbed some of St. Louis' best-loved buildings — and also own O'Shay's Pub in the Grove.
Harry Lunt, a spokesman for the project, says the restaurant plans to open its doors for its first dinner service tonight. On Monday, the Sliced Pint will add lunch hours to the mix.
Pizzas are available as eight inch, fourteen inch or sixteen inch options, with pies named after rock groups — the Cure, the Urge, the Meat Puppets. Some are quirky and fun, with options that would surprise traditionalists. "Jane's Addiction," for example, is something like the love child between a pizza and a deli sandwich: cheese and bacon topped with cold lettuce, diced tomato, and a drizzle of mayo. "The Cure" is topped with hamburger and onion and then something called "fry sauce" — mayo, ketchup and mustard. Traditional Neapolitan, these are not!
The 36 beers on tap include offerings from 4 Hands, Urban Chestnut, Schlafly and O'Fallon, as well as those from brewers outside the area like Lagunitas and Goose Island.
The space has the sleek look of a high-end sports bar — a place to grab a bite or linger for a while over a few beers. Currently, the paintings on the walls are by Andy Cross, a local artist who by day designs sets for the Muny, as well as Fern Taylor. Lunt said he wasn't sure if other artists would be subbed in in upcoming months.
The space previously held Ozzie's Sports Bar & Grill, which later decamped to the Lumiere Casino.
As of October 3, the place will be open from 10:30 a.m. to midnight, Sunday through Wednesday, and 10:30 a.m. to 1 a.m., Thursday through Saturday. This weekend, doors will open at 5 p.m., with dinner the only meal on offer.
PHOTO BY KELLY GLUECK
A view of the bar.
PHOTO BY KELLY GLUECK
The dining room faces Wash Ave.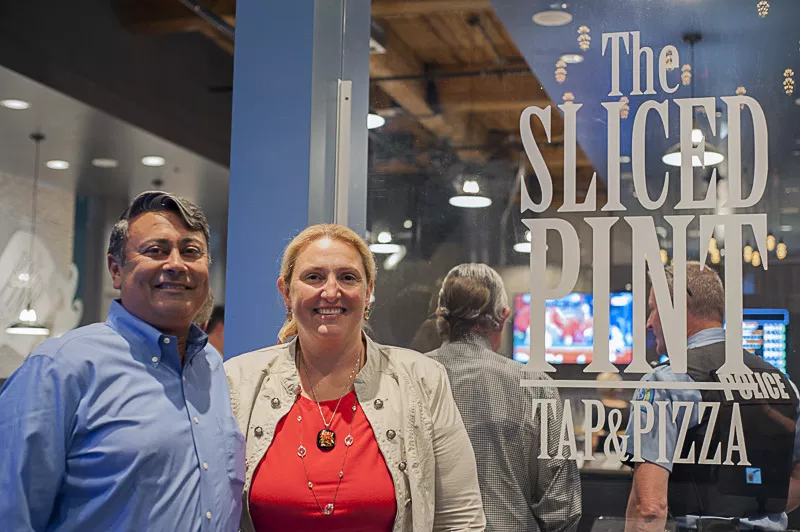 PHOTO BY KELLY GLUECK
Owners Amrit and Amy Gill. The developers specialize in historic renovation and also own O'Shay's Pub in the Grove.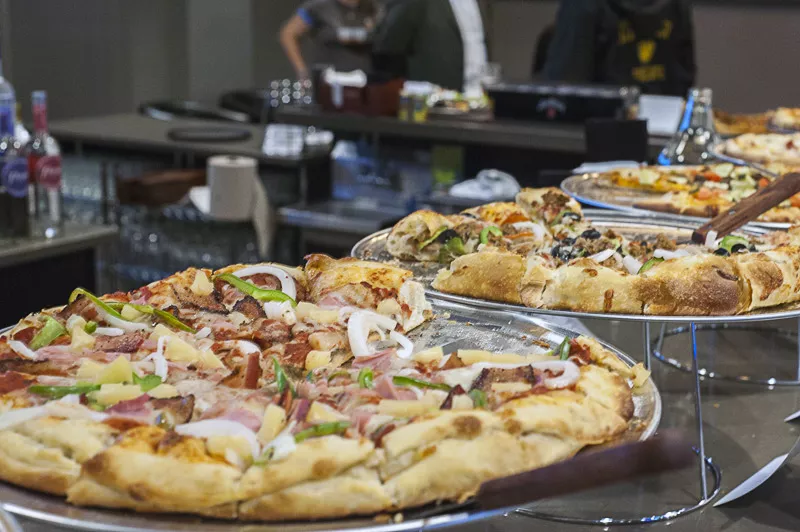 PHOTO BY KELLY GLUECK
"The Oasis" includes ham, bacon, onion, green pepper and pineapple.
PHOTO BY KELLY GLUECK
"The Italian" Salad: pepperoni, ham, salami, cheese, black olives, red onion and croutons.
PHOTO BY KELLY GLUECK
Among the unique pizza options, the "Flaming Lips" features chicken, blue cheese dressing, wing sauce drizzle, white onion.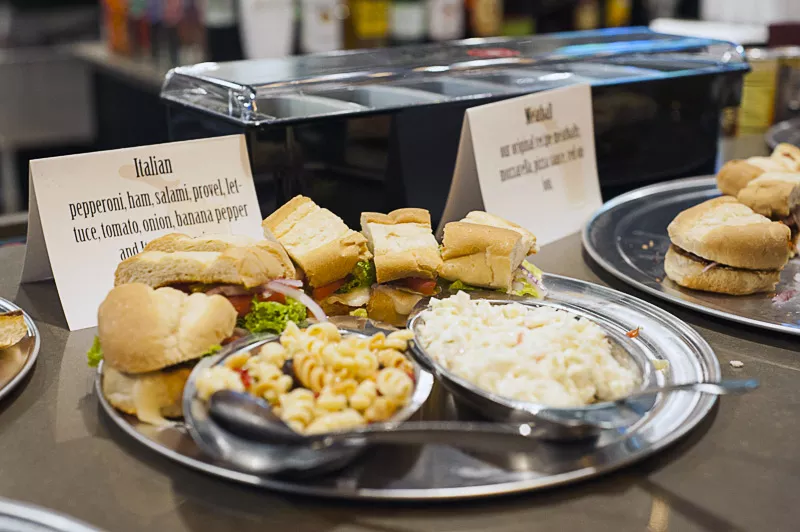 PHOTO BY KELLY GLUECK
The Italian sandwich: pepperoni, ham, salami, provel, lettuce, tomato, onion, banana pepper and Italian dressing, served with pasta salad and slaw.
Editor's note: This post was updated to include additional information about hours, as well as note that the restaurant will be opening its doors tonight.
We welcome tips and feedback. Email the author at sarah.fenske@riverfronttimes.com