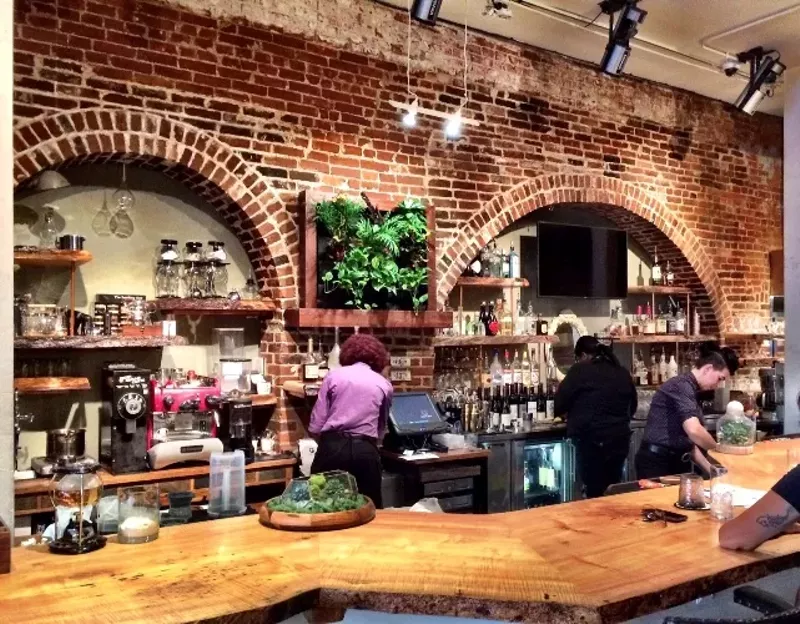 Brick archways behind the live-edge bar | Sara Graham
A largely neglected area just north of the bustling South Grand restaurant district – the intersection of Grand and Shenandoah avenues – got a major upgrade with the highly anticipated opening of
the Garden on Grand
(2245 S. Grand Avenue)
on Friday.
In an interview on opening night, owner Cevin Lee said his drive to open the restaurant was born out of a desire to provide healthy, inspired food without compromising on taste and texture. He seeks to appeal to those seeking healthier dining options as well as "foodies" demanding progressive, creative concepts, something he finds lacking in the city's current culinary scene.
Lee noted that his family owns about 80 percent of the block, including the Hong Kong Express next door. They hope to continue renovations. "If you raise the bar, the rest should pick up the pace."
At the Garden, everything is made from scratch, either in-house or from quality purveyors with no additives or preservatives. Organic, non-GMO products are sourced whenever possible. All cooking and drinking water is filtered. The menu includes vegetarian, vegan and gluten-free dishes.
The restaurant was originally envisioned as a fast-casual venue, but the installation of Kore Wilbert as executive chef allowed for the creation of a full menu. Wilbert's past experience includes cooking for visiting doctors at SSM Hospital, Mad Tomato and MX Theater. He's had a spectacular September — one week before opening the Garden on Grand, he won the Stella Artois Chef Battle Royale at Taste of St. Louis.
His menu, a creative fusion of Asian, European and American cuisine, offers a modern approach to traditional flavors such as ginger coconut chicken wings, coconut fried rice with shrimp-topped microgreens (from HOSCO, a local holistic organic sustainable cooperative) and lamb chops with broccolini on a puree of celery root and rosemary. The cocktail menu offers craft and classic cocktails, and a collection of "boozy smoothies" featuring sorbets from HOSCO, beer and wine are also available.
Lee was inspired by a variety of innovative concepts — Momofuko, the acclaimed New York restaurant that also reaches food lovers through its publication,
Lucky Peach
; the renowned haute cuisine of Spain's elBulli; and mom and pop, home-grown shops across the country, such as Oxheart in Texas. Wilbert's inspiration comes from his time in Italy, American Southern cooking and pioneering concepts such as Alinea in Chicago.
One of the first things you experience as soon as you enter the Garden on Grand is the oasis awaiting you just steps away from busy Grand Avenue. All of the tables and the bar were designed in-house and feature live edge wood tops. The north wall is covered with a green wall of plants and the tables are dotted with terrariums. At the end of the bar is a chef's table. The front and side patios are both heated and will feature live music and two projectors showing black and white movies.
The restaurant is closed Monday and open from 7 a.m. to 2 p.m. and 5 p.m. to 10 p.m. Tuesday through Thursday. On Friday and Saturday, the owners plan to stay open until midnight, with a late-night menu until 11:30 p.m. On Sunday, hours will run from 10 a.m. to 3 p.m.
Turn the page for more photos of the Garden on Grand.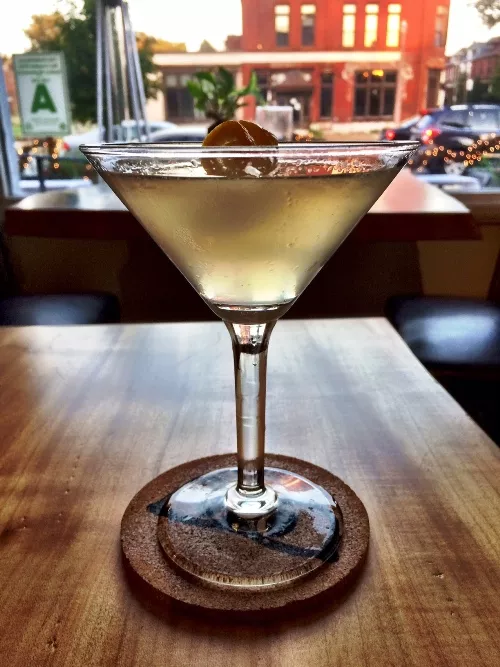 The Brexit cocktail with rhubarb liquor | Sara Graham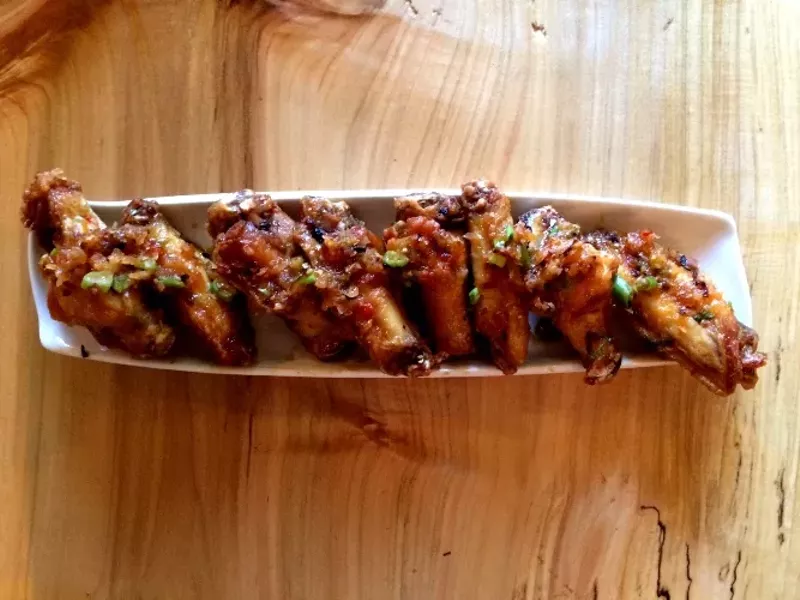 "If I was in heaven, the ginger coconut wings are what I would eat" says server Donna Rhone. | Sara Graham
Live edge table perspective | Sara Graham
One of several terrariums | Sara Graham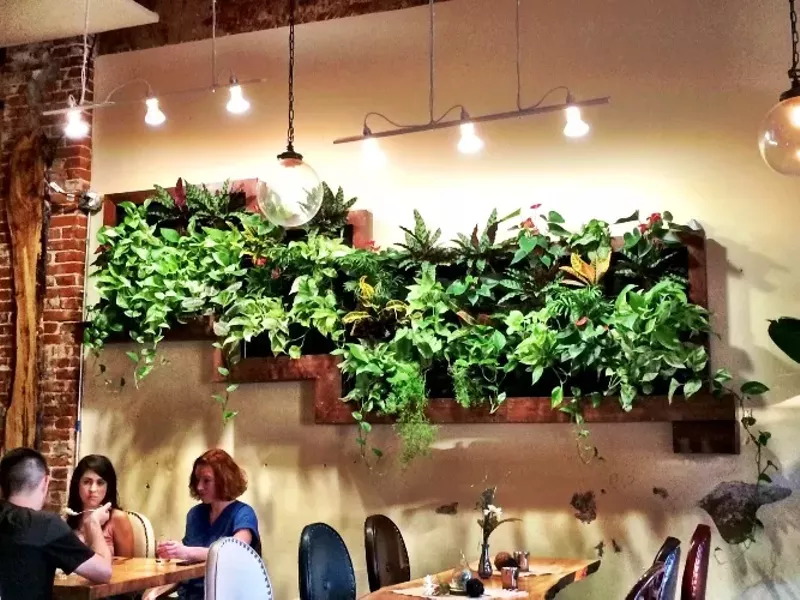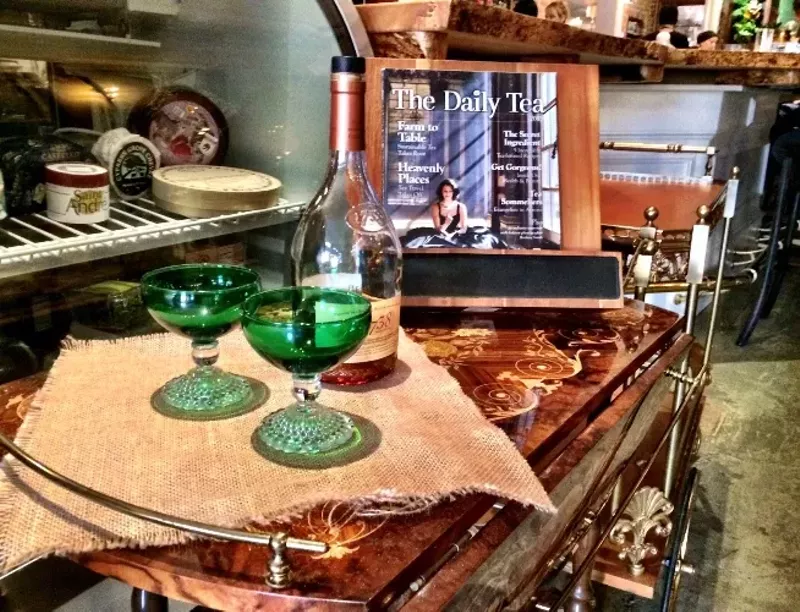 Fire on the front patio | Sara Graham
Side patio and movie projection | Sara Graham
Follow Sara Graham on Instagram and Twitter at @engagetaste. E-mail the author at sara@engagetaste.com.