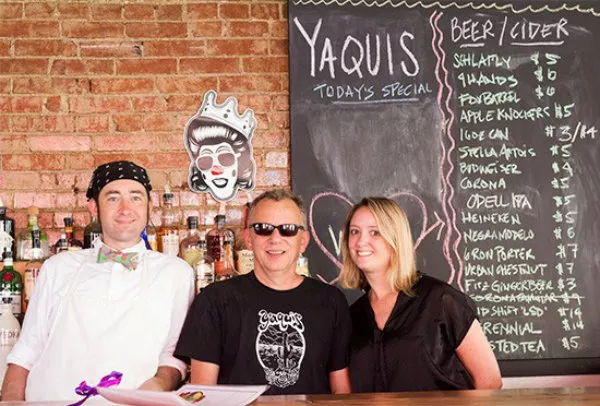 Mabel Suen
Joe Timm and Francis Rodriguez (pictured with Beckie Lewis) plan to open B-Side at the end of the month.
Cherokee Street's food scene has just about anything you could crave — tacos, tortas, deli sandwiches, pizza. It seems there's something for everyone, unless your hankering is for a good ol' burger.
That's about to change.
Joe Timm and Francis Rodrigues of the wood-fired pizzeria Yaqui's on Cherokee are teaming up again, this time to bring burgers to the neighborhood. The new concept, called
B-Side
(2709 Cherokee Street
), is set to open at the end of the month in the former Los Punk space.
"When we took over the space, we tried to conceive of what would be the right fit," Timm says. "Then it just came to us — Cherokee needs a hamburger spot. Of course Mexican is the anchor of the neighborhood, and there's fried chicken and sandwiches and barbecue, but there's just no place for a burger."
B-Side will be a straightforward bar and burger joint, Timm explains, with all of the cooking done outside, most likely on gas grills. The burgers will be cooked in advance and held in steam wells behind the bar in a bath of Worcestershire sauce, beer and onions.
"There are guys on our crew who got their starts in food trucks, so they understand the necessity of making it fast and simple," says Timm. "The thought is that someone can come in and say 'Let me get a cheeseburger and a Busch' and they can have it all in front of them in three minutes."
Burgers are only one part of the "B" theme, however. The restaurant's tagline is "burgers, beats and booze," a nod to not only the food and beverage options but to the space's music scene. The owners procured an old jukebox that plays 45s, and they have plans for a turntable behind the bar. Though they don't anticipate live music, Timm notes that this is a neighborhood of musicians and that he doesn't rule anything out.
"We're going to be playing music, slinging food and drinks. There will be no tabs — it'll be cash only, pay as you go," says Timm. "It's going to have this gritty feel to it, but the important thing is that we will be able to feed the neighborhood and make people feel welcome."
We are always hungry for tips and feedback. Email the author at cheryl.baehr@riverfronttimes.com.