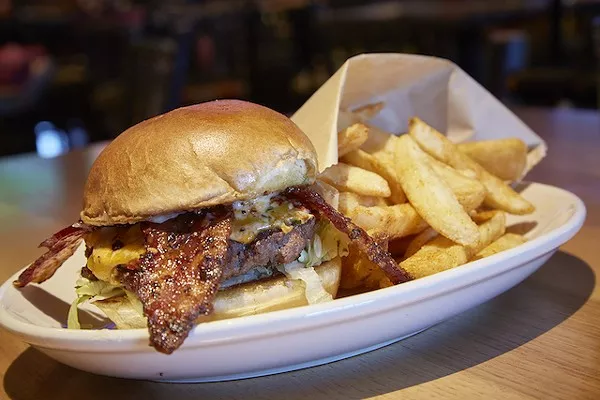 PHOTO BY STEVE TRUESDELL
"The Billionaire's Bacon Burger" at Twin Peaks — yum.
The dog days of summer can be a slow time in the restaurant business. Everyone's out of town, the college students are off in Europe or New York City or wherever college kids go these days for internships, and who feels like eating when it's 95 degrees with high humidity? There weren't many closures this month, but there also were very, very few openings. Everyone was just content to wait things out until September.
But hey .... at least we got a new breastaurant in Chesterfield — and our food critic discovered a quickie mart selling amazing tacos! Count your August blessings, and just wait for those Thai-style ice cream rolls to come to the Loop next month. September is looking deliciously promising.
See also: Taqueria la Monarca Has Closed in University City
ClosingsI Scream Cakes
7326-B Manchester Road, Maplewood
The Little Dipper
2619 Cherokee Street, Cherokee District

Modesto Tapas
5257 Shaw Avenue, The Hill
St. Louis Ribhouse
5656 Oakland Avenue, Dogtown
Taqueria la Monarca
8531 Olive, University City
See also: 8 Dollar Deli Is Now Open in the Delmar Loop

See also: Twin Peaks Brings Titillating Fun to Chesterfield
Openings
Coma Coffee Roasters
1043 S. Brentwood Boulevard, Richmond Heights
Comet Croissanterie & Creamery
640 W. Woodbine, Kirkwood
8 Dollar Deli
6600 Delmar Boulevard, Delmar Loop
Mariscos el Gato
2818 Cherokee Street, Cherokee District
Nathaniel Reid Bakery
11243 Manchester Road, Kirkwood
Twin Peaks
963 Chesterfield Center, Chesterfield

See also: Comet Croissanterie Is Now Open in Kirkwood

See also: The Little Dipper Is Closing August 13