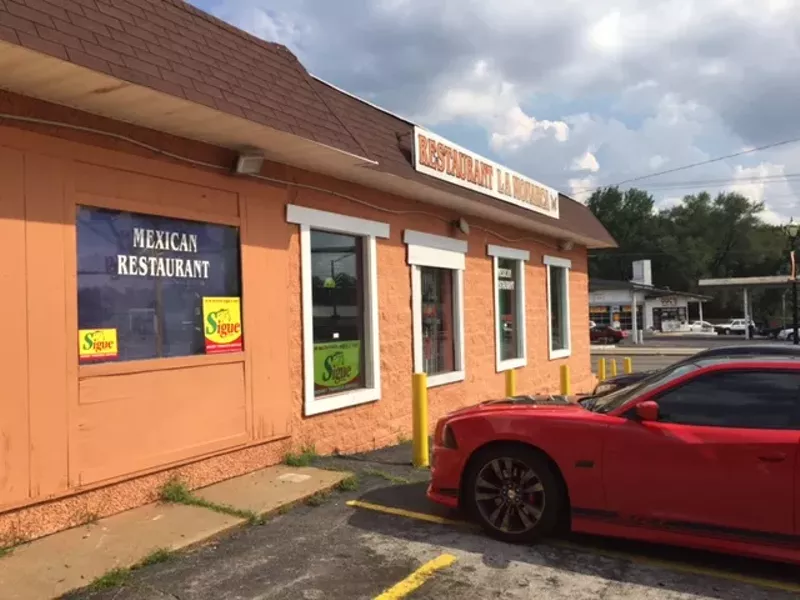 PHOTO BY SARAH FENSKE
Taqueria la Monarca was closed and locked yesterday afternoon.
A low-key Mexican market that grew to include a restaurant, Taqueria la Monarca (8531 Olive Boulevard), appears to have closed its doors.
When a reader tipped us off that staffers were moving out supplies and kitchen equipment yesterday afternoon, we drove over, but everyone on site had already left. The shop was locked, with the only sign that anything was wrong was the neat stack of equipment near the dumpster. Peering in the windows, the front counter looked stripped and partially dismantled.
No one answered the door or the phone.
Located at the corner of Olive and McKnight in University City, the shop sold tacos, tamales and tortas beginning in 2009, after moving across the street from its previous home in a strip mall on the other side of Olive.
Describing a no-frills, windowless room, the
RFT
's then-critic, Ian Froeb praised the "excellent" tortas. He also deployed a baseball metaphor, describing the place overall
as "a No. 2 hitter lining singles to the outfield gaps
."
PHOTO BY SARAH FENSKE
Microwave, anyone?

We welcome tips and feedback. Email the author at sarah.fenske@riverfronttimes.com