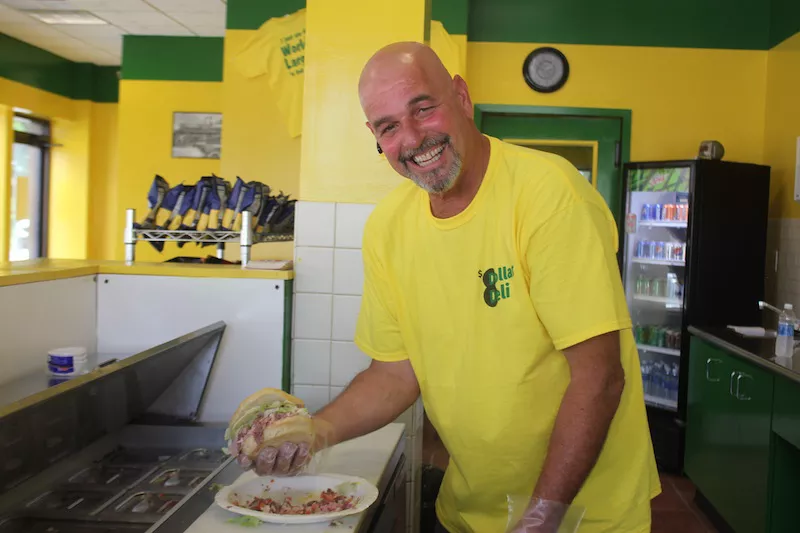 Huge-ass sandwiches have arrived on the Loop.
8 Dollar Deli
(6600 Delmar Blvd., University City; 314-776-9300)
opened its doors yesterday in what was previously a Smoothie King — offering quick service, a whole lot of good cheer and really big sandwiches.
The place is the brainchild of Roger Morgan, a long-time entrepreneur who got a hankering for a certain type of simple, overstuffed sandwich and discovered that he couldn't find one anywhere anymore. After testing the waters with a food trailer — and even driving an Uber for awhile to learn what passengers really wanted — he
came up with his concept and signed a lease in the Loop
.
The menu is incredibly simple. You can order turkey, ham, roast beef or the Big Bubba, which isn't any bigger than the rest, but includes all three meats in one glorious pile. Get it as a sandwich, a wrap or a salad, and get the rest of the toppings to order. If you want it done Morgan's way, it comes with lettuce, tomato, onions, provolone, mustard, mayo and a marvelously tart special sauce. If you want it vegetarian-style, they'll just hold the meat entirely. Each order is a flat $8, even the Big Bubba.
The bread is made to Morgan's specifications each morning by Fazio's, and even those pickles have been chosen with incredible care. "I ate so many pickles, you would not believe," Morgan says. "I came up on this one here and I said, 'That's it! Hook me up with these. This is our answer.'"
Morgan has a deep, booming voice and a big, friendly personality — and his business bears the stamp of his good humor. Everything from the signs to the T-shirts proclaiming its sandwiches the "world's biggest" are marked with a hopeful asterisk and the disclaimer "we think!" And the sign on the door promising to be open until 3 a.m. promises "you keep coming, we keep serving." Morgan chuckles excitedly while he explains his plans to upgrade the seating area outside the front door — "We're going to put up a white picket fence and green turf, with fake grass and flowers, and put a sign on the picket fence that says 'Garden of Eatin'!"
That's not the only gimmick; every day the lucky someone who orders the 128th sandwich gets it for free. "People will never know number they are, but when they're 128,
everyone
will know," he enthuses. He's thinking about getting a foghorn to really put the good news on blast.
Oh, and if you help name their mascot — a statue of an old-school chef who's stationed near the counter — they're going to give you some sort of prize. Morgan isn't sure what just yet. There's no corporate office to tell him he can't do this or that; the sky is the limit.
"Whatever ideas we come up with, we'll do it," he promises.
PHOTO BY SARAH FENSKE
Now open in the Delmar Loop.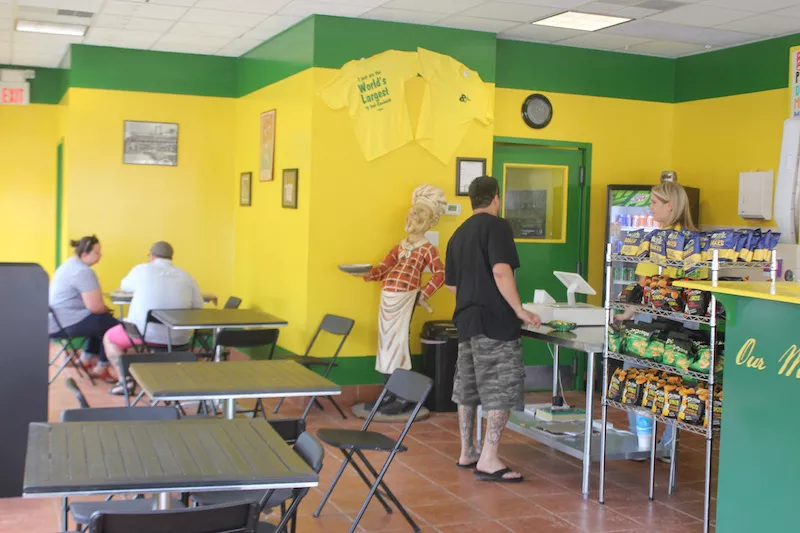 PHOTO BY SARAH FENSKE
Name that chef statue, get a prize.
PHOTO BY SARAH FENSKE
The Big Bubba — just you try to get your mouth around that.
PHOTO BY SARAH FENSKE
The opening day crew. Business was brisk, despite zero publicity.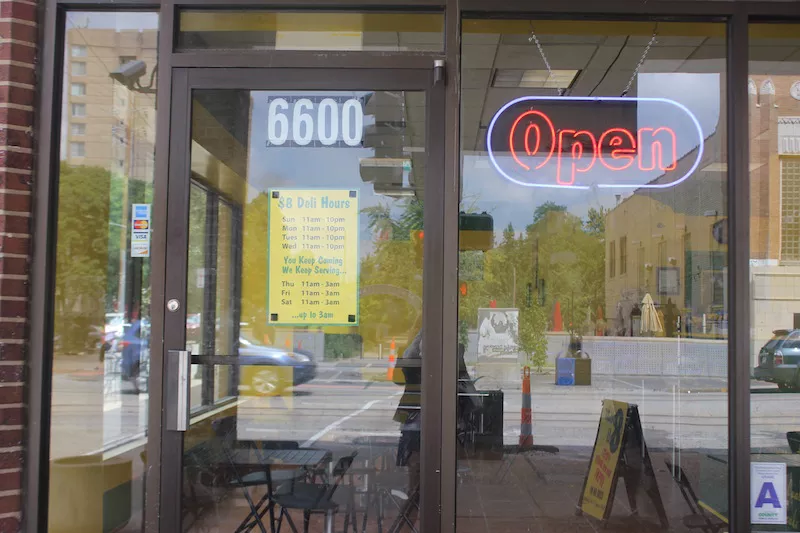 PHOTO BY SARAH FENSKE
They plan to open at 11 a.m. daily — with hours stretching til 3 a.m. on Thursday, Friday and Saturday for hungry night owls.

We welcome tips and feedback. Email the author at sarah.fenske@riverfronttimes.com