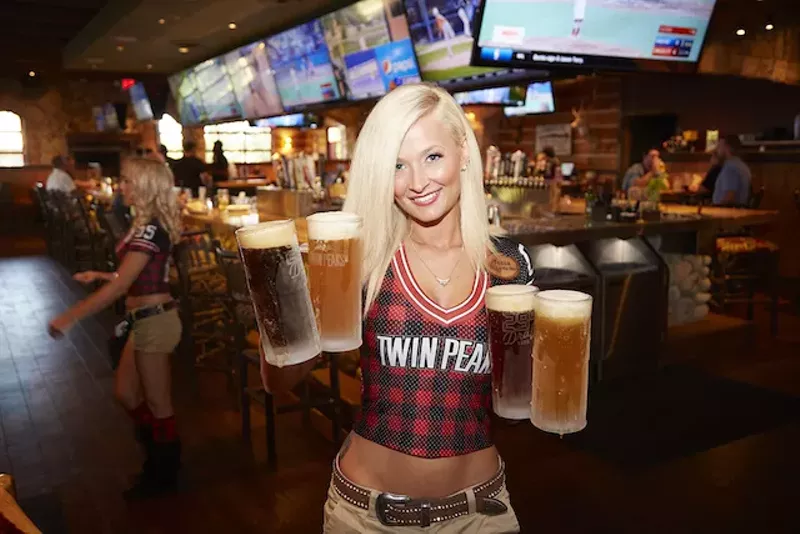 PHOTO BY STEVE TRUESDELL
Twin Peaks is known for its comely servers — and ice cold beer.
Twin Peaks, the Texas-based franchise that just opened its first St. Louis-area location in Chesterfield, isn't your run-of-the-mill sports bar.
It's a little bit nicer. A little bit shinier. The food is made from scratch, not just heated up from a freezer.
But that's not really what gives
Twin Peaks
(963 Chesterfield Center, Chesterfield; 636-812-2505)
its cache. The restaurant's main claim to fame is that its servers are generally a lot more good-looking than at lesser bars. They're also wearing, as a rule, quite a bit less clothes. The restaurant's tagline: Eat. Drink. Scenic Views.
Unlike Social House II, the sports bar concept that
had a brief run in the Loop earlier this year
, the servers at Twin Peaks aren't wearing pasties and body paint. But they are generally wearing very short shorts and cleavage-bearing tops. The restaurant's founder, Randy DeWitt, had his big "aha!" moment when he realized
Hooters just wasn't racy enough
. (He also called the restaurant's servers "weapons of mass distraction.") His insights made Twin Peaks
the fastest growing restaurant concept in the U.S.
Jon McGee, a partner in the group that owns the restaurants locally, doesn't focus on any of that. He says he's proud of the food and the fact that, thanks to a patented system, the beer is served at a colder-than-ice-cold 29 degrees. Pressed on the concept's tendency to hire comely servers, he doesn't bite.
"We look for people with great personalities, who can also give great service," he says. "We go for the girl-next-door look. These are girls who want to have fun."
As for St. Louis, he says the area's appeal was clear. "St. Louis is such a great sports town," he says. "We want to be a part of that."
The Chesterfield restaurant is located in what used to be a Macaroni Grill, only completely revamped and given the concept's signature ski lodge-turned-sports bar look. Coming up later this year: A location in Maplewood, at a spot near Hanley Road and I-64 that used to be an Olive Garden. McGee says they hope to have it open by November.
With his co-owners, McGee also owns Twin Peaks franchises in the Kansas City area. He says there will likely be more St. Louis Twin Peaks in the group's future. "The plan is to have more," he says. "It's always a matter of finding the right location."
For suburban spots, Twin Peaks keeps late hours. The Chesterfield location is open from 11 a.m. to midnight Monday through Thursday, 11 a.m. to 1:30 a.m. on Friday and Saturday, and 11 a.m. to 11 p.m. on Sunday.
PHOTO BY STEVE TRUESDELL
The "Twin Peaks girls" decorate some of the bar's many taps.
Turn the page for more photos of Twin Peaks, including its food offerings.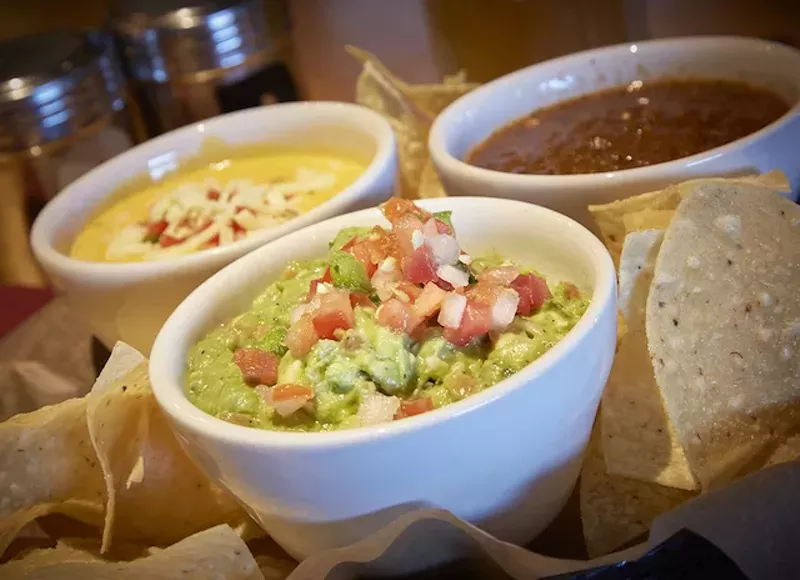 PHOTO BY STEVE TRUESDELL
The "Triple Play": house-made avocado smash, fire-roasted salsa and chipotle queso, all served with chips.
PHOTO BY STEVE TRUESDELL
Sliced turkey sandwich on potato bread with Swiss cheese, avocado smash, arugula, tomato, red onions and mayo, served with sweet potato fries.
PHOTO BY STEVE TRUESDELL
"The Billionaire's Bacon Burger" features a bacon-laced burger patty with Sriracha pimento cheese and bacon, along with bacon-beer mustard and bacon mayo.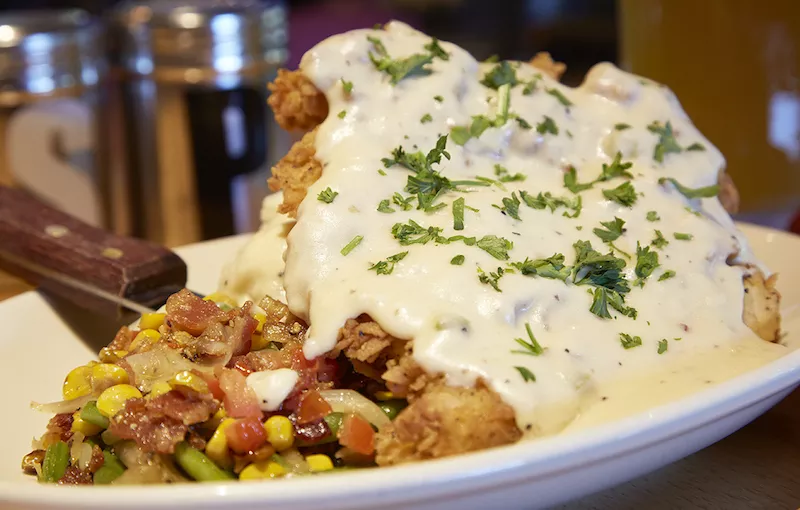 PHOTO BY STEVE TRUESDELL
The chicken-fried steak combines hand-battered chicken, garlic mashed potatoes with jalapeno cream gravy and sauteed green beans.
PHOTO BY STEVE TRUESDELL
A former Macaroni Grill, the place now looks like a bit like an upscale ski lodge ... as well as a bar for serious sports fans.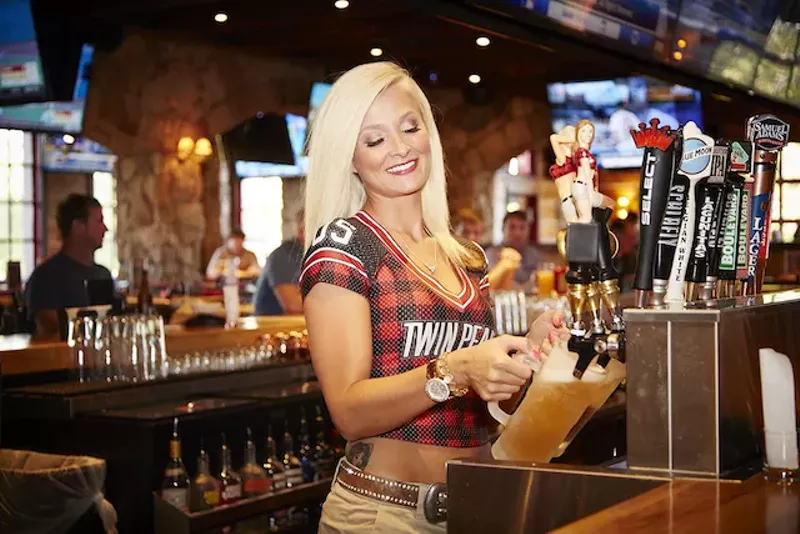 PHOTO BY STEVE TRUESDELL
"We go for the girl-next-door look," says co-owner Jon McGee.

We welcome tips and feedback. Email the author at sarah.fenske@riverfronttimes.com