PHOTO BY SARAH FENSKE
Pulpos al Gusto, served Ranchero style.
Trying to get information about the newest Mexican restaurant to open on Cherokee Street is not easy, especially if you're the kind of person who only remembers a few rusty phrases from high school Spanish class.
There is no sign anywhere on the building, and the people working speak English that's not much better than your Spanish. They refer questions to another eatery just down the street — Don Carlos Restaurant — suggesting its owners are also behind this place. But the people who answer the phone at Don Carlos also don't speak English, and although they promise to get a message to the owners, no one ever calls back.
Beyond the language barrier, there are a few other reasons to pause before you visit this place. The prices are not cheap for Cherokee. Thanks to the absence of a lunch menu, even during the day, you'll be paying at least $13.95 for even the cheapest dishes — more like $27.95 for most of the house specialties. Some even run into the $75 to $100 range, if you order the jumbo sizes.
But the food! Persevere past those complications and the blaring music in the dining room, stick around long enough to let the kitchen work its magic, and you'll find a literal smorgasbord of some of the tastiest seafood in St. Louis. The portions are huge and the presentation thoughtful. The place may surprise you, to say the least.
The restaurant, which is apparently called
Mariscos el Gato
(2818 Cherokee Street, 314-449-1220), explains on the menus that it's offering seafood in "estilo Nayarit" — meaning in the style of the
Nayarit region
. A small Mexican state along the Pacific Ocean, just north of Jalisco, Nayarit is known for its beaches, and further inland, its rain forests. Shellfish are abundant, but the true local specialty is grilled fish.
And there are plenty of fish to be sampled on the menu here. Even if you know Spanish, you may not be familiar with fish called the "huachinango," which turns out to be a type of red snapper. Don't let that stop you. It's delicious. So, too, is the octopus — identified on this menu only as the Spanish word "pulpo." Tender meat topped with a tangy blend of tomato, chiles and onions, it's one of very best versions of this tentacled beast we've tried.
If the prices aren't your first clue that this is special occasion food, the appetizer that comes out gratis will surely be. A small dish of ceviche, served with tortilla chips and a spectacular green chile salsa, it sets the tone for the plates that follow.
The space that holds Mariscos el Gato has had some serious turnover in recent years — from the late, much-lamented Siete Luminarias to
Tarahumara, which was open just one year
, to Mexcla, a promising
Mexico City-style spot
that
lasted just a few weeks
, the little storefront's only constant has been change.
But diners who remember its last two bare-bones iterations will be pleasantly surprised by the look of this new spot. The owners have actually taken over the neighboring storefront as well, blowing out the wall between the two spaces. Both outside and in, in place of the harsh reds and yellows of Tarahumara and Mexcla are soothing blue walls. They've also added some fish-centric touches: paddles on the wall, fishing nets.
With these special touches, it's no longer just a quick spot for a bite. You could even come to Mariscos el Gato on date night — provided you've got a date you really like. After all, you wouldn't want to waste this amazing food, much less the $72.99 that the jumbo "charola de langostinos" house special will set you back, on just anyone.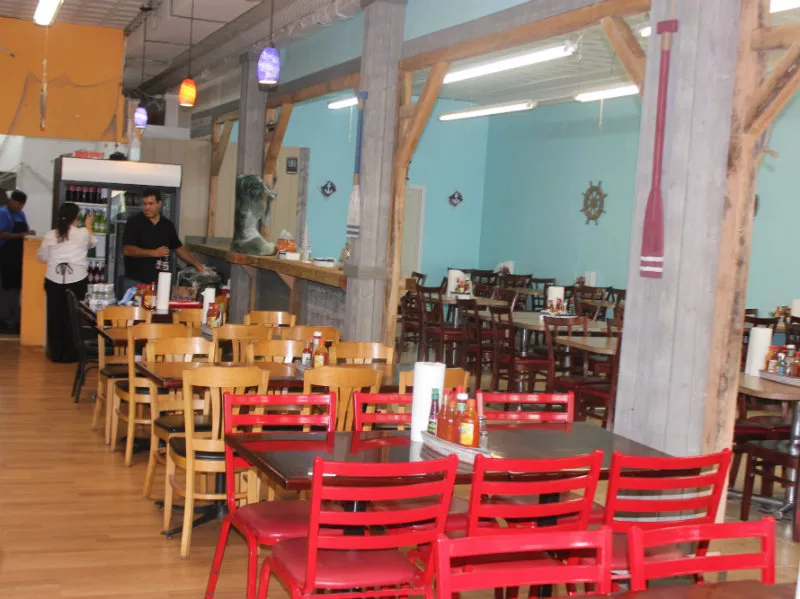 PHOTO BY SARAH FENSKE
The interior is transformed from its previous iterations — and twice as big.
Turn the page for more photos of Mariscos el Gato.
PHOTO BY SARAH FENSKE
Meals begin with an appetizer of ceviche, on the house.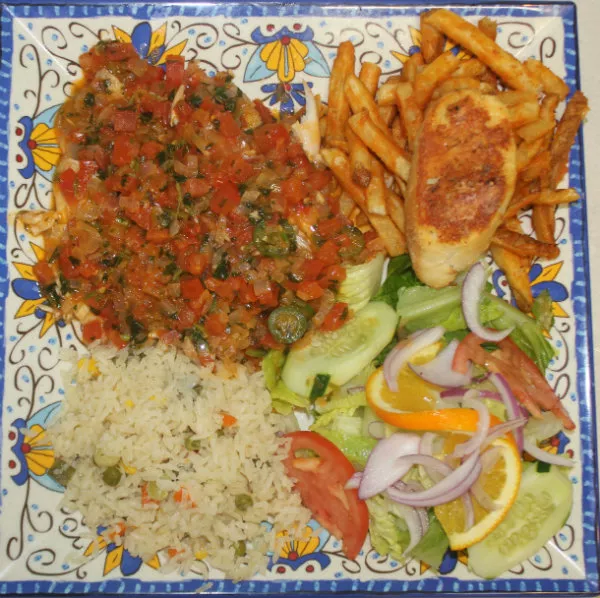 PHOTO BY SARAH FENSKE
Entrees come with a small green salad, fries, a slice of expertly toasted bread and rice studded with corn, lima beans and chiles.
PHOTO BY SARAH FENSKE
Large windows face Cherokee Street.
PHOTO BY SARAH FENSKE
There is no sign outside — yet.
We welcome tips and feedback. Email the author at sarah.fenske@riverfronttimes.com