PHOTO BY KELLY GLUECK
CBGB will cure what ails.
There is no such thing as a bad bar — only a bar that isn't right for you at a particular time or place. When you feel like tying one on, you'd be a fool to pay $14 a drink. And when you're feeling fancy, you don't want to trip over the local drunks crying into their whiskey. There are excellent St. Louis bars catering to both moods, and many, many more. Choose wisely!
After extensive field research, we've compiled a list of 25 bars that are perfect in key situations. From Brentwood to Downtown, your first date to your third date, from drowning your sorrows to celebrating your bachelorette party, these bars won't just get you what you want — they'll get you what you need.
1. When you want to drink wine: Sasha's
It's not just those incredibly lengthy wine lists — now on iPad, complete with voluminous tasting notes — that make both Sasha's (Sasha's on Shaw at 4069 Shaw Boulevard in Shaw, Sasha's on DeMun at 706 De Mun Avenue in Clayton; both www.sashaswinebar.com) such a mecca for oenophiles. It's the way the servers won't hustle you along if you're lingering over a glass instead of ordering a meal. It's that, if you want a bite, the kitchen is open late. And, more than anything, it's the convivial atmosphere. You'll eat, drink and be merry at Sasha's; that you'll try something new too is merely the cherry on top. Or is that a grape?
2. When you want to drink beer: International Tap House
If you can't find a beer you like at International Tap House (locations in Chesterfield, Columbia, the Central West End and Soulard, www.internationaltaphouse.com), you won't find one anywhere. One look at the chalkboard behind the bar will tell you why: iTap boasts 40-plus draft choices at each location. And if that's not enough to satisfy you, the coolers are packed with a varying (but ridiculously large) assortment of beer. The vibe will be just as good as your drink, with comfortable seating, plenty of TVs for catching the game, live music on some weekends and staffers happy to recommend a brew for even the most selective of drinkers. It's the laidback atmosphere you didn't know you needed.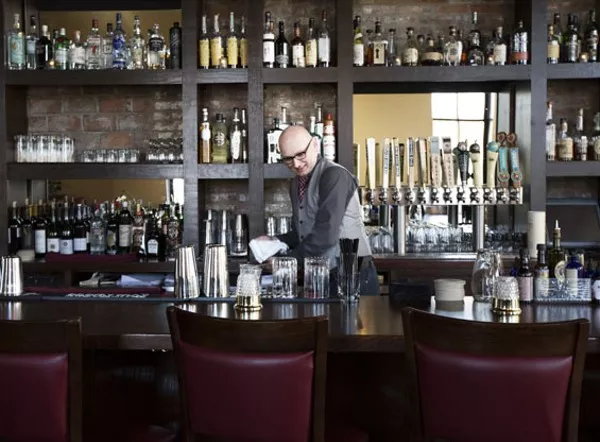 PHOTO BY JENNIFER SILVERBERG
Ted Kilgore plies his trade at Planter's House
3. When you want to drink clever cocktails: Planter's House
There's a reason Ted Kilgore's mixology mecca Planter's House (1000 Mississippi Avenue, Lafayette Square; 314-696-2603 or www.plantershousestl.com) is always at the top of those lists naming the best cocktail bars in the city: It is, without question, the very best. It's the best for savoring a classic drink or trying a new concoction; it's the best for putting your trust in the bartenders' hands and letting them work their magic. There's not a bad cocktail on the list — and, more impressively, not even a boring one. Cheers.
4. When you want a super-cheap happy hour: Tower Pub
If you're looking for a friendly crowd and cheap drinks, Tower Pub (3234 Morgan Ford Road, Tower Grove South; 314-771-7979) has you covered. There are fantastic happy hour specials ($2.75 drafts from 3-7 p.m.), but also great specials from 7 p.m. to close. On Monday, all drafts during those hours are $2. On Tuesday, a $2 "flip for it" special lets you flip a coin for the possibility of a beer or well on the house. On Wednesdays, ladies drink certain specials for $2. There's also trivia on Thursday and shot specials on Friday. Even if you're broke, you basically have no reason not to drink here every night of the week.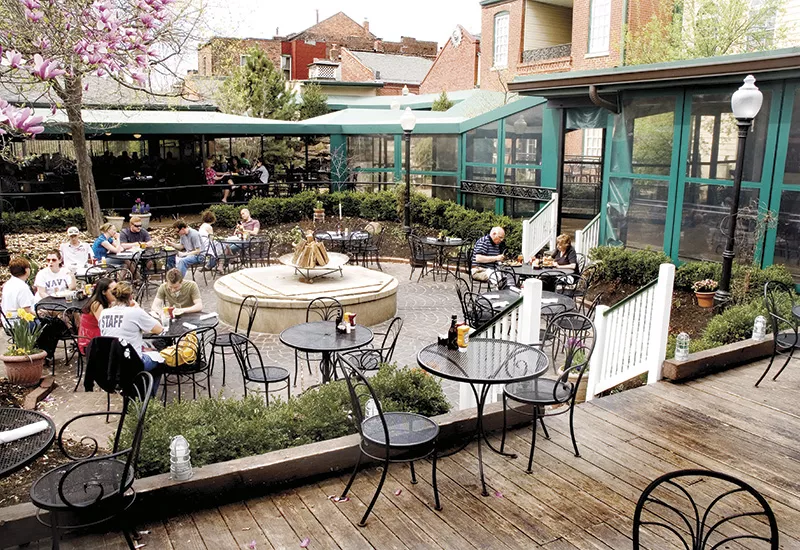 RFT ARCHIVES
The patio at McGurk's: a special kind of place.
5. When you want to drink on a patio: McGurk's
You may think you've outgrown John D. McGurk's (1200 Russell Boulevard, Soulard; 314-776-8309 or www.mcgurks.com), the sprawling Irish pub that brings revelers from across the region to Soulard. You may think there are more original choices for drinking outside. But then you step outside onto its lush patio, and once again you find yourself shocked by how vast, how beautiful, how green it is. Order a drink from the bar and grab a table (if you're lucky), and you'll remember why you come here — and why you'll never stop coming back.
6. When you want to drink above the people: Eclipse
Leave behind the Delmar sidewalks lined with Pokemon hunters and take the Moonrise Hotel elevator up to Eclipse (6177 Delmar Boulevard, the Loop; 314-726-2222 or www.eclipsestlouis.com). This quirky-cool rooftop bar overlooks the Loop and plays host to everyone from students to socialites to the occasional Pageant headliner. Sure, it's great that the kitchen is open late (until about 11 p.m.), and there are two different bars at your service, but what will really catch your attention are the details: the star-studded ceiling, funky chairs, the space memorabilia lining the walls and the world's biggest man-made moon poised overhead After all, it wouldn't belong on the Loop without a dose of kitsch.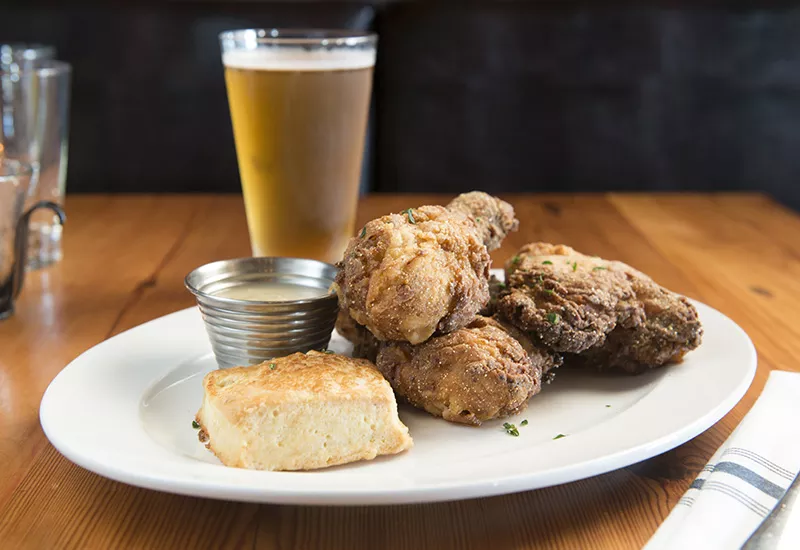 COREY WOODRUFF
Food at Three Flags Tavern: Worth sobering up for.
7. When you want really good food with your booze: Three Flags
Three Flags Tavern (4940 Southwest Avenue, Southwest Garden; 314-669-9222 or
www.threeflagstavern.com
) is that rarity among St. Louis' top restaurants — a place where you can just as easily enjoy your dinner from a barstool as from a table, and really dig in without being jostled. That's because the bar here isn't just a counter tucked into a busy dining room; it's in its own room, providing plenty of elbow space for those who prefer to dine solo or just eat a bit more informally. The "board of fare" is consistently top-notch, so don't waste your Three Flags visit by drinking on an empty stomach; order some wings, tacos or the excellent burger and see how good eating at the bar can be.
8. When you want to go dancing: Upstairs Lounge
There's no arguing that the best way to dance is to dance like nobody's watching, and at Upstairs Lounge (3131 S. Grand Boulevard, Tower Grove South; 314-358-2004 or upstairslounge.net) you can do just that. At this small, unique bar, everyone's too busy enjoying themselves to judge you. Upstairs Lounge is home to weekly and monthly events that cater to many tastes, with various sub-genres of electronic as well as hip-hop and New Wave represented. Its straightforward setup and simple drink list coupled with numerous talented performers show there's only one focus here: the music. You don't have to be a great dancer to have a kick-ass time here; all you have to do is go upstairs to get down.
Turn the page for more amazing St. Louis bars — including two karaoke spots.
HOLLY RAVAZZOLO
Double D's is the karaoke singer's place to sing karaoke.
9. When you want to sing karaoke: Double D Karaoke
If music is the language of the heart, then karaoke is the heart's way of telling a room full of drunk strangers that it's ready to frickin' ROCK. It's a magnificent catharsis, and few establishments enable it better than Double D Karaoke (1740 S. Brentwood, Brentwood; 314-961-5646 or doubledstl.com/). The Brentwood bar boasts enough cheap beer and drink specials to propel even the timid to the raised wooden stage, and the regulars are always waiting in the wings to throw a bombastic '80s pop ballad into the mix. So listen to your heart when it's calling for you. Hoof it to Double D's, and give that heart the karaoke therapy it needs.
10. When you want to watch drunks sing karaoke: Talayna's
It's always a party at Mike Talayna's Jukebox Restaurant (1115 Hampton Avenue, Dogtown; 314-647-7600, no website), and for good reason. Where else can you get cheap drinks, a crowded dance floor and karaoke until 3 a.m.? Come tipsy and stay until you're ready to caterwaul in front of a bunch of strangers. If those disco balls could talk ... actually, scratch that. Some things are best kept among friends. And by 3 a.m., you'll include everyone in that circle.
11. When you want to drink with your dog: Waiting Room
Unlike Post-Dispatch food writer Daniel Neman, who infamously blasted Urban Chestnut in January over its dog-friendly policies, ultimately ruining the fun for everyone (thanks, Neman), some of us actually like to spend time outside of the house with our four-legged friends. Luckily, Neman's scaly tendrils have yet to reach some choice local establishments. One such dog-friendly bar is the Waiting Room (10419 St. Charles Rock Road, St. Ann: 314-890-8333 or www.waitingroombar.com), whose large back patio serves as an ideal spot to drink with your furry pal. Just make sure to clean up after the little guy so as not to unduly burden your bartender — remember, the same fingers that have to pick up that shit will be making your drinks for you. As always, no uptight food writers allowed.
HOLLY RAVAZZOLO
If you're at BB's, you're learning the blues.
12. When you want to listen to the blues: BB's
With upwards of 50 shows each month — often multiple acts in a single day — BB's Jazz, Blues & Soups (700 S. Broadway, Downtown; 314-436-5222 or www.bbsjazzbluessoups.com) is your single best bet when you're in the mood for the blues. It helps that the food is amazing: One taste of the bar's St. Louis Cuban sandwich will have you instantly hooked. And if you're not feeling the act that is playing, you really couldn't be in a better place: BB's is part of the Broadway-based St. Louis blues triangle, joined by Broadway Oyster Bar and Beale on Broadway. All three bars are just a short walk from one another, and each regularly hosts live blues music. Make a night of it.
13. When you feel like people watching: CBGB
Pick your sight lines at CBGB (3163 S. Grand Boulevard, Tower Grove South) for max viewing pleasure. At the corner of the bar, you can covertly spot the attractive hipsters flow through; out front on the concrete patio you can keep an eye on one of St. Louis' better streets. Or just position yourself near someone ordering the gin bucket (not a euphemism) to see how it turns out. You won't be disappointed.
STEVE TRUESDELL
Zodiac Lounge drinks to a sweet jazz soundtrack.
14. When you want to listen to jazz: Zodiac Lounge
Zodiac Lounge (3517 N. Grand Boulevard, JeffVanderLou; 314-535-9800) may look like a hole in the wall, but don't let its exterior fool you: this place has class. The 35-and-older policy caters to generations accustomed to a time when "going out" meant dressing up. You won't see any attempts at twerking at this bar; the focus here is on conversation and the jazz and blues music wafting from the jukebox. You may feel like you've stepped into the past a bit — but that's part of Zodiac's charm. Take a seat at the 26-foot-long bar, order up some cognac and stay awhile.
15. When you want to play bocce: Milo's
Don't know how to play this Italian version of bowling? No problem. Step out on the patio at Milo's Bocce Garden (5201 Wilson Avenue, the Hill; 314-736-4695 or
www.milosboccegarden.com
) and you'll know that bocce is more about kicking back with neighbors than intense competition. Don't hesitate to get your name on the chalkboard for a turn on one of the two bocce courts — you can learn as you go. In the mean time, grab an umbrella table, order a beer and some St. Louis-style pizza, and watch life on the Hill pass by. Got the kids in tow? Just stay with them on the bocce court and you're good to go.
16. When you want to watch the game: Pepper's Grill and Bar
Fans shouldn't have to cheer alone. For that moment of pure tension — the scrum of sticks at the net, the baseball sailing high to left field, the running back charging the goal line — the best company can be found on a stool at Pepper's Grill and Bar (5452 Gravois, Bevo Mill; 314-352-9909). The south city watering hole comes stocked with an enclosed patio and all manner of diversions, including beer pong, billiards and an extensive menu of bar staples. But the atmosphere positively sizzles at game time. Just look for the mural and the huge red pepper dangling above Gravois Avenue, and what you'll find inside is more precious than the racks of TVs or generous drink specials — this is where the fans are.
HOLLY RAVAZZOLO
Howl at the Moon: Because sometimes, only a piano bar will do.
17. When you want to get down at a piano bar: Howl at the Moon
Yes, Howl at the Moon (601 Clark Avenue, Downtown; www.howlatthemoon.com/st-louis) is located at Ballpark Village. Go ahead and judge. But local politics aside, this place has everything you could want in a modern piano bar. Let's start with the music: The bar's house band can pull off practically any song you throw at it. On weekend nights, you'll find the dance floor packed with everyone from twenty-somethings to the couples who have finally sent that last kid off to college. To top it off, the rainbow of specialty drinks on the menu come in sizes ranging from a single glass to a bucket. Yes, a real you're-going-to-get-seriously-drunk-sized bucket. Cheers.
Turn the page for more bars, including one to wow out-of-towners.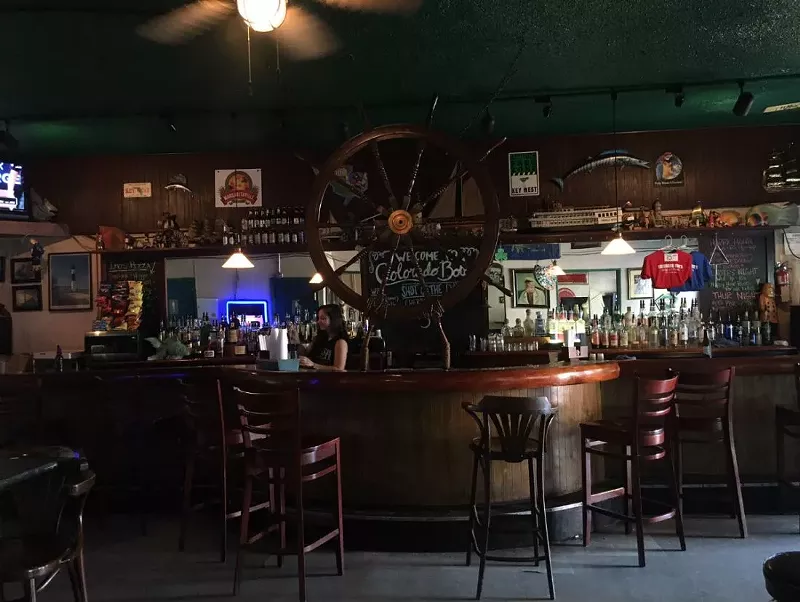 PHOTO BY KELLY GLUECK
Colorado Bob's, the friendliest ship of fools you'll ever sail on.
18. When you want to drown your sorrows: Colorado Bob's Ship of Fools
The name says it all at this cash-only bar on the edge of Tower Grove South. You'll know Colorado Bob's Ship of Fools (3457 Morgan Ford Road; 314-772-7564) by the giant boat in the front yard, but by the time you're done tying one on here, you may not be seeing straight enough to see it. And what could be more fitting than a "ship of fools" for someone trying to kill the pain by inducing more pain? Ride this watercraft till you fall off; we've all had nights where we've gone there.
19. When you want to drink after the game: Broadway Oyster Bar
Cards loss got you in the mood to drink away your sorrows? Cards win got you in the mood to celebrate? In either case, Broadway Oyster Bar (736 S. Broadway, Downtown; 314-621-8811 or
www.broadwayoysterbar.com
) has you covered. The New Orleans-inspired hot spot has all the drinks, crawfish and live music you could ever need. Pro tip: Step out of the stadium, find one of those pedicabs prowling the grounds and have them do the legwork for you. Walking is for fit people and suckers.
PHOTO BY BRITTANI SCHLAGER
Venice Cafe will give you plenty to talk about.
20. When you want a great first date: Venice Cafe
Quirky and colorful, Venice Cafe (1903 Pestalozzi Street, Benton Park; 314-772-5994 or www.thevenicecafe.com) is a great spot to meet a near-stranger and see if you can make them a bit more than a friend. Live music prevents those potentially awkward silences; the relatively new addition of a food component called the Jerk Shack keeps you from having to leave for a bite to eat just when things are getting good. Best of all? The killer patio. If it doesn't put your date in the mood, you've got no chance anyway. Move along.
PHOTO BY COREY WOODRUFF
The lounge at Element could help anyone close the deal.
21. When you want a great third date: Element
The new-and-improved Element (1419 Carroll Street, Lafayette Square; 314-241-1674 or
www.elementstl.com
) now boasts amazing dishes from up-and-coming chef Josh Charles — but the food isn't the only reason to come here on that critical "will they or won't they" moment in a fledgling relationship. Instead, we'll direct your attention to the third-floor lounge area, conveniently located just above the restaurant. This bar is our hands-down pick for the sexiest spot in the city. Cuddle on the couches or straddle your partner on a bar stool; just don't forget to check out that glorious view.
22. When you want to propose: Cielo Bar
It would be flat-out impossible to turn down any reasonable partner's request for holy matrimony so long as he or she proposes at Cielo Bar (999 N. 2nd Street, Downtown; 314-881-2105 or www.cielostlouis.com/cielo_bar). For one thing, the choice of this impossibly stunning bar atop the Four Seasons Hotel in downtown St. Louis shows your supplicant takes your happiness seriously. For another, who could be in a bad mood when surrounded by so many beautiful people and such an incredible view of the Arch? Go ahead, order the Champagne. We can already hear the wedding bells.
23. When you want to wow your bachelorette party: Thaxton Speakeasy
Your crew may wonder if you've had too much to drink already when you start leading them toward an alley — but what did they expect, a speakeasy with an entrance visible from the street? Thaxton Speakeasy (1009 Olive Street, Downtown; www.thaxtonspeakeasy.com) is all about authenticity, from its password-protected doorway (sign up online to acquire the current password) to the Art Deco decor. Naturally, it takes a few flights of stairs to find the gin joint below — and don't be caught off guard if you arrive to find a dance floor full of people dressed in 1920s attire. The Prohibition thing is painted on so thick here that ordering drinks may feel a bit scandalous — but what are bachelorette parties for?
PHOTO BY DEBBIE FRANK
Three Sixty is a stunner.
24. When you want to wow out-of-towners: Three Sixty
When the Hilton elevator opens on the top floor to reveal Three Sixty (1 S. Broadway, Downtown; 314-241-8439 or www.360-stl.com) you can't help but be a little awestruck: It's not every day you're greeted by a glowing waterfall streaming from the ceiling. Venture a little further into this rooftop space, and you'll come across the requisite chic bar and seating — but let's be real. It's the view you won't be able to tear your eyes away from. Take your guests outside to experience the real deal with a fire-lit bar and unmatched angles of the Gateway Arch and Busch Stadium. Whether you want to provide an upscale dinner experience with small plates and dessert or treat your visitors to a few drinks while watching the Cardinals game below, Three Sixty will impress.
25. When you want to keep drinking at 2 a.m.: Mangia Italiano
All that people watching at CBGB's left you thirsty, and you've been drinking up all night — looks like you won't be driving home any time soon. To make matters worse, it's last call. What to do? Easy: Just follow the throngs to nearby Mangia Italiano (3145 S. Grand Boulevard, Tower Grove South; 314-664-8585 or www.dineatmangia.net), South Grand's premiere 3 a.m. bar. A long-time favorite of the late-night drinking set, Mangia proves the old adage true: Anyone who says they remember drinking there probably never really did.
For more bar coverage, see our guide to St. Louis' best dive bars, which is also on the streets now in handy dead-tree format. Or check out our list of ten great tap rooms.