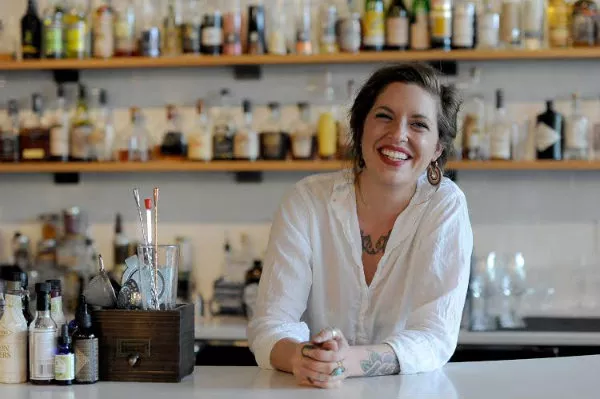 Holly Ravazzolo
Olive + Oak's Chelsea Little.
When Chelsea Little of Olive + Oak (102 W. Lockwood Avenue, Webster Groves; 314-736-1370) says she landed behind the bar by accident, she means it literally.
"After culinary school, I worked the lines at a few country clubs," Little explains. "But I got in a really bad car accident and messed up my knee. I had to take a few years off because being on my knee just wasn't an option. I was able to eventually do physical therapy and it worked out, but at that point, I realized I wanted to get into St. Louis' craft industry in some way."
Following grueling rehab on that knee, Little found herself at the Libertine bussing tables as a way to break into the front of the house. She was intrigued by the restaurant's cocktail program and jumped at the opportunity when a bartending position came open.
"I looked at what they were doing and thought 'Whoa, this looks crafty, creative and really tied to the kitchen,'" Little recalls. "I started out with Ben Bauer and he showed me the ropes. I just fell in love with the creative aspect of what you can do with behind the bar."
The transition from the kitchen to the bar was an easy one, she says, thanks to the similarities in ingredients and flavors, but it was a key difference that spoke to her most clearly. "It's the face-to-face interactions," she says. "In the kitchen you get to make awesome food and curse when grease pops on your hand, and I love it. But out front, you get to see people's immediate reactions to something you've made and have that personal connection. I love people and I love to jibber-jabber, so that's been fantastic."
After leaving the Libertine, Little worked at Brasserie until she was approached by Olive + Oak's Mark Hinkle about an opportunity to run her own program at his soon-to-be restaurant. She admits she's still surprised that she's not cooking on a line somewhere, but she wouldn't trade her current gig for anything — scars and all.
"I look down at my knee and it looks like a tiger attacked me," Little says. "But I can still walk in heels so that's what matters."
Little took a break from the bar to share her thoughts on the St. Louis food and beverage scene, the virtues of invisibility and the one thing you'll never find behind her bar.
What is one thing people don't know about you that you wish they did?
I want to remain a mystery. I guess if people had to know, I'm a die-hard Packers fan. Cheesehead for life!
What daily ritual is non-negotiable for you?
Well, I do enjoy a good brush of the teeth every morning.
If you could have any superpower, what would it be?
Invisibility. So many wet willies.
What is the most positive thing in food, wine or cocktails that you've noticed in St. Louis over the past year?
It seems like the general public is becoming more open to the more adventurous items and ingredients rather than just going to what's familiar. Which is really cool. Broaden your horizons, folks!
Who is your St. Louis food crush?
Easy.
Tommy Andrew over at Randolfi's
. Killin' it.
Who's the one person to watch right now in the St. Louis dining scene?
Ted [Wilson] the bread man. Union Loafers surprises me day after day.
Which ingredient is most representative of your personality?
It has to be fennel. I don't have reason for my rhyme. It just calls to me.
If you weren't working in the restaurant business, what would you be doing?
I'd be elbows deep in dirt somewhere. I guess that's technically still the same industry .... whoops.
Name an ingredient never allowed behind your bar.
A bad attitude. Not invited.
What is your after-work hangout?
Olive + Oak. Haha. We have "family bonding" late night. But when I'm not there you can find me at Broadway Oyster Bar.
What's your food or beverage guilty pleasure?
Corn dogs. Anyway I can get them. Every day. Breakfast, lunch, and dinner please.

What would be your last meal on earth?
Grandma's chicken and dumplings. Nothing beats it.
We are always hungry for tips and feedback. Email the author at cheryl.baehr@riverfronttimes.com.