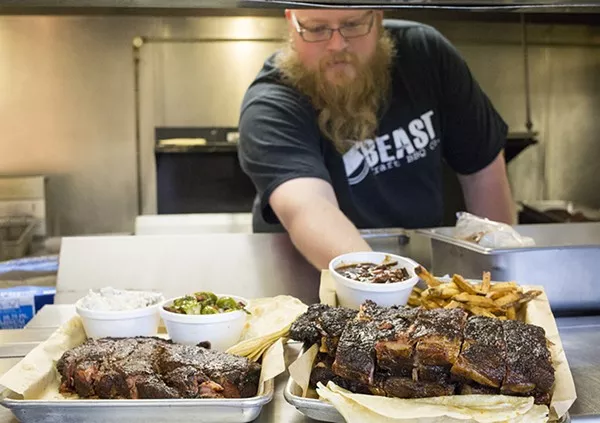 Mabel Suen
Beast Craft BBQ's David Sandusky is king of the pork steak.
David Sandusky of Beast Craft BBQ (20 S Belt W, Belleville, Illinois; 618-257-9000) was well on his way in the fine-dining circuit, working under top chefs as he mastered classical techniques. Night in and night out, he'd compose elegant plates. He worked with so much foie gras it may as well have been braunschweiger.
Then he realized he just didn't care anymore.
"I just got to the point where I didn't understand why we did it," Sandusky recalls. "When you're a kid, it's fun to be the most pretentious guy — hey, I can do all these cool sauces and fancy plates — but that's not what regular people relate to. It just didn't hit me anymore."
Sandusky wasn't disillusioned with food — just the pomp and circumstance that surrounded the fine dining industry. The scene had drawn him in years before, as a teenager waiting tables. Enlisted to step in as a line cook after someone called in sick, "I fell in love with the back of the house," Sandusky says. "It was a lot of fun, you could be yourself, and there was so much more camaraderie there. It came naturally to me. I never looked back."
Sandusky attended culinary school, though he got more of an education outside the classroom and on the line. He left his program and focused on learning "back of the book" style, as he calls it. "I was the guy who learned to cook a 36-hour demi glace before I learned how to cook rice," he laughs. "I just always placed myself in positions that challenged me."
But as he progressed in fine dining, he realized that it wasn't a challenge he was looking for, but rather an authentic way to relate to diners. He researched culinary genres and was struck by the deep, cultural significance of barbecue.
"I'm a ministry school dropout," admits Sandusky. "I love to see the cultural aspect of food — why people cook what they cook, where they get it, how it impacts their families and their lives. Barbecue is a religion to people. It totally made sense to me."
Sandusky knew that he was entering a competitive industry, so he set out to nail the basics. "People half-ass pulled pork because it's the most popular dish and they take it for granted that it's going to sell," he explains. "We turned that on its head. If that's the item that the most people are going to eat, then why don't you make it the best that it can be?"
He calls his attitude "all killer no filler," a philosophy that focuses on the barbecue fundamentals. "People think 'Beast' is a noun — I've heard so many people refer to us at 'The Beast,'" Sandusky says of his Belleville restaurant, which has earned raves from critics and diners alike. "'Beast' isn't an noun. It's an adjective. It's how we do things here."
Sandusky took a break from cooking the best pork steak on the planet to share his thoughts on the bi-state area dining scene, the silly way he gets his daughter to laugh and which local chef's food makes him weak.
What is one thing people don't know about you that you wish the
y did?
I was bullied most of my childhood, until high school when I realized it wasn't the bully's fault, it was mine. I was never bullied again.

What daily ritual is non-negotiable for you?
I have to smell my four-year-old's feet on a daily basis. Weird, yes, but it gets her to laugh uncontrollably.
If you could have any superpower, what would it be?
The best villains don't need superpowers to make waves.
What is the most positive thing in food, wine or cocktails that you've noticed in St. Louis over the past year?
There's a new passion for making simple foods really well. I love it. Fine dining is dying, and micro-culture is making a comeback. Specialization is breeding change and growth.
Who is your St. Louis food crush?

Rick Lewis' hot chicken makes me weak.
Who's the one person to watch right now in the St. Louis dining scene?
Me. No one's ceiling is as high as mine.
Which ingredient is most representative of your personality?
Black pepper.
If you weren't working in the restaurant business, what would you be doing?
I have no idea. I never had a "plan B." It was all or nothing.
Name an ingredient never allowed in your kitchen.
White pepper — worthless crap.
What is your after-work hangout?
Home! I love being with family.
What's your food or beverage guilty pleasure?
Anything salted caramel.
What would be your last meal on earth?

My mother's beef stroganoff. I can never get enough of it.
We are always hungry for tips and feedback. Email the author at cheryl.baehr@riverfronttimes.com.