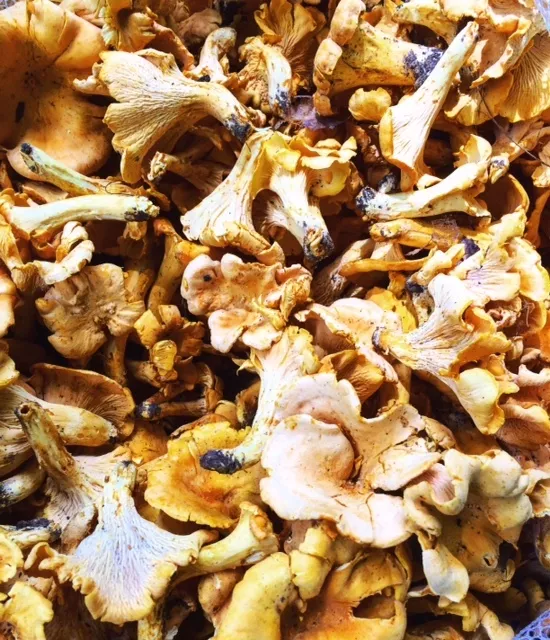 Harvested Chanterelles | courtesy of Bolyard's Meat & Provisions
The season for chanterelle mushrooms has begun in the Midwest, and St. Louis chefs are taking advantage of a slightly early harvest.
Chanterelles are only available in the wild, generally in the late summer and fall. They have a yellow-orange hue and range in size from quarter-rounds to five-inch beauties. Their earthy, slightly peppery flavor pairs well with butter and cream, white wine and fresh herbs in pasta, soup and risotto with light proteins such as eggs, tofu, fish, poultry and pork.
We've rounded up five St. Louis restaurants offering wild-harvested chanterelle dishes on their menus for a limited time. Try these dishes now or you'll have to wait 'til next year.
Pizza at Randolfi's | courtesy of Randolfi's
Randolfi's
6665 Delmar Boulevard, University City
Mike Randolph's acclaimed new Italian spot is offering a chanterelle, mozzarella, garlic scape pesto, preserved lemon and grana padano pizza.
Available for a limited time.




Pork chops at Element Restaurant and Lounge | courtesy of Element Restaurant and Lounge
Element Restaurant and Lounge
1419 Carol Road, Lafayette Square
At this elegant spot just east of Lafayette Square, chef Josh Charles is serving a grilled pork chop with chanterelles, fresh peaches and peach butter, polenta and nasturtium.
Available for the next two weeks.


<!——————————EndFragment——————————>
Agnolotti at Farmhaus | courtesy of Farmhaus
Farmhaus
3257 Ivanhoe Avenue, Clifton Heights
James Beard finalist Kevin Willmann is serving corn and goat's milk ricotta agnolotti with foraged chanterelles, venison stock, Farmhaus bacon, minced shallot, thyme flowers, opal basil and oregano flowers.
Available for the next two weeks.

Turn the page for more chanterelle possibilities.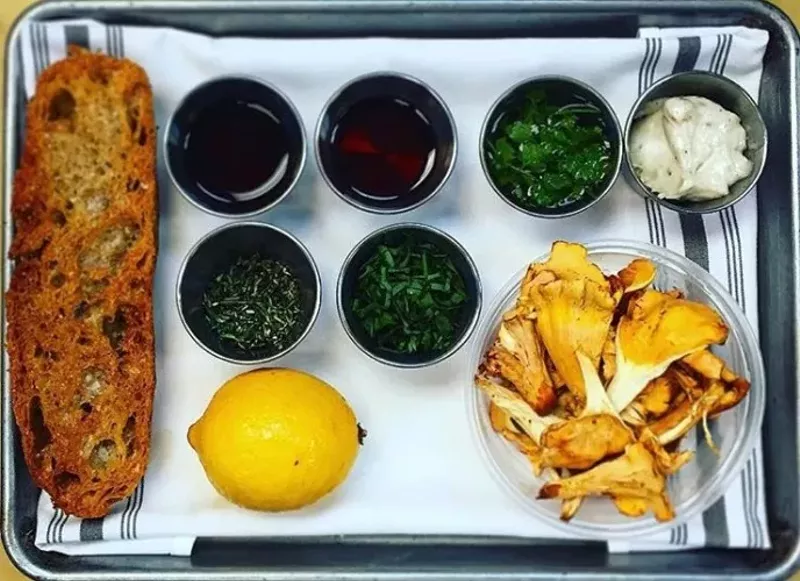 Toast and roasted chanterelles at Reeds American Table | courtesy of Reeds American Table
<!——————————EndFragment——————————>
Reeds American Table
7322 Manchester Road, Maplewood
<!——————————EndFragment——————————>
At this wildly popular one-year-old Maplewood spot, chef Matt Daughaday is serving roasted chanterelle with herbs and smoked-whipped lardo on country wheat bread.
Available for a limited time.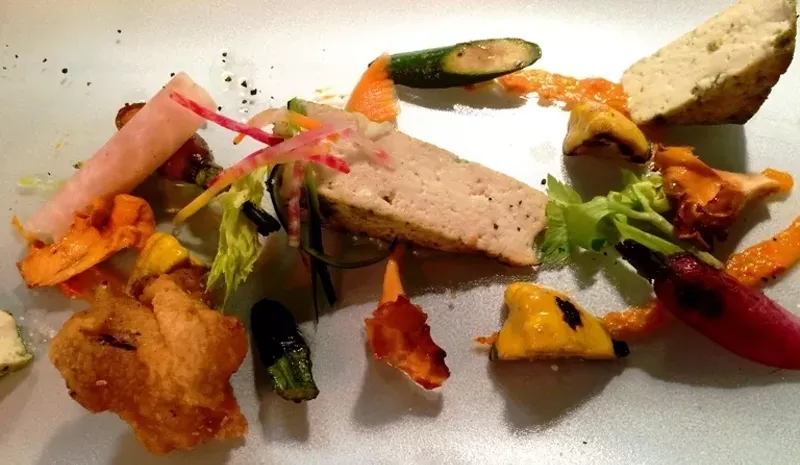 Tofu Crudo at Cielo | courtesy of Cielo
Cielo
999 N. 2nd Street, downtown
The restaurant at the Four Seasons St. Louis is serving a cotto crudo of chanterelles with herb-roasted tofu, summer heirloom baby vegetables, pickled watermelon and beets.
Available for two months.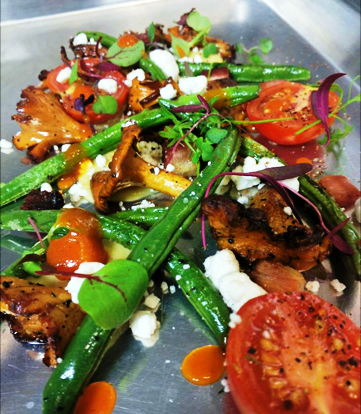 Veggie melange at Byrd & Barrel | courtesy of Byrd & Barrel

Byrd & Barrel
3422 South Jefferson Avenue, Cherokee District
<!—————EndFragment—————>
Bob Brazell's hipster haven is serving a melange of chanterelles, tomatoes, green beans, goat cheese, bacon, smoked corn puree and carrot hot sauce.
A collaboration with Such & Such Farm, Ryan McDonald and Jay Hanks.
Bass at Herbies Vintage 72 | courtesy of Herbies Vintage 72
Herbie's Vintage 72
405 North Euclid Avenue,
Central West End
At his spot in the Central West End, chef Aaron Teitelbaum is serving striped bass with a golden chanterelle mushroom ragout and chanterelles in veal demi with butter and rosemary.
Follow Sara Graham on Instagram and Twitter at @engagetaste. E-mail the author at sara@engagetaste.com.